Financial wellness programs can make a big difference for women in the workplace—but only if they address women's financial stress head-on.
Women and men are both stressed out about money, but women are more likely than men to name financial concerns as a top source of stress—more than health, family or work-related issues—something that surprisingly few employers are aware of, or know how to address.
What's more, many women in the workplace may not be reaching out for the help they need with financial management. They are less likely than male employees to have a financial advisor or feel comfortable receiving financial advice at work, according to a survey of 1,000 employees of mid- to large-sized companies, conducted by the Financial Health Network on behalf of Morgan Stanley.1
With studies consistently showing that companies with greater gender diversity tend to be more profitable, it's imperative for many employers to consider how they can better attract and retain top female employees. That means thinking more holistically about how to serve women's needs, understanding their stressors, and offering up a suite of resources to help combat that stress.
"Women identify as having more stress than men, but they are also less keen to ask for help," says Krystal Barker Buissereth, Head of Financial Wellness for Morgan Stanley Wealth Management. "Employers need to meet women where they are."
When Women Are at the Table
Attracting and retaining women isn't just a matter of goodwill, it's good business sense. The data consistently show that companies with greater gender diversity, including women in leadership, can be more productive and profitable. A 2018 McKinsey report found that companies in the top quartile for gender diversity on their executive teams were 21% more likely to experience above-average profitability than companies in the bottom quartile.
Morgan Stanley Research examined companies based on their percentage of female employees and other metrics of gender diversity, and found that the top third experienced 2% higher average relative returns compared to other companies in their region. Over a six-year period, companies with more gender diversity enjoyed a one-year return on equity that was 1.1% better than companies with low female representation. Evidence has linked gender diversity to lower return-on-equity volatility, too.
The Financial Stress Gender Gap
Female employees across generations—Millennials, Generation X and Baby Boomers—are feeling financial stress, and their responses to the survey questions highlight the gender gap. Among the key findings:
62% of women surveyed have an extreme amount, a great deal, or a fair amount, of financial stress, compared with 53% of men.


42% of women say they have more debt than is manageable, versus 31% of men.


38% of women say they were unable to pay their bills on time, versus 27% of men.
"When it comes to their ability to pay bills on time or their liquid savings, women are expressing greater concerns than men around these short-term needs," Buissereth says.
The worry about debt and keeping up with bills means that women may also have a harder time focusing on long-term financial needs. In fact, 55% of female employees cited planning for their families' future as a top concern, compared with just 45% of men. And 56% of women said they are concerned about building retirement savings, compared with 50% of men.
Overstressed and Underadvised
"Women have more financial stress, but they are also underadvised about it," Buissereth says. Even though they have more stress around money, only 28% of women, versus 38% of men, have a financial advisor.
In addition, 66% of women said they felt comfortable receiving guidance at work from a financial professional—compared to 75% of men.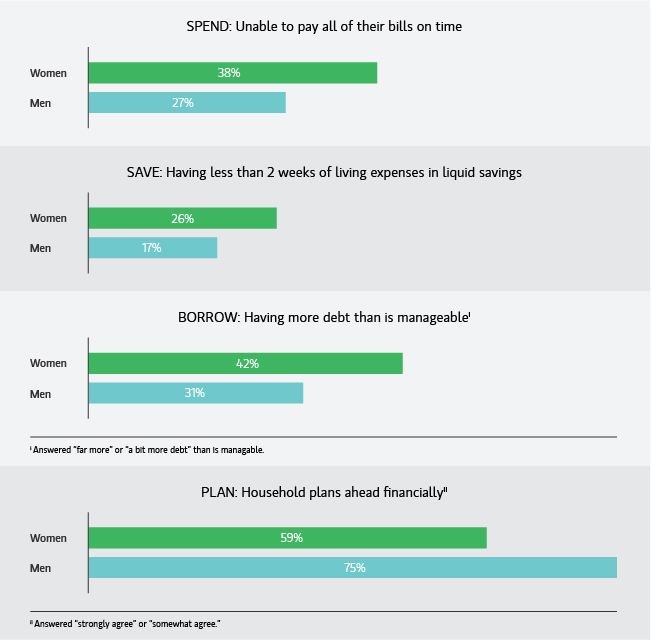 How to Engage Women
The data itself suggests ways employers can remove hurdles to financial wellness for women in the workplace. Features that women say would make financial-wellness benefits more appealing to them include2:
Clear Explanations of Benefits: People are often most receptive to financial advice when they can connect it to goals. It's important to understand what motivates individuals and speak to them in those terms.


Easy Access: Companies must also accommodate various working styles and engagement preferences. Providing an easy-to-navigate digital experience is key, something employees—men and women, alike—can engage with from the comfort of home while telecommuting, or on-the-go while running errands, working out at the gym or sitting at a child's sporting event.


Simple enrollment: Understanding and choosing from the various options during enrollment can be daunting. Keeping the process as simple as possible from the outset may pave the way for more employees to recognize the value they are getting and sign up.
Improving Women's Financial Lives
Morgan Stanley's culture of commitment to clients and colleagues is at the heart of how we can make a big difference in helping to overcome gender gaps. Likewise, companies that can meet women where they are—and offer the financial help, planning and tools women want to use—can position themselves for success by attracting and retaining some of the best talent.
Morgan Stanley at Work Financial Wellness focuses on helping employers engage employees through personalized financial education, advice and solutions. By targeting the needs of women and other employee groups, companies can build financial wellness programs that benefit both their people and their business.