MAKER Victoria Bailey emphasizes the importance of work-life balance for mothers and highlights the opportunities in finance for women at Morgan Stanley.
Victoria Bailey remembers how hard it was as a young mother of three to balance the demands of her career. "As a working mom, I was overwhelmed," reflects the Managing Director, Private Wealth Advisor (PWA) and partner in the 415 Group at Morgan Stanley Private Wealth Management, which manages $6.5 billion in assets for nearly 80 ultra-high net worth families.
To cope with her frustration, she decided to stop judging herself daily and instead put a date on her calendar six months out to reflect again on her situation. "I gave myself time to decide whether to make a change," she says. "That took the pressure off." When the six months came around, Victoria found herself happier, the job struggles fewer and her ability to balance improved.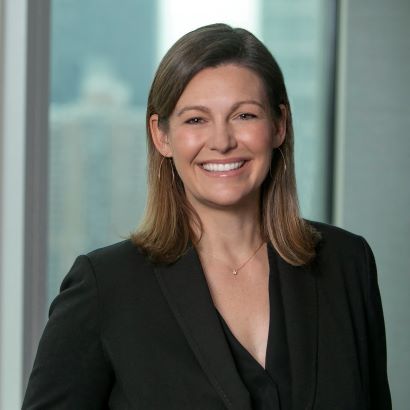 It's a strategy she shares as a mentor to many in the industry, paying forward the mentorship she was fortunate to receive along the way. In fact, Victoria finds finance to be a "fabulous career for women. You build your own business and your own schedule, and you can flex up when you want to or step back if you need to."
Not that it's always easy. Finance requires hard work, dedication and, as Victoria strongly believes, passion for serving clients. When she started in the business, she struggled to articulate her value proposition and wasn't closing clients. She chose to work with a professional coach, who reminded Victoria to "show up in that room and have the confidence to let prospects know you're the best at what you do and will care about them the most." Putting on that confidence worked. Today, as a successful PWA, she's been named to the Firm's Chairman's Club and is a member of its PWA Advisory Council.
Financial Empowerment
Victoria grew up in a small town in New Jersey. Her single mom, an elementary school teacher, raised Victoria and her sister in a loving and supportive home, making ends meet by working three jobs. A working mom herself now, Victoria strives for success in her career while also being present in her three sons' lives.
She also learned from her mom the importance of financial independence. She ties that to her own form of teaching, imparting that wisdom every day as a PWA. "I do a lot of education with our clients about what it means to be financially successful," Victoria shares. "I want every one of my clients to feel empowered to make decisions for their own personal financial life."
Knowing her mother couldn't afford tuition bills, Victoria was determined to pay her own way through college. After discovering that the Miss America organization was the largest scholarship organization in the world, she entered the competition. At 19, she earned recognition as Miss New Jersey and went on to earn her B.A. in economics from Princeton University on a full scholarship.
Trained as an opera singer, she remembers staying up late singing for hours while her mother, a professional concert pianist, played piano. Victoria still loves singing, finding it meditative. "When you close your eyes and sing, you can escape the stress and enjoy the moment," says Victoria, whose favorite opera is La Traviata.
Her husband plays guitar, so their sons are growing up in a house filled with music, just as she did. The family also loves to ski together. "It's important for my kids to see us both working hard in our demanding jobs and being successful in our careers while still finding time for each other and for them," she says.
Venture Capital/Private Company Focus
Victoria didn't set out to become an advisor. Rather, it was a career "I fell into." After college, she came to New York to sing professionally. But 9/11 shut down her touring company. Shortly after, she ran into a friend who was working in finance; he gave her a job. "I joined the world of finance, and what I remember most is that I could do the job but didn't understand all the terminology," she admits. "I remember what that feels like and always make sure we're translating enough for clients so they understand every single aspect of what we're doing for them."
Victoria started at Morgan Stanley as a fixed-income sales trader then transitioned to private wealth management. She's built her career by specializing in serving the needs of venture capitalists and the entrepreneurs they fund. "Specialization is incredibly important when you start in this business," she says. "It's a way to become an expert and build confidence."
The favorite part of her job is how it changes every day, just like the industry she covers, which means "I'm always learning and evolving." She's fierce about learning and "doing whatever I need to become even better."
Described by peers as the voice of reason who is called upon to help resolve conflicts, Victoria was recently named a Morgan Stanley MAKER, joining a community of advocates, innovators and groundbreakers for women's advancement, all nominated by their peers. Victoria is proud to have been named to the Firm's MAKERS Class of 2023, which marks the program's 10th anniversary. "MAKERS push the envelope for their careers and for the women around them," says Victoria. "It is an incredible honor to be included in this group of changemakers."