MAKER Yvette Giove fosters inclusion and support, breaking down barriers at work and embracing diversity. Her personal journey and advocacy inspire change at Morgan Stanley.
Yvette Giove knows the importance of a sense of belonging. She's driven to create a "culture of care" in which "people feel heard, seen, accepted and understood," despite their differences.
She recently moved into a new role as First Vice President, Field Service Learning and Development, having previously been an Associate Regional Business Service Officer. No matter what her role, every day she comes to work "focused on creating an environment of inclusion, belonging and support," she says. And every week, she checks in with her team so she can understand their day-to-day challenges.
"As a leader, it's my job to deliver solutions and help remove roadblocks," says Yvette, who breaks down silos and insists on cohesion and collaboration. "Having a collaborative unit is about understanding the team dynamics and strengths, then maximizing those strengths."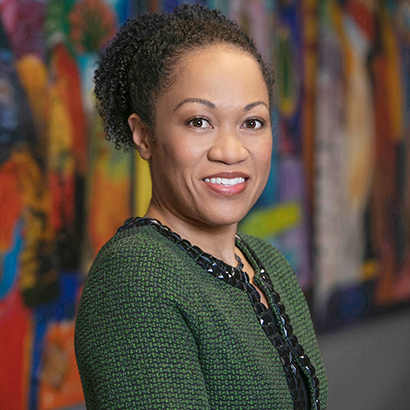 BICULTURAL BACKGROUND
Yvette was born in Honolulu, Hawaii, and grew up on the West Coast. Her father was in the U.S. Navy and met her mother while deployed overseas in the Philippines. Growing up in California, Yvette and her sister were far removed from their mother's Filipino family and their father's East Coast family, never getting the chance to experience his African American culture and traditions. "It was a challenge finding my identity at the time," she reflects. "In high school, no one else looked like my sister and me. I didn't know who I was."
While her parents insisted that friendships and relationships "shouldn't only be with people who look like you," Yvette still struggled to feel part of the community. "My sister and I held on tight to each other as we went through similar experiences, feeling that people didn't understand our differences."
Yvette remembers her mother's words after being picked on about her hair: "People aren't always going to be kind, but that doesn't mean you can't be kind to them. Caring and kindness aren't finite resources that you only give in return for receiving."
When the girls lost their mother to cancer, they leaned on each other even more, and their father was a source of strength. "He taught us to value what's important and not waste any opportunity to love and care for others." Yvette sought escape from the painful loss by reading. Books became "more than a friend in dark times. They're a way to immerse yourself in other's experiences."
As a kinesiology student at California State University, Yvette wanted to work in sports medicine or physical therapy. Unexpectedly, after she grabbed an internship opportunity at Morgan Stanley "doing menial work no one else wanted," she developed a love of wealth management. Her manager went on maternity leave and didn't return, allowing Yvette to step into that administrative role. She went on to earn her Series 7, 63 and 65 licenses and continuously pursued management roles, including business service officer and complex business service officer.
When her office closed in 2003, she took a job on the East Coast. "I was 23 when I made the tough decision to leave my family to try to make it on my own doing something new," she says. "Knowing my parents had uprooted themselves gave me courage." That job in New York led to one in New Jersey, then another in Boston, where she led 35 managers and more than 500 support professionals in the region.
This year, Yvette came full circle, moving back to California when she took on a role with the Field Service Learning and Development team. "Being back in California brings me closer to my family while still being able to pursue my career," she says. "Moving back West is a win for me professionally—and a door-opening opportunity for my family."
Yvette extends her culture of care at home, where she's raising her children to ensure "they feel accepted, supported and surrounded by people with different abilities." The primary caregiver to son Ethan, 10, and daughter Morgan, 5, is Yvette's husband Michael, "an incredible advocate for them" who stepped back from his career so she didn't have to.
Among the most important lessons she's learned from Michael and her mentors is that "I'm my toughest critic," she says. "Having that outside perspective allows you to see yourself more clearly. Being open to developmental feedback is key to growth."
MEANINGFUL MENTORSHIPS
Making those transitions to new growth opportunities "wouldn't have been comfortable without the coaching and support of her mentors and other advocates, says Yvette. "Mentoring is incredibly important to me. I would not be where I am today without their advice and wisdom."
She pays it forward and volunteers with American Corporate Partners, an organization that partners U.S. military veterans with mentors in various industries. "One of the most important things for me, as a person of color in this industry, is to throw the doors wide open for others."
She's also a mentor for The Women's Edge, whose mission is to advance women business leaders. As a board member of Young Women's College Prep, a charter school for girls in Rochester, N.Y., she teaches the students financial literacy and introduces them to careers in wealth management.
To unite people at Morgan Stanley during the pandemic, she and her team started a book and movie club for the Firm's New England Diversity & Inclusion Council. To Yvette, every challenge, fictional or real, is "a life lesson for our future selves," she says. "You can take the path of complacency or the opportunity to grow or learn." In fact, Yvette makes a point to push her teammates out of their comfort zones, knowing "that's where growth happens."
For these efforts and more, Yvette was named a Morgan Stanley MAKER, joining a community of advocates, innovators and groundbreakers for women's advancement, all nominated by their peers. The 2023 class marks the 10th anniversary of the Morgan Stanley MAKERS program. Yvette sees MAKERS as "beacons of light" who "create paths where there otherwise aren't ones" for women. She's proud to shine a light on others and show them how much she cares about their "well-being, growth and development, helping them to grow as individuals."