MAKER Valerie Wong Fountain combines her two passions—golf and finance—in her drive to make a positive impact in her industry and in the Asian American Pacific Islander community.
From a very young age, Valerie Wong Fountain has been driven to achieve. In elementary school, her grandmother took her to compete in the National Elementary Chess Competition in New York City.
"We visited my great uncle and toured Wall Street, the Twin Towers, and the Empire State Building," Valerie remembers. "I began to dream of what a career on Wall Street would be like."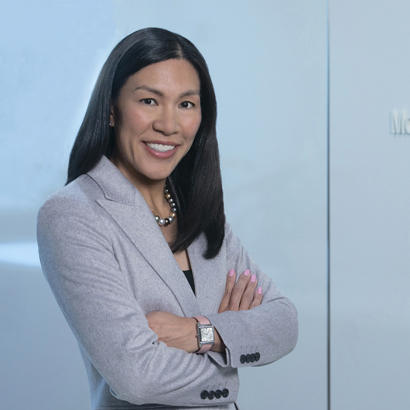 Today, Valerie is living that dream, as Managing Director and Head of Morgan Stanley Wealth Management's Family Office Resources Platform and Partner Management with responsibility for Trust Services, Signature Access and Single-Family Office Advisory.
Valerie and her younger sister grew up in Southern California. Their mother immigrated from Hong Kong, and their father was a fourth-generation Chinese American who grew up in Los Angeles.
"Both have advanced degrees and believed in higher education, the value of hard work and in raising well-rounded children," says Valerie, who tried as many things as possible, including 10 sports, five musical instruments, and two foreign languages. "That helped me identify what I loved and, importantly, what I excel at," something she hopes will happen for her two children, ages 4 and 6.
As a high-school junior, Valerie applied to and was accepted to The Wharton School of Business at the University of Pennsylvania as a college sophomore due to her many Advanced Placement credits
A Game for Everyone
Of the many activities she tried, golf was what stuck the most. She played the number-one spot on the girls' junior varsity tennis team as a high-school freshman because there was no option to play golf.
"The coach didn't welcome my participation on the boys' team," Valerie says. "So instead of giving up on golf, we started the girl's team my sophomore year."
She ended up skipping her senior year of high school. "My mom discovered that I could apply to college during my junior year without a diploma," says Valerie, who, as a high-school junior, was accepted to The Wharton School of Business at the University of Pennsylvania as a college sophomore because she had so many Advanced Placement credits. She had a dual concentration in finance and accounting and became the first Asian American to join the women's varsity golf team. The game became her lifelong passion.
"Golf is a game for everyone that you can play for a lifetime," Valerie says. "I love that it challenges me both mentally and physically, and it's a great way to spend time with my family."
On summer weekends, Valerie can be found on the golf course with her husband and their daughters. She looks forward to competing in her first mother-daughter tournament soon. Valerie has learned through golf, "you really can't beat someone who doesn't give up."
After graduating summa cum laude from Wharton, she started her career as an analyst in equity sales and trading at Morgan Stanley—and never left the Firm. Her drive to accomplish continued as she chased opportunities and pushed herself out of her comfort zone, including asking for roles where there were few women.
"I had the opportunity to go from the trading floor to firm management to work for [Morgan Stanley Chairman and CEO] James Gorman as his chief of staff," Valerie explains. After that, she transitioned to global capital markets to lead the private capital markets team. In 2016, she moved into wealth management, "to help build our family office effort."
Valerie describes financial services a great career choice for women with "a wide breadth of roles and something for everyone." The favorite part of her job, she says, is mentoring young professionals and students and others who are looking to advance their careers. She offers this advice to young people starting in her industry: "Don't be afraid to take a calculated risk, and believe in yourself."
About 10 years ago, Valerie combined her two passions—golf and finance—in creating the Morgan Stanley Women's and Girls' Golf and Fore Mentoring Program. A collaboration between Morgan Stanley and First Tee of Metropolitan New York, a youth development organization that teaches kids life skills through golf, the program gives middle- and high-school girls confidence, career advice, and insights into the world of business and finance. At the same time, Valerie explains, it gives women an introduction to golf, on-course experience, and an opportunity to mentor and give back.
"First Tee has nine core values, and my favorite is perseverance," she says.
Committed to finding other ways to give back, Valerie works closely with The Equity Collective, an initiative that brings together 27 asset management firms to collectively advance diversity, equity, and inclusion in the finance industry. She played a key role in launching the First Tee X Equity Collective Collaborative, a golf outing/networking event/career expo for kids, and currently serves on First Tee of Metropolitan New York's board and executive committee.
"It gives them a head start on building a network and access to the world of Wall Street," Valerie says. She also serves on the Penn Sports Golf Alumni Board and on the Board of Trustees for the Morgan Stanley Foundation.
During her career at Morgan Stanley, she has sought out challenging positions, including many where there were few women.
Drive for Diversity
When asked to describe Valerie, colleagues say she's driven, persistent, and resourceful—always willing to roll up her sleeves to help her team. She is inspired by the pursuit of excellence and the opportunity to make a positive impact.
Her drive to foster diversity is evident in her commitment to the Asian American Pacific Islander (AAPI) community. She's a founding member of Gold House, a non-profit that advances AAPI representation through three key pillars: unity, success and representation. She sits on the National Advisory Council for the Association of Asian American Investment Managers (AAAIM), a nonprofit advancing Asian Americans in the investment management industry. At Morgan Stanley, she co-founded the Family Office Resources Women's and Multicultural Networking Groups. She's also the executive sponsor of the Asian Leaders Forum and a mentor for the Diverse Leaders Forum hub. "It's important to remember who you are, where you came from, and to invest in the community," she notes.
Valerie has been honored as an APA Driver for Diversity by the Asia Society (2022), an Ascend Trailblazer by the Ascend Foundation (2021), a 100 Most Impactful Asian by Gold House (2020), an Outstanding 50 Asian American in Business by Asian American Business Development Center (2014) and Most Influential APIA New Yorker by National Association of Asian American Professionals New York (2014).
Recently named a Morgan Stanley MAKER, Valerie is proud to now be a part of this additional community—advocates, innovators and groundbreakers for women's advancement, all nominated by their peers for this distinguished recognition.
The 2023 class of MAKERS is the 10th anniversary of the Morgan Stanley MAKERS program. Valerie is grateful to be acknowledged for affecting positive change. "It's a tremendous honor," she says. "I hope to inspire more people to actively contribute to creating a culture of belonging, innovation, and giving back."