Financial Advisor and 2023 MAKER Donna Andrews used her determination to overcome her visual impairment. "Success doesn't happen overnight," she says. "It takes hard work, commitment and patience."
Donna Andrews remembers the frustration of having to pay early-withdrawal penalties and income taxes when she left her teaching career and entrusted her 403(b) retirement account to a broker who "took it out of retirement status, triggering the payments and taxes," she recalls. At the time, she knew so little about finance that she never realized "there was a percent sign on a calculator," she laughs.
Today, as a Financial Advisor, teachers are among the many types of clients Donna helps plan for retirement and other life goals. Donna is a CERTIFIED FINANCIAL PLANNER™ (CFP®) and a Workplace Advisor in Equity Compensation with The Buena Vista Group at Morgan Stanley, a six-person practice in California's Bay Area, not far from where she was born. From age 2 to 14, Donna lived in Chicago. At 14, after her parents divorced, Donna moved with her mother to Brazil, where her mother's fiancé, a geophysicist, worked. Two years later, they moved for his job to Alaska, where Donna graduated from high school.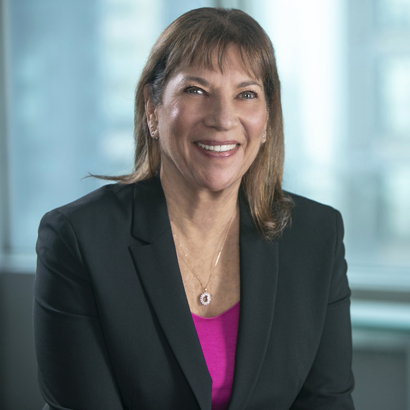 "Having lived in many places has contributed to an expanded world view and has made me more flexible and open to diverse environments and situations," Donna reflects.
College brought her back to the Midwest, because she qualified for in-state tuition in Kansas, where her father lived. Donna attended Emporia State University, earning a Bachelor of Science in Education (BSE) in English and Spanish and a master's degree in English.
She taught English, Spanish and English as a Second Language (ESL) at high-school and college levels. "I enjoyed teaching and went into it very idealistically, but decided I wanted to do more," she says.
Donna is a CERTIFIED FINANCIAL PLANNER™ (CFP®) and a Workplace Advisor in Equity Compensation.
BUSINESS PURSUITS
Donna left teaching and went into business, first selling newspaper advertising, a role that taught her about working with people and helping them with their businesses. Next, she took a job at a balloon manufacturing company, doing trade shows around the country, gaining experience in merchandising, sales, and customer service.
By then, Donna was in her late 20s and learned she had Retinitis Pigmentosa and would lose full functional vision by age 40. "The doctor told me not to move or change careers," she remembers.
Not only did Donna move, but she changed careers once more. "I moved to California, taking with me my experience in education, sales, customer service, and marketing to apply it as a Financial Advisor," she says.
After she completed her exams and earned her securities licenses, Donna started working with teachers who, once like her, might not necessarily have enough financial knowledge to navigate planning for their future. She still remembers her first teacher client, Lila, who referred her best friend Nora and whose family became clients, which led to many additional extended family members over the generations becoming clients as well.
"I'm thrilled when I get referrals," she says. "It's a sign that a client has truly accepted my advice, is comfortable and secure with their finances, and wants the same for their family and friends."
SUPPORT SYSTEMS
With her vision slowly failing, Donna's husband, Mort Johnson, started joining her in the office. While she spoke on the phone with clients, he'd read her information from her computer. As a result, Donna's manager offered Mort a job supporting his wife. He gave up his information technology career to formally join her at Morgan Stanley.
Married since 1996 and working together since 2000, Donna and Mort, now a Chartered Retirement Planning Counselor (CRPC®), have honed their complementary skillsets. "I'm a good information gatherer and relationship manager, and he's great with client reporting and presenting," says Donna, who finds it particularly easy to work with other married couples.
She's also an exceptional listener. "It's difficult to go into a meeting not being able to see unless you're really tuned in," she says. "I have a good memory and am able to ignore outside noise and focus on the business."
To aid her failing vision, due to Retinitis Pigmentosa, Donna leverages Morgan Stanley technology to assist her with client meetings.
AN INNOVATOR
Over the 35 years she has been a Financial Advisor, Donna has had to innovate. When it comes to technology, she now uses a screen reader that helps with many pages in her system. A visual impairment intern helps her gather the information she can't on her own.
"I have two earbuds in all the time," Donna explains. "One is a screen reader; the other is the client on the phone."
A helpful technology team has streamlined the systems for use by the visually impaired. "The technology at Morgan Stanley has been phenomenal in supporting me in my career," she says. "Without it, I wouldn't have survived in this business."
Donna loves to travel, read, hike, exercise at home, and ride a tandem bike. She has volunteered as a board member of Wayfinder's Blind Babies Foundation. She finds inspiration in music, books and "people who are outstanding at what they do"—like Morgan Stanley MAKERS, a community of advocates, innovators and groundbreakers for women's advancement, all nominated by their peers. Donna is proud to have been named to the Firm's MAKERS Class of 2023, which marks the program's 10th anniversary.
"MAKERS are innovative mentors and leaders whom I've long looked up to as the epitome of what women can accomplish in this business," Donna says. "I'm very persistent and will continue to work around a 'no' until I get to a place of success." One sign of that success is her recognition by Forbes as one of the "Top 1,000 Women Wealth Advisors" and "Best-In-State Wealth Advisors" for 2020, 2021, 2022, and 2023.
As a role model for women and others with impairments or disabilities, Donna has some advice for those considering a career in wealth management: "Success doesn't happen overnight. It takes hard work, commitment, and patience."
But even though she's certainly "arrived," Donna isn't resting on her laurels. "You should never be satisfied with the status quo. This business allows for so many educational and growth opportunities, you can only get better over time."