Recently named a Morgan Stanley MAKER, Jen Grego, Chief Compliance & Operational Risk Officer for Wealth Management, has fostered a diverse culture in which everyone is accepted and respected.
As a young professional in one of her first jobs out of law school, Jen Grego would commute by train to Manhattan from her home in Connecticut. One morning, the litigator and defense attorney sat beside a chatty passenger. "We struck up a conversation, and by the time we got to Grand Central Terminal, he had offered me a job," she recalls.
That offer was to join him at the Financial Industry Regulatory Authority (FINRA), the self-regulatory organization that oversees member brokerage firms and exchange markets. She politely declined that offer, but he called again in six months. This time, she accepted.
A year later, when he left FINRA for Morgan Stanley, he recommended her for a job in Wealth Management, where she has thrived for the past 18 years in an environment that's "so dynamic, changing almost every day," she says.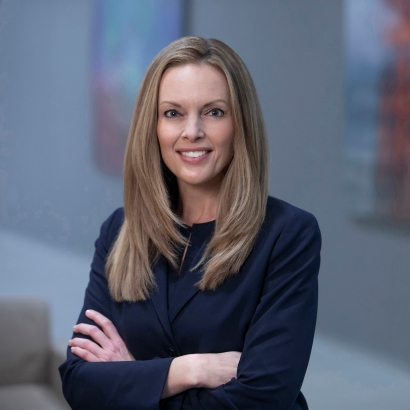 Today, the Managing Director is the Chief Compliance and Operational Risk Officer for Morgan Stanley Wealth Management. She leads a team of approximately 225 professionals in protecting the Firm and its growing consumer base. Jen has been in Compliance since 2012, after eight years in the Legal department.
As she rose in her career into more senior roles, Jen learned to be more intentional and aware of her place as a senior woman at the Firm. First and foremost, she believes in listening, which she feels is "the most important leadership trait. Being empathetic, receptive to other people's needs and a good listener are crucial in this profession."
Also crucial is time management—"knowing when to delegate and being vigilant about balancing the demands at home and work," she says. "I've learned it can be empowering to say no and not feel the need to give an explanation."
Another secret to her professional success has been her responsiveness and her equitable treatment of people. "If you don't know the answer to a question but might know someone who does, responding with that referral and follow-through builds trust and nurtures relationships," says Jen. Doing so takes getting to know people throughout the Firm, which Jen makes a priority.
RULES OF THE ROAD
Spoken like a true Compliance officer, Jen advises everyone in the industry to "learn the rules of the road." Understanding the Firm's policies "provides the foundational understanding of how our highly regulated business works."
She also recommends staying on top of what regulators, peers and partners are doing, asking: "Can we learn from their approaches?" Her advice: "Always be open to learning."
Jen is a voracious learner who takes every opportunity to immerse herself more deeply in the business. "The more you know, the better advice you can give colleagues and the more strategic value you can add," she says. That means taking the time "to appreciate the roles and functions of others" and asking, "How can I help you? What can I do better to ensure we have a more productive and efficient relationship?"
The most important leadership trait. Being empathetic, receptive to other people's needs and a good listener are crucial in this profession.
Before becoming a senior leader herself, Jen repeatedly found the courage to reach out to senior leaders for input, quickly realizing they were all helpful and showed a true desire for her to succeed. "It can be intimidating, but everyone has been gracious with their time," she reflects.
Building strong relationships and sharing time have always been lodestones for Jen. The oldest of three siblings, she grew up in a small town just outside of Rochester, N.Y. It's where she developed her love of the outdoors, friendships she's maintained to this day, and a "super close relationship" with her parents, who recently celebrated their 50th wedding anniversary. Jen also had the joy of seeing both sets of grandparents celebrate their 60th anniversaries. She loves to travel, especially with her two teenagers, who "just inspire me," she beams. "My parents and kids are my north star."
ACCEPTED AND VALUED
Looking back, Jen is grateful she transitioned into financial services, an industry that's "great for women. There are so many different roles that offer growth, mobility and flexibility to balance office time, travel and the home front," she says, calling Morgan Stanley "a collaborative, inspiring environment that allows men and women to flex as things change in their lives." For Jen, that meant being "accepted and valued as a divorced, single mom."
In fact, Jen is intentional about creating a diverse and inclusive culture in which everyone is accepted and respected. She's focused on building a pipeline of diverse talent for Compliance roles and is a mentor to many inside and outside of her group. She acknowledges "a softer side of diversity and inclusion" in simply getting to know people and learning their stories. "With that comes a greater appreciation for the vantage point they bring to the table," she says.
Jen is honored to have been named a MAKER, joining a community of advocates, innovators and groundbreakers for women's advancement, all nominated by their peers. The 2023 class marks the 10th anniversary of the Morgan Stanley MAKERS program.
"It's a privilege even to be considered among this illustrious group of strong and impactful women," says Jen, who sees MAKERS as influential role models who are "strategic, authentic and mindful in their approach to their professional lives and beyond." As a MAKER, she hopes "to be an inspiration to other single moms" and stands ready to collaborate with other MAKERS across industries to deliver meaningful change for generations to come.