This Morgan Stanley MAKER and Private Wealth Advisor accepts that "life throws you curves" and overcomes them by sequencing things. Doing so allowed her to help her own family, then countless others.
Sylvia Gort, a Morgan Stanley Private Wealth Advisor (PWA) in Atlanta, Ga., accepts that "life throws you curves." What really matters, she'll tell you, is "how you handle them." Having navigated her fair share of those curves, Sylvia has learned to "sequence things," determining what she "has to do first to get to the next step."
The daughter of Holocaust survivors, Sylvia was the first in her family to be born in the United States and the first to finish college. She remembers her parents' kindness and the "strong work ethic that was always present in our home." Her mother especially was an inspiration to Sylvia. "She came to this country with nothing and had the courage to start over, teaching herself this language." Having become more proficient in English and business than her husband, she leaned in to run the family finances and invest in real estate in addition to running their household.
Sylvia, who has a bachelor's degree in Real Estate and Urban Development from the University of Georgia and an MBA in Finance from Georgia State, was working in real estate when her mother became sick and died. Sylvia's 86-year-old father had never even written a check. That's when she took a year off from work to help him get settled. "I probated the will, learned about investments and sold his home," she recalls.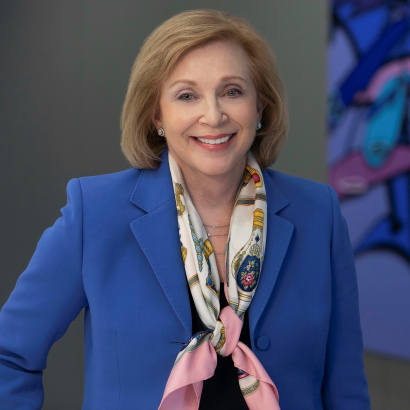 Frustrated by how little she knew about "the things that could help my family," Sylvia decided not to go back to real estate. Instead, she called the head of the private bank and asked him to teach her about trusts, estates and investment management. He did, and in discovering how much she could do with her new knowledge, she started a new career.
Today, she gets to help other families. She does so with Marc Karetsky, another PWA at Morgan Stanley. Partners since 2003, together they left Bank of America for Lehman Brothers, stuck it out together through the firm's bankruptcy and transitioned to Barclay's before joining Morgan Stanley in 2015. With her background in lending and Marc's in investment management, the "combination works well for ultra-high-net-worth individuals," says Sylvia. "We complement each other."
FOLLOW ALL THE STEPS
In the earlier years of her highly successful career, Sylvia was often the only woman in the room. "I had to know my craft well," says Sylvia, who put every effort into learning it. A voracious reader, she devoured everything she could to understand markets and how to best serve her clients. Always thinking sequentially, she reminds: "You can't skip steps."
She's pleased to see an industry that has worked to proactively recruit and retain women, including active mentorship programs. She remembers how difficult it was without having that same access to mentors. That's why she makes a point to help others "find their footing," says Sylvia. "If I can help someone solve a problem or think through their next step, it's really important to me to do so."
It's also important to Sylvia to 'build bridges,' creating connections for others and fostering a culture of giving back.
It's also important to Sylvia to "build bridges," creating connections for others and fostering a culture of giving back. Sylvia is one of four women who launched the Atlanta chapter of Morgan Stanley's Women in Wealth, an organization that focuses on "getting women to the next step," she says. "Giving back in that way helps the next generation come forward."
In addition to being a mentor to four women currently, Sylvia is a member of the firm's Atlanta Diversity Council. She also volunteers and fundraises for the American Jewish Committee and the Jewish Women's Fund of Atlanta.
SUPPORTIVE SONS
About six months after she moved her practice to Morgan Stanley, Sylvia was diagnosed with breast cancer. She remembers going through radiation while negotiating a tailored loan for a client. She endured this personal health crisis three years after having lost her husband of 29 years to pancreatic cancer. She had to close his criminal law practice, and, once more, approached it as a sequence: "I got his books in order, met with his clients and found them other attorneys," she says.
Thankfully, she's had the support of her two grown sons, "kind, generous people who are good to their mama," she beams. They both live within a few miles of her. Each year, they play 18 holes of golf together on Mother's Day and do a ski trip at Christmastime. "They applaud me despite how awful my game is," she laughs.
They're undoubtedly proud of all of her accomplishments, including being named a Morgan Stanley MAKER, joining a community of advocates, innovators and groundbreakers for women's advancement, all nominated by their peers. She's humbled to be among the Firm's MAKERS Class of 2023, which marks the program's 10th anniversary. "It's an honor I can't even describe—a recognition I never expected to receive."