This Morgan Stanley MAKER and a founder of the Equity Collective works hard at leading hundreds on his team and at creating environments in which "everyone feels on common ground."
As Chief Operating Officer of Investment Solutions at Morgan Stanley Wealth Management and a founder of The Equity Collective, an initiative to advance equity and inclusion within the finance industry, Scott Steel is admired as a diversity champion who believes in the power of teams.
When Scott Steel followed in his brother's footsteps to Villanova University after being wait-listed, his parents assured him they didn't expect the same high-honors achievements. Nonetheless, Scott tried his hardest, forcing himself to be disciplined. When he earned a 4.0 GPA that freshman year, "I realized what I could achieve academically if I put in the work, the time and the effort," he says.

Since then, Scott has never stopped applying himself, "motivated by the fear of failure," he admits. The finance major with a low tolerance for risk and aspirations of Wall Street wanted "to make as much money as fast as possible" to build some security. After studying abroad at Cambridge University during his junior year and completing an industry internship, Scott landed a coveted job in investment banking after graduation.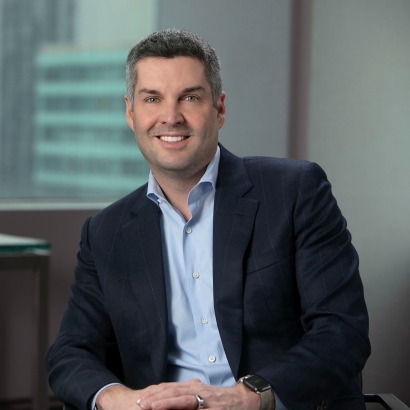 His second day of work was Sept. 11, 2021.
Working in a building attached to the World Trade Center, "what I saw and experienced that day caused many years of emotional distress, but it shaped who I am today," he says. "I realize that life is precious, and you have to prioritize what's important."
Of utmost importance to Scott are his wife and their two teenage daughters. "Kaitlyn and Emily are the joys of our lives," says Scott, who wants more than anything for them to have every opportunity to do "whatever they want and be successful at it," never having to experience "the inequities my wife and I have seen in the workplace."
Perhaps that's why this leader is known as an ally with a strong commitment to diversity. Today, the Chief Operating Officer of Investment Solutions at Morgan Stanley Wealth Management and his team of several hundred are responsible for what he calls "the three Ps"—the products, programs and platforms that serve Financial Advisors and clients. Of note, the majority of his leadership team is women.
THE SUM OF ITS PARTS
Over the years, he's learned that success is only possible "when the individuals on your team are succeeding." That's why he spends so much time advocating for others, discussing and navigating opportunities throughout the firm, particularly focused on making sure "the women on my team have fruitful careers without barriers."
Scott knows "everyone wants to be recognized for their contributions but not always in the same manner. It's important to understand each individual so you can not only mentor them but, in some cases, sponsor them." He makes a point to know where each person on his team wants to be in their career and never shies away from conversations about where they might need to improve.
Besides mentoring, Scott has a thirst for problem-solving. He thrives in navigating complex situations, "because I have confidence in myself and the talented individuals who surround me. Together, we can see anything through."
To ensure they succeed collectively, he puts in "the same amount of effort that I expect of my team, says Scott, insisting "I'll never be outworked."
He makes a point to know where each person on his team wants to be in their career and never shies away from conversations about where they might need to improve.
STRONG WORK ETHIC
Scott, who grew up in a small town in central New Jersey, says that his work ethic comes from his parents, grandparents and great-grandparents, all of whom came from "humble beginnings and worked well into their 70s." His father, a residential builder, found time to coach his sons' sports teams. Scott's mother, a flight attendant, occasionally brought Scott along on trips and "let me sit in the cockpit with the pilots," he fondly remembers. Now in her 70s and a licensed nurse, she manages a doctor's office and spends weekends caring for kids with disabilities. She, Scott and his brother used to be emergency medical technicians and together volunteered for their town's rescue squad. "The idea of caring for others as much as you care for yourself was embedded in me from the early days," says Scott.
Following his parent's example, Scott coaches his daughters' softball team, ensuring "every child feels they have an opportunity to play a different position and feels appreciated for their contributions." A long-time golfer, Scott enjoys playing with his wife and kids—and spending summers on the Jersey shore together. He also makes time for his alma mater, serving on the School of Business Dean's Advisory Council and the board of Villanova's Augustinian Investment Committee.
ALWAYS A COLLECTIVE
Knowing the importance of expanding opportunities for diverse talent in the finance industry, in 2021 Scott and a few colleagues launched The Equity Collective, a collaboration among 27 wealth and asset management firms. He brought leaders together to educate, empower and develop the next generation of diverse talent. "We're driving the message around wealth and asset management in underrepresented communities, starting in high school and continuing at the undergraduate and graduate levels, not only promoting the benefits of financial services but ensuring they have the skills to be leaders," he explains.
Scott's excited about what this initiative means for Morgan Stanley and financial services more broadly, emphasizing how "everyone comes to the table with different backgrounds and perspectives. Ensuring everyone is treated fairly, their voices are heard and that they know their opinions matter makes us a better organization."
Beyond the workplace, Scott feels diversity and inclusion "should be inherent in the way we go about our daily lives" and intentional in creating environments in which "everyone feels on common ground."
For these efforts and more, Scott was named a Morgan Stanley MAKER, joining a community of advocates, innovators and groundbreakers for women's advancement, all nominated by their peers. He's honored to be in the company of so many accomplished colleagues, describing MAKERS as "women or allies who are willing to challenge the status quo while staying true to who they are." However, rather than accepting this as a personal achievement, no one is surprised Scott sees this recognition "as something we've collectively achieved as a team."