Native Americans contribute mightily to communities and workplaces. This month, Morgan Stanley takes time to honor and celebrate all Indigenous people.
There are more than 550 federally recognized tribal entities in the United States1—and many more that are non-federally recognized. November, designated Native American Heritage Month, is a great time to honor, listen to and learn from the Indigenous people in our communities and in our workplaces.
"Many people think about our communities in the past tense, almost in an archeological sense, as if we only existed in the past," says Morgan Stanley Branch Manager Stephanie Crago of the Brothertown Indian Nation. "Native Americans and Alaska Natives are still here."
For Morgan Stanley employees, this month the Multicultural Employee Networking Group (MENG) has put together a roster of speaker events, educational resources and podcasts that make it easier to learn more about Indigenous communities. "MENG enables us to amplify our voice, share our culture and contribute to the growth of the Firm and our communities within it," says Regional Training Manager Alonzo Davis, a member of the Lumbee Indian Tribe.
Among the learning opportunities is a panel discussion called "History, Culture & Allyship," featuring Stephanie, Alonzo and other Morgan Stanley leaders of Native America heritage. MENG also is hosting a Conversation with NaDaizja Bolling, a program director with the Aquinnah Cultural Center, a nonprofit community center and museum.

We asked Stephanie and Alonzo about their tribes, the challenges Indigenous communities continue to face and actions all people can take this month to become better allies to Native people.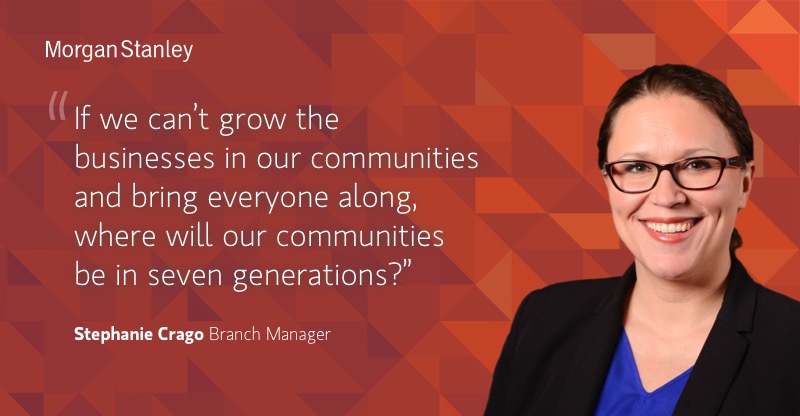 There are hundreds of tribal nations in the U.S., each with their own unique culture, language, and history. What would you like people to know about the Brothertown Indian Nation?
I love talking with people about my tribe. We are a non-federally recognized tribe made up of seven tribes from the Mohegan, Eastern Pequot, Mashantucket Pequot, Niantic, Narragansett, Montauk, and Tunxis. We were founded by Samson Occom, who was an educator and ordained minister in the 18th century. Because we converted to Christianity, we were considered "praying Indians." Funds Samson raised to educate Native American children were used to found Dartmouth College without his knowledge. As settlers came in, our tribe moved to upstate New York with the Oneida and then to Wisconsin. Today our members are spread throughout the United States.
Within the broader social justice movement, challenges facing Native Americans have gained more visibility in recent years. What issues are you most concerned about or involved in?
Nationally, I'm involved in MMIWG2, which stands for Missing and Murdered Indigenous Women, Girls and Two-Spirit People. The goal of MMIWG2 is to end the violence against Native American women and to draw attention to the high rates of disappearances and murders of Native people. Four out of five Native American women have experienced violence and Native women living on reservations face murder rates that are 10 times the national average. 2
As a branch manager in Anchorage, Alaska, you have a passion for helping people in your community. How has your Native American heritage helped you to become a strong leader at Morgan Stanley?
I grew up with an extended family that wasn't necessarily blood; every elder was someone who helped raise me. I still have that same mindset. I believe when one person in our community does better, it benefits us all. If we can't grow the businesses in our communities and bring everyone along, where will our communities be in seven generations? I would also add that we are matriarchal, which lends importance to the women in my life. My grandmother has always been my guiding light. My strong voice, grit, and strength come from her.
What are some good ways for people to recognize, support, and honor all Native Americans this month?
Acknowledge the original people whose land you are on. You might visit a local Native American cultural museum. Read books by Native American authors and be open to learning the real history of this country. Supporting Indigenous businesses, especially when buying something that appears to be from an Indigenous culture, like dream catchers or beaded earrings. Most of all, let us have a voice and a presence at the table. We are the true minority of minorities. The Bureau of Labor Statistics tracked us in the unemployment data for the very first time just this year. Most companies do not include us in their retention and hiring metrics. It is in that silence we are forgotten.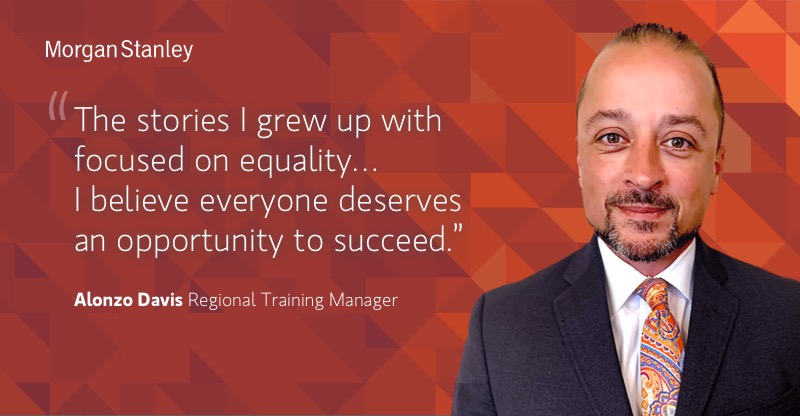 What does Native American Heritage Month mean to you and what are some of the largest barriers to creating a more fair and just society for Native Americans?
Native American Heritage Month (NAHM) is an opportunity for our tribal community to get together, honor our veterans, and celebrate the past year. As awareness builds, NAHM also provides a platform to discuss current challenges within our Native American communities and highlight areas where we can grow as a nation.
Acknowledgement and inclusion continue to be our primary obstacles. Equal and fair treatment begins with recognizing Indigenous populations, including them in social dialogue, and intentionally seeking solutions to Native challenges. Until that occurs, positive change within Indigenous communities will continue to be inconsistent.
What would you like people to know about the Lumbee Indian Tribe?
The Lumbee Indian Tribe is the largest tribe east of the Mississippi, based in the southeastern part of North Carolina, whose members are primarily descendants of the Croatan, the first peoples to meet Sir Walter Raleigh and the Lost Colony. Pine trees are central to the Lumbee culture, and many of our health remedies, teas, artwork, and design patterns are influenced by the conifers.
How has your Native American heritage helped you become a strong leader at Morgan Stanley?
My tribe, my family, and my people have persisted and excelled for centuries. I know that resilience is key to survival. The stories I grew up with focused on equality, the lessons my elders taught me as a youth centered on hard work, and the culture I was raised in valued faith and perseverance.
My grandfather was a preacher, a farmer, a father, and the most intentional man I have known. He was kind and taught me the value of hard work and integrity. We owned a small farm where I learned that actions speak louder than words and to measure your actions by the purpose you put into them. He taught me to be in the moment and help others when you can, lessons that are the core of my approach to life. As a Regional Training Officer, I see the growth of our employees as we work towards a common goal. That's emotionally rewarding and inspires me daily. I believe everyone deserves an opportunity to succeed.

What can employees at Morgan Stanley do this month to create an even more welcoming and inclusive workplace for their Native American and Indigenous colleagues?
Take time to learn about the local tribes in your areas and look for opportunities to understand Native American perspectives. The more knowledgeable everyone is about the current challenges Indigenous communities face, the better able we'll all be able to come together to overcome them.