Learn from Fina Perez and Samantha Woggon, Morgan Stanley Wealth Management leaders, as they share their thoughts on Women's History Month.
Fina Perez and Samantha Woggon Share Their Perspectives
Morgan Stanley is committed to supporting women in their careers as well as in their financial lives. As investors, leaders and trailblazers, women today manage more wealth and are making greater strides in the workforce than ever before. This Women's History Month, we pause to celebrate their continued empowerment and significant contributions to industry and society.
To help us gain perspective on this special month, we caught up with Fina Perez, Executive Director of Field Business Management & Strategy, in New York, and Samantha Woggon, a Branch Manager and Subcomplex Manager in Florida. Both lead sizable teams within Morgan Stanley Wealth Management.
Since joining Morgan Stanley in 2014, Fina has "felt like I am part of a family." She transitioned in 2016 from a supporting role on an international wealth management team to one of the Firm's home office teams. Previously, she worked at Merrill Lynch, where she landed an international wealth management job after moving to New York and attending Columbia Business School for her MBA. Before that, the entrepreneur founded and operated her own bail bond company while completing her undergraduate studies in California. She also managed to launch a golf apparel company and a clothing and branding company serving sororities and fraternities. As a teenager, she immigrated with her family, to California from Venezuela.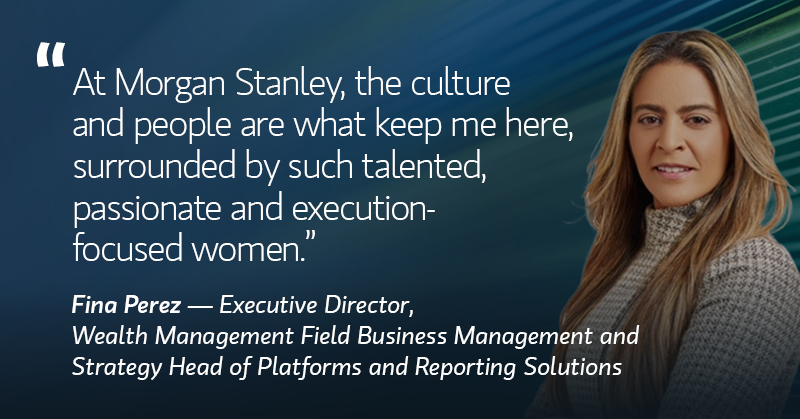 A SENSE OF BELONGING
Reflecting on her journey, Fina refers to a feeling of belonging and "being in the right place doing the right things," she says. That's something Fina feels strongly at Morgan Stanley. "That's the power of the Firm," agrees Samantha. "Through our mentoring and leadership programs, I really believe anything's possible here."
Samantha joined Morgan Stanley after graduating from Texas Tech University and entered the training program to become a Financial Advisor. When she realized that role wasn't right for her, she looked for other opportunities and found a sales assistant position in Chicago. When the branch administrative manager retired a few years later, she applied and was hired. Before being promoted to Associate Complex Manager in Boca Raton, Fla., she spent 15 years positioning herself for opportunities in various roles and departments, always willing to move and tackle new responsibilities. "I try to network and meet new people all the time, which is easy to do if you're comfortable being uncomfortable," she says.
Today, she manages a subcomplex in Stuart, Fla., and three branches within the Palm Beach Complex, leading 45 Financial Advisors and 25 support professionals. While this is "the most rewarding position I've held at Morgan Stanley," she's loved all her roles at the Firm over the past 25 years. "The opportunities for women are endless," she says. "Anything you want to do at Morgan Stanley you can do. You just have to believe in yourself. You will be supported."
Samantha and Fina have experienced that support from management and in the form of training, leadership and development programs, as well as mentorship and networking opportunities. Fina says she's had many positive experiences getting to know others and helping them make connections that led to their growth and mobility. Participating on and engaging with the Diversity & Inclusion team has helped her get to know other Latinos and Latinas, which contributed to the sense of family she feels at the Firm. "It's an empowering feeling to see individuals that share a similar background at Morgan Stanley." She is also a member of multiple employee resource groups and serves as a committee member for the Multicultural Employee Networking Group and the Morgan Stanley chapter of the Association of Latino Finance and Accounting Professionals.
To build even more connectivity and networking opportunities within Morgan Stanley, Fina helped create the Office of Business Management Women's Group. It has included professional development opportunities and talks with senior leader guest speakers. "I feel my ideas are supported and sought after, here at Morgan Stanley," she explains. "The culture and people are what keep me here, surrounded by such talented, passionate and execution-focused women." Outside the Firm, she mentors three young women and is a member of the FWA of New York and Ellevate.
Samantha also participates in "everything the Firm has to offer" when it comes to networking, mentoring and giving back. Within her complex, Samantha was involved in the recent launch of a Women's Business Development Council and the relaunch of its Diversity and Inclusion Council. She's also a Wellness Ambassador for the complex and has several mentoring relationships within her branch's manager apprenticeship program. Outside of Morgan Stanley, she's a member of Impact100, a philanthropic organization that brings women together to transform their communities. "It's so rewarding to be a mentor, seeing women develop their skills, become more confident and achieve greatness," says Samantha.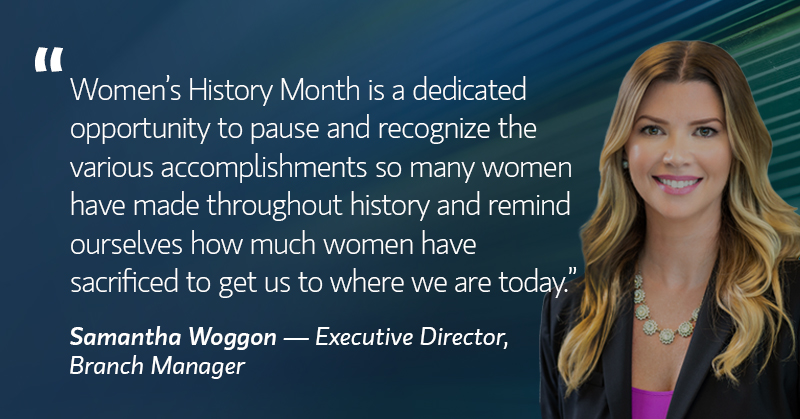 WHY WE CELEBRATE
Samantha believes Women's History Month is a dedicated opportunity to "pause and recognize the various accomplishments so many women have made throughout history and remind ourselves how much women have sacrificed to get us to where we are today."
Fina agrees. "When you think about how much has gone into advancing our ability as women to have a voice and be supported when we speak up, it's worth taking inventory and celebrating it," she says.
Still, our "work is not done," adds Fina. "We can all play a part in this work." Samantha concurs that there is "still so much to do," and "not just women need to lift other women. It's all of us collectively working together to get to a place where we have equity."
EMBRACE EQUITY
So what does equity really mean? "Equity is an attempt to achieve fairness," Fina explains. "Although equal in our abilities, that doesn't mean we're coming from the same background or have the same ability to leverage that equality. We all have different circumstances. Our starting fields are not equal."
Samantha also points to the difference between equity and equality. "Equality is important. It means you're treating everyone the same. But equity is different; it means giving everyone what they need to succeed, acknowledging social differences, that we all come from different circumstances and that, for some of us, it's more difficult to achieve the same goal."
She loves the idea of embracing equity and feels it's what differentiates Morgan Stanley from other firms. "Here, it's not just about diversity and inclusion initiatives," says Samantha. "It's about creating a culture and an environment where everyone knows they belong, understands what each of us brings to the table and feels respect, trust and compassion."
INSPIRATIONAL WOMEN
Samantha's been influenced by many women over the course of her career, but three standouts at Morgan Stanley are Carla Harris, Caroline Gundeck and Vanessa Henley, each of whom has "embraced equity, particularly with me," she notes. "They've each taken the time to understand what I needed specifically to succeed either in my current role or for the next step in my career."
Fina also works with a lot of phenomenal women and has had many remarkable mentors. But the woman who has inspired her the most is her mother, who obtained her Ed. D in Counseling Psychology while working full time and raising her family. "She has such a strong work ethic, so much conviction, and is the definition of discipline," says Fina. "She's the voice of reason in my head all the time."
CAREER ADVICE
Samantha's advice to women is to "get comfortable being uncomfortable. When you push your boundaries, you will realize how much you can truly accomplish." She also advises women to create a professional and personal network of mentors, advocates and sponsors. "Make sure they know your skills and what you're looking to accomplish next. Be vocal about it," she advises.
To that, Fina adds: "Don't be shy," reflecting on moments "I've been in the room and at the table and said nothing, too worried about what people might think of me. It took me a while to realize I was there because someone knew I could contribute. I learned to own my space and really use my presence. Believe that you belong, and make that time valuable."