To celebrate Hispanic Heritage Month, learn how Morgan Stanley's Hispanic and Latino communities come together to advance workplace diversity.
National Hispanic Heritage Month 2022 kicked off on Sept. 15, giving us an opportunity to celebrate the histories, cultures and contributions of American citizens whose ancestors came from Spain, Mexico, the Caribbean and Central and South America. It's also a chance to reflect on the collective strength and vitality of the Hispanic/Latino community at Morgan Stanley, which has grown steadily over the past decade.
The theme for this year's Hispanic Heritage Month is "Unidos: Inclusivity for a Stronger Nation." Our Latino Employee Network (LEN) are helping facilitate several events related to this year's theme.
¡Presente! A Latino History of the United States is the first-ever exhibition presented by the National Museum of the American Latino at the Smithsonian. The exhibition uncovers hidden and forgotten stories, connects visitors to Hispanic/Latino culture and lays the foundation for understanding how Latinas and Latinos inform and shape U.S. history. Open to employees and clients on Oct. 5, our hosted event features a talk by founding director Jorge Zamanillo as he shares his leadership journey and vision for the museum.
Also be sure to check out Championing Diversity: A Conversation with Soledad O'Brien on Sept. 27. An award-winning journalist, documentarian, news anchor and producer, O'Brien will sit down with Susan Reid, global head of diversity and inclusion at Morgan Stanley, to discuss her experience growing up as a Latino woman in America and her steadfast advocacy for the Latino community.
Events like these epitomize the Latino Employee Network's efforts to promote Hispanic/Latino culture at the firm, drive awareness of the community's achievements and highlight the power of identity. The network invites employees to actively participate in the group's educational and cultural events and join its volunteer efforts to increase community impact.
This month, we spotlight two Morgan Stanley employees of Hispanic/Latino descent—Gabriela Teran and Miguel Mendez—to find out what Hispanic Heritage Month means to them and how to mentor young Hispanic/Latino professionals within the industry.
What does Hispanic Heritage Month mean to you?
It's a time to reflect and think forward—to reflect on where we have been, how we got here and, most important, what's next. While this is something we should do every day, Hispanic Heritage Month gives me the opportunity to pause and think, "What more can I do?" Most of us don't make enough time in our lives to do what's important and follow our passions. I've learned a lot by hearing about other people's journeys, and it's motivated me to get more involved both inside and outside the firm. Hispanic Heritage Month also reminds me of events I used to attend when I was growing up in Texas celebrating the Hispanic community. These events had a great influence on me, allowing me to connect with what it means to be Hispanic. This is something I worry about with future generations. I have two teenage children who are growing up in the U.S., and I know that traditions even as simple as eating an arepa every morning keeps them connected to their roots.
Where do you feel the most progress has been made in recognizing and empowering Hispanic and Latino contributions in our industry?
Today, Latinos are leading across all industries and professions. We did not get here because of luck or chance; it's hard work, vision and community that's given Latinos the opportunity to thrive. If measured as a group, Latinos in the U.S. today would be tied for the seventh largest GDP in the world, and we're the second largest cohort driving the U.S. economy per the 2021 Latino Donor Collective report. That's powerful and exciting, because it translates to more opportunities being available to the broader Hispanic population. Also, Latinos continue to make important contributions to the financial sector. You have leaders like Henry Fernandez, CEO of MSCI World Index. He spent an important part of his career at Morgan Stanley and today leads one of the most important firms in our sector.
How can the Hispanic and other diverse communities at Morgan Stanley support each other in advancing workplace diversity?
This is very important. Early in my career, one of my managers sat me down and asked me why I wasn't more involved with Hispanic initiatives at the firm. I didn't have an answer. He said to me, "Remember that as a leader today and in the future, your most important legacy is the people you develop and take to new levels." As a community, we need to mentor and empower our emerging and future leaders. We all need coaching, guidance and an understanding that what got you to where you are today may not necessarily help you get to your next opportunity tomorrow. We need to commit to mentoring, training and providing opportunities to our current and future employees.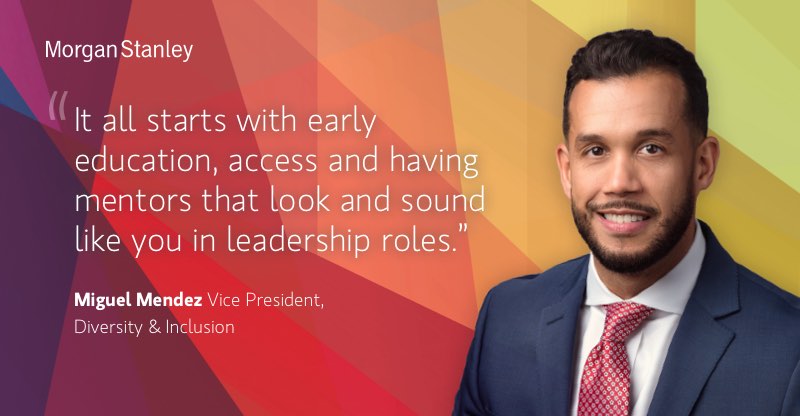 How has your Hispanic/Latino heritage influenced your career path?
I grew up in Washington Heights (little Dominican Republic), where we had mostly Dominican, Cuban, Puerto Rican, Black and a few Asian-American neighbors. Being around such diverse cultures exposed me to so many incredible experiences from all aspects of life. I believe that's translated to my career in three main areas: constant learning, adaptability and building community. I've always allowed myself to listen more than talk, which has helped me build strong, long-lasting relationships. You'd be surprised how much you can learn from being a great listener. Change is constant in this industry, and the ability to adapt is key to your overall growth. Growing up, I had to adjust to living in a new country, multiple cities and environments where you had to think quickly in order to thrive. It taught me early on to embrace change, never be too comfortable and always strive for more. Finally, even though many of us were from different countries, people in my community took care of each other as a family. It's the same at work. We spend so much time together, it's important that we lean in, learn from each other and work together to make a difference.
Where do you feel the most progress has been made in recognizing and empowering Hispanic and Latino contributions in our industry?
In my 20-plus years within the industry, I'd say the biggest indicator of progress has been the number of young Hispanic/Latino professionals joining our industry. That tells me we're doing our part to bring awareness of how Hispanics/Latinos can build and succeed within our industry. I recently attended a session with a new class of analysts where I shared a bit about the work I do. It was so refreshing to see so many Hispanics/Latinos in the room. But there's also more progress to be made. We need to improve access and opportunity across industries. It all starts with early education, access and having mentors that look and sound like you in leadership roles. I'm a perfect example of that. I was given a chance and I never looked back.
What are some options for Hispanic and Latino individuals who want to serve as role models and mentors for youth and junior employees?
There are so many ways to get involved as a role model, whether in your local community, at work or even within your own family. I sit on the board of Latino U, a nonprofit organization that transforms lives by making college dreams a reality for low-income, first-generation Latino youth. Our mission is to empower students on their journeys to and through college so they can fulfill their remarkable potential. At Morgan Stanley, we have several mentoring programs and volunteer opportunities through our 17 employee networks. We all have a part to play as role models for the next generation of leaders.