A community garden is the beating heart of an affordable housing complex renovation.
"We grow seven varieties of tomatoes, three types of cucumbers, all kinds of kale, peppers, collards, broccoli," says Sheryll Durrant, manager of the Kelly Street Garden in the Bronx, strolling through neat aisles of vegetables, fruits, flowers and herbs.
Nearby, high school boys weigh the beans and cucumbers they harvested. Local residents stream in to collect their share of the garden's produce. Social service program clients socialize and enjoy the camaraderie that the garden fosters.
The Kelly Street Garden, once a garbage-strewn lot, is the centerpiece of a cluster of formerly dilapidated housing projects in the South Bronx that have been renovated and revitalized with the help of loans and investments from Morgan Stanley. This project and others helped the firm earn an "outstanding" rating from the Office of the Comptroller of the Currency, the regulatory agency that assesses the Community Reinvestment Act obligations of banks.
Quality of Life
Audrey Choi, Morgan Stanley's Chief Marketing Officer and Chief Sustainability Officer, notes that the firm has made a long-term commitment to community development in the South Bronx, directing its investment dollars to distressed properties in a neighborhood that needs high-quality affordable housing.
"This was not a deal that was easy, obvious or required for us to do," Choi says. "We did it because we really have a deep commitment to finding methods to deploy our capital in order to substantially improve the quality of life."
Sonya Ferguson, who has lived most of her life in the building complex surrounding the Kelly Street Garden, can attest to the improvements. Before the top-to-bottom renovation, the halls had no lights, and a pack of rats once crashed a neighbor's holiday party—knocking over the Christmas tree, she says. Now, motion-sensitive lights line the halls, the rats are history, and spacious multi-bedroom apartments accommodate large families.
Ferguson, who works in the garden as an "ambassador," gets emotional when talking about its importance: "This garden represents much more than just fruits and vegetables. It represents the blood, sweat and tears of our community—it shows that people have strived, lived through epidemics of drugs and displacement—and here we are now, proud of our beautiful garden."
Serrano Peppers and Hot Sauce
Durrant, who spent several decades working as a marketing executive before she turned to urban gardening, says she and her team harvest 1,200 pounds of produce a year from the 2,500-square-foot garden, food that is given to people in the community. "It's a lot of food for a small garden," she says.
Regular cooking lessons allow, say, residents who emigrated from the Caribbean to show off their skills with ingredients like callaloo, radishes and cilantro. "The children come to these demonstrations, and they do eat their vegetables," Durrant says. "I am sometimes amazed."
The garden's serrano peppers have even gained some notoriety as the key ingredient used to make Bronx Greenmarket Hot Sauce, produced by a collaboration among Small Axe Peppers, the New York Botanical Garden and GrowNYC, an organization that supports community gardens.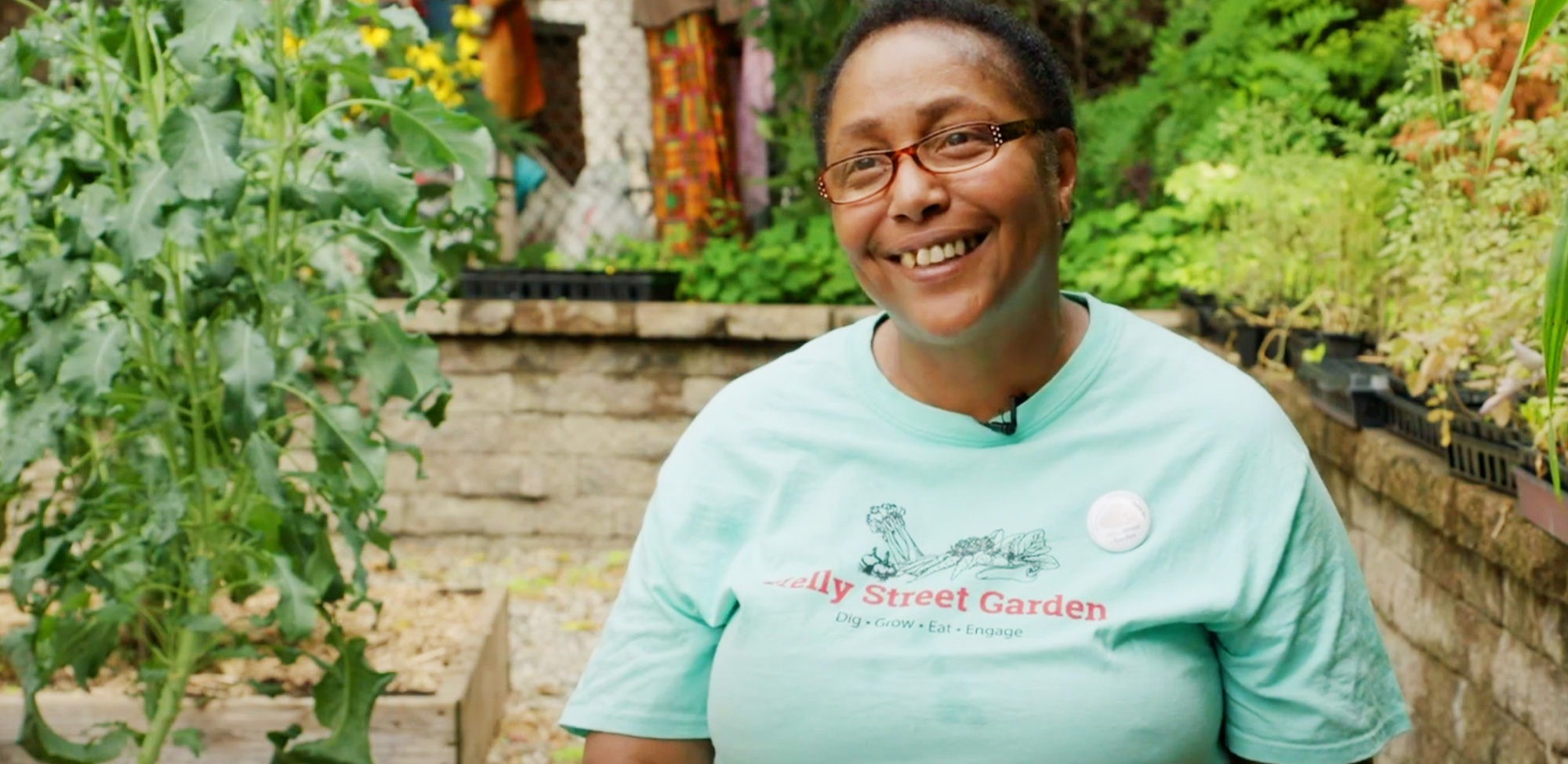 One of the other properties in the Bronx that Morgan Stanley helped revitalize has a different claim to fame: 1520 Sedgwick Avenue is known as the birthplace of hip-hop, thanks to a seminal house party held there in 1973 by a resident who went by the name of DJ Kool Herc.
In 2010, the Bronx properties were in terrible shape. Morgan Stanley worked with the City of New York's housing agency and a mission-oriented development firm, Workforce Housing Group, to acquire and renovate more than 1,000 units of affordable housing, creating vibrant and healthy living environments across New York City. Today, the Kelly Street Garden is one of the crown jewels of the redevelopment efforts.
Since the completed rehabilitations, crime in the area has dropped significantly, says John A. Crotty, a founding member of Workforce Housing Group. "When Morgan Stanley came in with the equity for this project, it was pretty awesome," Crotty says. "We were a new group, and they were there for us. Together, the work we have done in the Bronx has had a massive impact across these neighborhoods, and a tremendous improvement in the quality of life for residents."
Critical to the Kelly Street redevelopment, Crotty notes, have been Monadnock Construction, the general contractor, and the Banana Kelly Community Improvement Association, a community-based organization that has served as the nonprofit partner.
'Holistic Commitment to a Community'
Mike Mantle, head of Community Development Finance at Morgan Stanley, stresses the importance for the firm of building high-quality housing where people can live with safety, dignity and happiness. "We were only going to do a project like this if we really stuck with it, to become a holistic part of the solution," he says. "Ultimately, that kind of holistic commitment to a community is what makes a smart investment."
Choi echoes his views. "Our work in the Bronx speaks very much to our view of sustainable finance, which is about creating a virtuous cycle, where, by deploying capital, you're able to strengthen a community, while also making a sound investment."
Durrant, the garden manager, and her husband, Bruce Zeines, live in the building complex and have made the garden a magnet for the community. On a recent Saturday, people dropped in and came away with bags full of broccoli, kale, Swiss chard and cucumbers. Zeines, an artist, works with the neighborhood children to build whimsical scarecrows that keep away birds.
Durrant holds workshops on health problems—hypertension, asthma and diabetes—that afflict the community. Working with a medicinal herbalist, she creates cough syrup and other remedies using ingredients from the garden. Students at Farm School NYC—Durrant's alma mater—work alongside high-schoolers and neighborhood volunteers to make everything run smoothly.
"This is my third season here and this is just such a great project," Durrant reflects. "I get to meet different people, to think about what the community needs, and devise ways to be beneficial to others."