The rejuvenating experience of walking down a garden path is explored in Chris Beardshaw's design of this year's Morgan Stanley Chelsea Flower Show Garden, for UK charity, NSPCC.
Imagine a garden path, dappled with sunlight peeking through a canopy of foliage from the richly planted woodland that hugs its sides. It's a scene so soothing, that it's impossible to resist the urge to step onto the garden's walkway, to see where it leads.
This is the very initial reaction Chris Beardshaw hopes to evoke in visitors this year, to the fourth Chelsea Flower Show Garden he's creating for Morgan Stanley. The garden path is part of a design that alludes to a journey thousands of children take every year, with support from the UK's National Society for the Prevention of Cruelty to Children (NSPCC).
"Our work helps children who have been victims of abuse and neglect rebuild their lives," says Peter Wanless, NSPCC's CEO. "This garden will raise awareness in an inspirational way of the often difficult journey young people face on their own road to recovery."
Morgan Stanley and Beardshaw's team are hoping the garden will raise public awareness and funds for NSPCC, the firm's London charity. After the garden's five days in the limelight this May, the NSPCC is selling off the plants in the garden.
Comfort and Security
"The garden's design aims to provide a metaphor for the emotional transition that takes place in children as they are supported by the NSPCC," says Beardshaw. "At first there's no obvious sense of where the path is headed, but as you begin to journey through the rich canopy of trees and shrubs you reach a corner. As you turn, the space unfurls and the planting becomes more colorful, with the plants clamoring for your attention," he explains. "The textures are soft and inviting. It's about comfort and feeling secure."
The path moves on to step up into a pavilion, which offers views back across the garden and from where you have come. The pavilion houses several moveable screens, which can be opened or closed to create differing vistas of the garden and a view out to a crystal clear, reflective canal at the rear. "There are always choices along the way, and a clear sense that you can decide how much and what to reveal as you go," he says.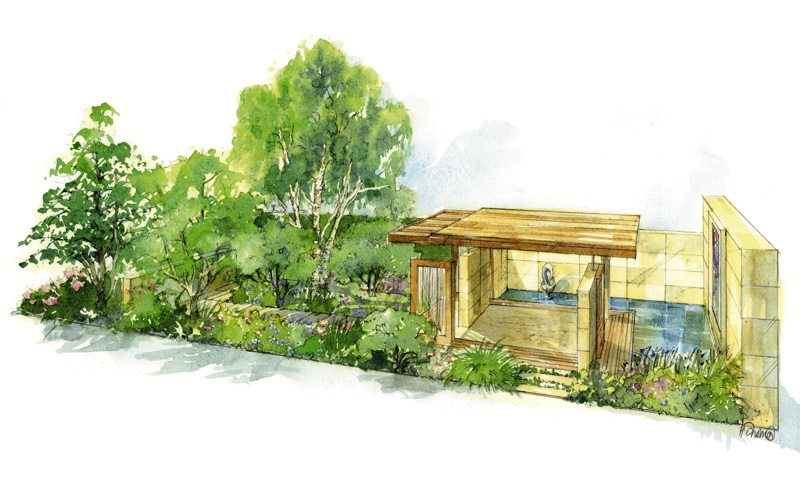 Morgan Stanley's Chelsea Flower Show garden, 2018.
Rooftops and Garden Plots
Beardshaw and Morgan Stanley have been creating gardens since 2015 to champion the health and wellbeing of children. First there was the Healthy Cities garden for Poplar, a residential neighborhood in East London, which provides a play space as well as vegetable garden plots for the community.
The following year Morgan Stanley and Beardshaw created a rooftop garden at Great Ormond Street Hospital, to function as a sanctuary for parents and families of the young patients. Last year's garden involved a collaboration with the National Youth Orchestra of Great Britain. Harmony in Nature was that garden's keynote, with the teenaged musicians and Beardshaw inspiring one another's creativity.
"It's a different set of challenges every year, and how I approach each garden is always evolving. Each project is unique and I love to use the garden to tell the different stories," says Beardshaw. "The one constant is the focus on children and adolescents, and that's perfect, really, because gardens are all about making something beautiful and watching it grow."