Firm clients and guests joined Night Shyamalan and his family for a candid discussion on work, philanthropy, and more.
An Unforgettable Evening with the Shyamalan Family
It was a family affair for Morgan Stanley employees and clients. Via an exclusive invitation, clients and guests listened in as the Shyamalan family discussed their work, philanthropic efforts, and the most important thing in their lives: family.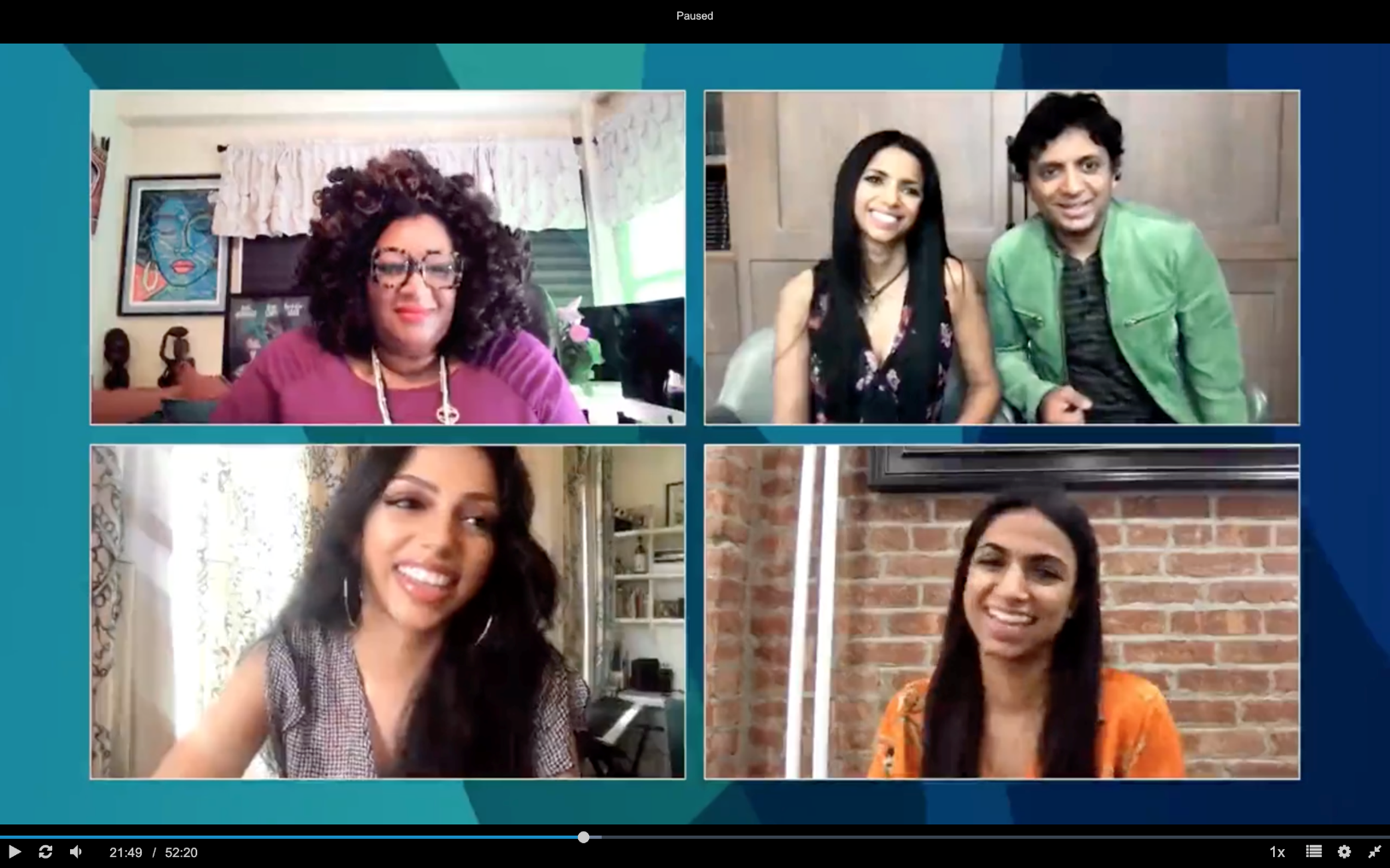 Sandra Richards (top left) speaks with the Shyamalan family: Bhavna and Night (top right), Saleka (bottom left) and Ishana (bottom right)
Whether or not someone is a fan of thrillers, they know the name: M. Night Shyamalan. Celebrated for captivating audiences through original stories, Night wields the power to keep audiences guessing and connect with them in extraordinary and uncommon ways.
He is a world-renowned writer, director and producer. But what audiences may not know is that, at the core, Night is a family man. He is also an unwavering and dedicated philanthropist. Combining those two factors was central to Morgan Stanley's unforgettable virtual experience with the Shyamalan family including Night, Dr. Bhavna Shyamalan, Co-Founder and Vice President of the M. Night Shyamalan Foundation, and their daughters Ishana Night Shyamalan, filmmaker, and Saleka Shyamalan, musician.

Nelson Gaertner, Jr., Managing Director, Regional Director, New York Metro Region, Morgan Stanley Wealth Management, gave a warm welcome to the group as Sandra L. Richards, Managing Director, Head of Global Sports & Entertainment and Segment Sales & Engagement, Morgan Stanley Wealth Management, hosted the candid discussion.

Creativity Enhanced by Better Business
While the union of commerce and art can be tricky, for Night it's art that leads his business decisions. With the stories he wants to tell, he finds that he has to follow his gut – from the big and bold to the most minute decisions.
To tell the stories that he wants to tell in the way he wants to tell them, smart business has become a way of life for Night. He now funds his own movies to assert creative control. He can step away from work politics and have complete control over hiring decisions, location choices, etc. If that means hiring a costume designer from Sweden who his vision best, then he'll do that. By funding his own work, he holds the power to do it his way, the best way.

"What that does is create a lot of opportunity to innovate, an opportunity to fail safely, a feeling, whether it's imagined or not, that I can take risks, that I can do very unusual things. I can do things that no one's ever done and break rules in a way." - Night Shyamalan

The Heart of it All: Family Matters Most
Inspired by the masterpieces of entertainment and cinema by his icons Steven Spielberg and George Lucas, Night took his inclination for storytelling and turned it into a worldwide phenomenon.
He spoke about how his immigrant parents (who were both doctors) were initially confused about his desire to work in the film industry and how it would work out for him. Their career journeys had expectations and clear-cut roads to take; his did not. Nevertheless, with their complete support he attended New York University's Tisch School of the Arts and the rest is history. That parental love has stayed with him, and he gives the same love and support to his children.

(L-R) Ishana, Saleka, Bhavna and Night
Fans of Night's work may have wondered why so many of his stories take place in Philadelphia. The reason is that Philadelphia is home to him and his family. From the time his children were born, it was paramount that he stayed close to them.
"You should be clear about what your value systems are, what's important to you, and one of them [for me] is family and being close, wanting to be home for dinner, and wanting to see the kids' first steps. And all of that stuff is important and needed and not negotiable," he explained.

For the entirety of his children's lives, Night has only been away from them for a couple of weeks. He builds this family time into everything he does, and even when a movie shoot does take him outside the state the family comes along, and now, they work together.
His dedication to his family means that they are all extremely close. Ishana and Saleka work in creative fields, inspired by his work and their mother's work as a psychologist. Over the past year, the close-knit family has been working together, combining their different skill sets from songwriting to filmmaking.
It is an amazing thing to be in a house with an artist and a psychologist… There's no way that that didn't get integrated into the way we see the world. So I think our pursuit as artists is very much tethered to their sort of conversations and lessons that they reviewed into us.
We've grown up our whole lives being inspired by the work that our parents do… I think we were really lucky to have that ability to see it [their father's work] up close and take notes of all the things that he would do and, like he said, maintaining a strong value system and having a strong work ethic.
One piece of advice the family shared with the audience was about the importance of creating a family foundation of love and respect; when children know their parents love them unconditionally, even when they don't agree or get along, there's an understanding that goes beyond the present feelings and lasts long past the mercurial moments of disagreement.
Philanthropic Endeavors: Making a Difference
While legacies can certainly be seen in their children, for Night and Bhavna, the desire to do more beckoned. Starting the M. Night Shyamalan Foundation 20 years ago, they've seen it grow and change over time, but the goal has remained the same: help make the world a better place. They describe it like a hedge fund for grass roots humanitarian leaders where the return on investment is that they're bringing the most oppressed communities out of poverty.
"We're scouring the world globally as well as domestically for leaders that are beginning their journey in making a change towards more equality, more justice, more economic justice and social justice. And they're already in the beginning of their work, moving the needle, making a difference… We support them not just with grants, but we also do professional development." - Bhavna Shyamalan

With their foundation, it's all about individual impact and the difference a single person can make for entire communities. The Shyamalans help that impact grow even further, something they are honored to do. "Those individuals that have found their superpower in the world are doing incredible things," Night said proudly.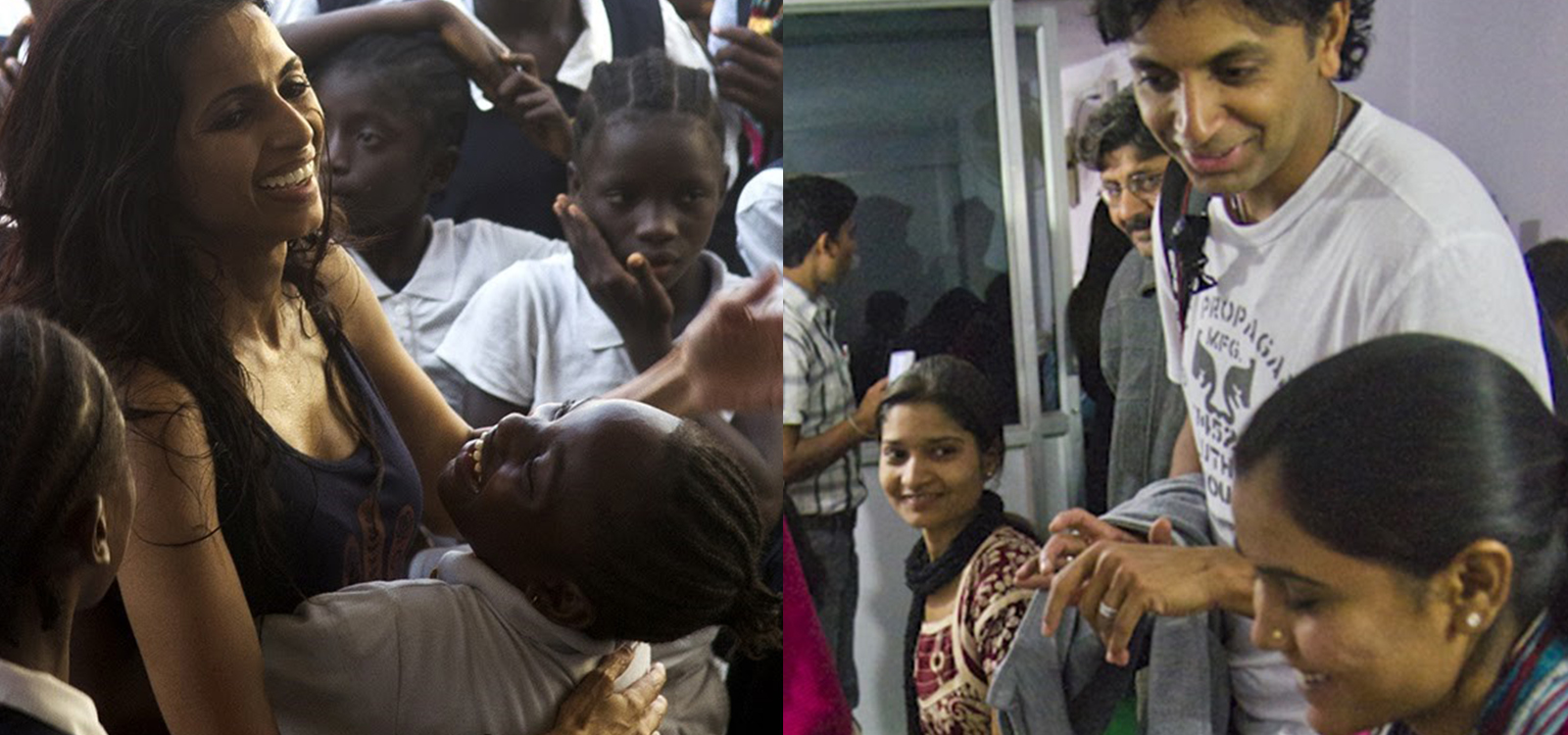 Source: https://www.mnsfoundation.org/about/
They put the trust in their grantees, recognizing that these individuals understand what's best for the people they want to help and how to make the biggest changes. Empowering them can change entire communities.
"It's like a little family, it's our foundation family. And they all become part of our team. And they're just doing incredible work around the world. If you meet some of our leaders, you'll just feel full of hope," Bhavna revealed.

Night agreed, explaining that "it's a huge reminder that your work should not be about just you, that the way we go through life, it's not about you and what you're feeling and experiencing. It's really about how many people you can connect to."

Like the Shyamalans, giving back is one of the firm's core values.

America is a beacon of opportunity for the world. Millions have come here looking to raise themselves out of poverty and in search of great opportunities. That's why we're pleased to host a conversation about the M. Night Shyamalan Foundation.