Learn about Black History Month as Black Employee Network members at Morgan Stanley share their thoughts on its importance and monumental moments.
KC Copeland and Neal Martin Share Their Experiences
February has long been a time to celebrate the achievements of African Americans and reflect on their significance in U.S. history. This year, under the theme of "Celebrating Tomorrow's History Today," the Firm's Black Employee Network (BEN) and other employee resource groups have developed robust programs that will continue to celebrate and build awareness of Black culture through engaging events that journey through past, present while sewing seeds of optimism for great things to come. In addition to monthly spotlights on Black Employee Network (BEN) members and Black Managing Directors, Morgan Stanley will host a number of hybrid and virtual events.
For a fresh perspective on this special month, we sat down with BEN members KC Copeland, Executive Director, Morgan Stanley Wealth Management, Digital Marketing; and Neal Martin, Executive Director, Digital Direct Client Services.
KC has degrees in both engineering and finance, an MBA and nearly 25 years of experience spanning financial services, consulting, technology and operations. She is the Wealth Management co-chair of the Multicultural Employee Networking Group and a long-time member of the BEN. It's a passion of KC's to make sure "others like me have opportunities at the Firm and can thrive when they get those opportunities," she says.
When the BEN chapter in Alpharetta was established, she offered to "be that bridge and extend its connectivity" to other networking groups and diversity, equity and inclusion (DEI) councils. In addition, she mentors junior colleagues, high-school and college students. Her mentoring touches the lives of students across the country, including her alma mater, Spelman College. She's especially proud that Morgan Stanley has formalized a mentorship program with the historically Black liberal arts college in Atlanta, which will be "a win for Morgan Stanley in the long term." She also is a mentor and financial literacy educator.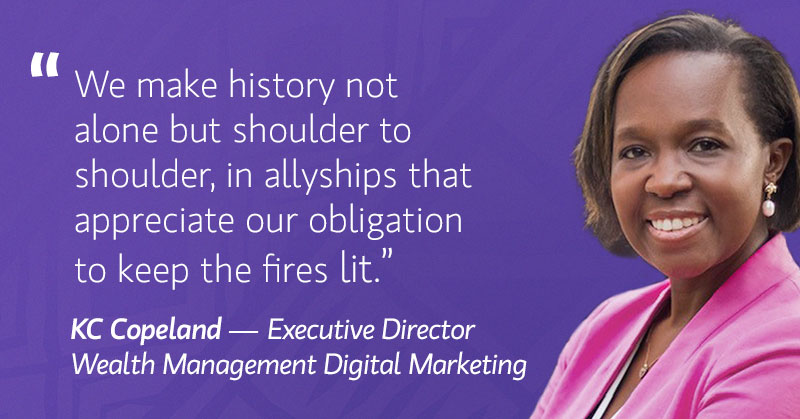 Neal, who is co-chair of the newly formed Alpharetta BEN Chapter, has nearly 30 years of financial industry experience. He also serves on Morgan Stanley's Alpharetta Site Engagement Council, whose mentoring subcommittee he stepped up to co-chair. "I look for every opportunity to engage and network internally," says Neal, who had mentors early in his career who "helped me grow and be a better leader."
He also is a leadership coach to first-generation college students through a program called Braven. He's excited to spearhead the new BEN chapter and confident the BEN is helping to "attract and retain a diverse employee base, provide the inclusion of ideas and solutions, and create career and leadership opportunities."
With experience handling frontline teams across the globe, Neal, also an MBA, is comfortable putting himself in unfamiliar situations, where he's different from everyone else. That's where the growth is, he reminds his mentees. "Being flexible to adapt to situations and understand diverse perspectives is very rewarding and has shaped me as an individual."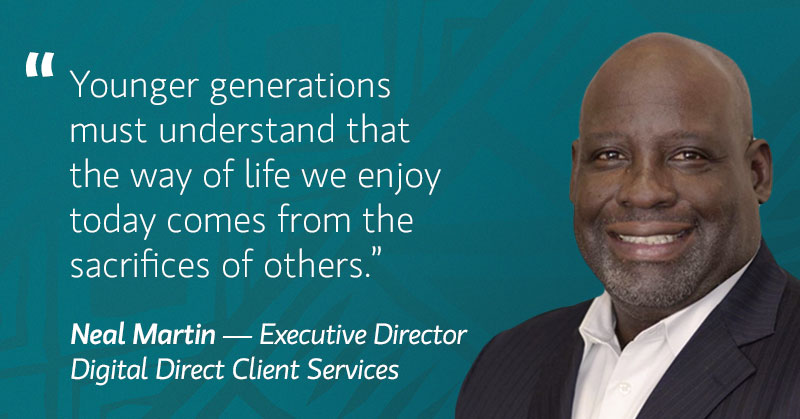 The Importance of Black History Month
For Neal, this month helps us "recognize the challenges that were faced, the progress that's been made, and the ongoing opportunities and barriers we must address." Younger generations, he adds, need to understand "the way of life we enjoy today comes from the sacrifices of others. That's why we must continually educate ourselves, particularly on the important moments in history."
Those moments include "the stories of Martin Luther King, Jr., and Malcolm X, which many people are familiar with," KC points out. "But what's to come? There will be more firsts, like last month's swearing-in of the first black Governor of Maryland. Those are important to celebrate."
Most Admired
Black History Month celebrations also create learning opportunities, something Neal always seeks out. When he moved from New York to Atlanta eight years ago, he discovered, then got involved with, the Alonzo Herndon Foundation, which honors the legacy of a former slave who became one of Atlanta's first African American millionaires. "His story of perseverance and entrepreneurship inspired me." Yet, one influential Black figure in Neal's life was his grandmother, Henrietta Martin, who raised Neal in the South and inspired him to "make a difference" and is the reason why he pays it forward through mentoring and leadership coaching.
KC is inspired by Madam C.J. Walker, an entrepreneur turned activist and philanthropist after she rose from poverty to become one of the wealthiest African American women of her time. "Women in this country quietly shoulder so much responsibility," says KC. "She saw a way to help women through her line of work and did," something KC can relate to as she focuses on "being a bridge for others."
Monumental Moments
When asked about the most meaningful moments in Black history, KC and Neal both reflected on President Barack Obama's inauguration. "It represented change and gave you a sense that, if you continue to work hard, have a vision and the ability to inspire others, you can make a difference," says Neal. KC was there, in Washington, D.C., standing in the cold with her parents and best friend. "I work with young people who don't realize there was a time when a Black person could not have gotten elected in America," she says. "That's why we have to keep celebrating. We make history not alone but shoulder to shoulder, in allyships that appreciate our obligation to keep the fires lit."
DE&I Initiatives
When it comes to DEI, Neal reminds, it's not just about numbers but rather about making sure everyone understands and communicates the benefits. "A diversity of backgrounds, thoughts and perspectives bring tremendous value to an organization."
KC, a self-professed "geek" and "problem solver," agrees. "Sometimes we haven't asked the right questions. If we keep looking at a metric and it's not moving, we have to peel the onion or seek a different perspective."
Both Neal and KC appreciate that Firms like Morgan Stanley are "having the conversation, committing the resources and being intentional about DEI," taking seriously the need to "drive representation, retention and equitable opportunities at all levels of the organization," and making the effort to celebrate its people. "Black history can be celebrated by everyone," says KC. "It's woven into American culture. By learning the lessons of yesterday, we can blaze new paths and build a brighter tomorrow."
Find Your Path to Success. Explore Opportunities >