Meet the 16 graduate school teams pitching ideas that harness finance for sustainability impact in the final round of the 2022 Kellogg-Morgan Stanley Sustainable Investing Challenge.
2022 Sustainable Investing Challenge Snapshots
Targeting impact in
29
countries
Students' Home Countries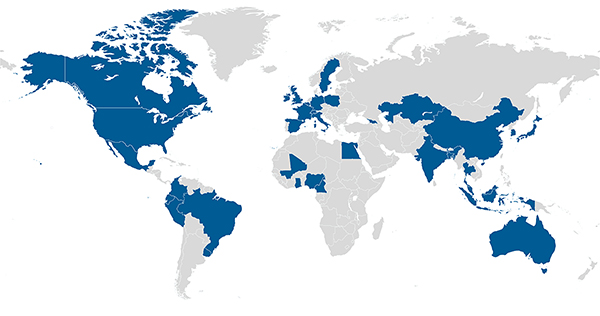 Students' home countries: Australia, Bangladesh, Belgium, Brazil, Cameroon, Canada, China, Colombia, Ecuador, Egypt, France, Georgia, Germany, Ghana, India, Indonesia, Ireland, Italy, Japan, Kazakhstan, Malaysia, Mali, Mexico, Nigeria, Peru, Poland, Republic of Korea, Singapore, Spain, Sweden, Switzerland, Thailand, United Kingdom, United States, Uruguay
Countries Targeted for Impact
Countries targeted for impact: Bahamas, Bangladesh, Brazil, Canada, China, Colombia, Cote d'Ivoire, Egypt, El Salvador, France, Germany, Greece, India, Indonesia, Japan, Malaysia, Mexico, Morocco, Nigeria, Norway, Pakistan, Papua New Guinea, Peru, Philippines, Singapore, Sudan, United Kingdom, United States, Zambia
Sixteen teams are advancing to the final round of the competition, and the graduate students will present their proposals virtually on April 8th to a group of sustainable investing professionals. Judges will choose winners with financially innovative ideas that can drive sustainability impact at scale.
Meet the 16 finalist teams proposing innovative ways to use finance as a force for good:
GOAL Fund
Proposal: To creatively finance the acquisition and restoration of land surrounding decommissioned oil and gas wells, the GOAL fund proposes to leverage private equity and carbon credits to plug and remediate these areas.
School: The Fletcher School of Law and Diplomacy, Tufts University
Green Hydrogen Fund (GHF)
Proposal: To help expedite the execution of net-zero climate strategies by investing in the green hydrogen technologies, the Green Hydrogen Fund team envisions using private equity to innovate a financial solution.
School: Kozminski University
Indigenous Sustainability Fund
Proposal: The Indigenous Sustainability Fund proposes a concept for a private credit fund focused on helping improve access to reliable, sustainable energy for indigenous communities.
School: Schulich School of Business, York University
Series CO2 Fund
Proposal: The Series C02 Fund's vision would use a venture capital approach to provide funding for growth-stage carbon capture and storage ventures in exchange for future carbon credits rather than a traditional share of the companies' equity.
School: Haas School of Business, University of California Berkeley
Carbo-Lease
Proposal: Carbo-Lease proposes an asset-backed security comprised of leases for small- and medium-sized enterprises developing carbon sequestration projects and technologies.
School: American University in Cairo (AUC)
Crop Catalyst Fund
Proposal: The Crop Catalyst team sets forth a revenue-based redeemable equity instrument that would provide flexible, long-term financing to help West African agribusinesses grow their value-added processing capacity.
School: Saïd Business School, University of Oxford
Volumetric Injection Payments for Carbon Sequestration
Proposal: The team behind Volumetric Injection Payments for Carbon Sequestration envisions a strategy in which pre-purchased carbon credits from unbuilt carbon capture and sequestration (CCS) projects catalyzes the flow of private capital and drive the development CCS technologies.
School: School of Advanced and International Studies, Johns Hopkins University Booth School of Business, University of Chicago
Supernovae
Proposal: The Supernovae team offers a private mezzanine sustainability-linked loan fund with embedded warrants to provide financing to Zambian green metal mining companies.
School: NUS Business School, National University of Singapore
Methane Minus Fund
Proposal: The Methane Minus team's multi-asset venture capital fund would seek to reduce cattle farming's methane emissions by financing technological advancement and farming operations in Asparagopsis Taxiformis growth and cattle feed production.
School: School of International and Public Affairs, Columbia University, Yale School of the Environment, Yale University
Private Mortgage Fund
Proposal: A private loan fund proposed by the Private Mortgage Fund team would aim to increase access to homeownership by providing small-dollar mortgage loans that have been historically underutilized by traditional banking institutions.
School: Haas School of Business, University of California Berkeley
Building Bricks Securitized-Carbon and Kiln Loan Fund
Proposal: Building Bricks is a concept for an emissions-based securitized loan fund with diversified cash flows that would seek to reduce resource inefficiency and pollution caused by India's brick kilns by addressing the funding gap and incentivizing kiln owners to adopt cleaner technology.
School: Delhi School of Economics, University of Delhi
Coast Haven Brokerage
Proposal: Coast Haven Brokerage would be a platform-based brokerage connecting beneficiaries of ecosystems of mangroves in climate-driven storm-risk areas with insurers, investors and project developers/restoration experts with the goal of facilitating the deployment of parametric insurance to help protect and restore mangrove forests.
School: Judge Business School, University of Cambridge
SWIF - Seaweed Investment Fund
Proposal: The SWIF team concept is for a private loan fund that would provide working capital loans to seaweed harvesters to help reduce damage to the environment and tourism industry caused by sargassum blooms throughout the Caribbean.
School: Questrom School of Business, Boston University
Cluster Cafe
Proposal: The Cluster Cafe team proposes a hybrid debt fund focused on helping solve supply chain challenges in Papua New Guinea to boost specialty coffee production, increase farmer income and grow small coffee businesses.
School: Kellogg School of Management, Northwestern University
Black Soldier Flies Convertible Minibonds
Proposal: The Black Soldier Flies team sets forth a convertible minibond, a financial vehicle embedded in an operative framework designed to help incentivize the expansion of farming black soldier flies, boost innovation, and build economies of knowledge to lay the foundation for expanding a new market in insect protein.
School: University of St. Gallen
Circular Blade Fund
Proposal: Focusing on the opportunity to re-use and up-cycle wind turbine blades, the Circular Blade Fund offers an approach that involves a leveraged leasing and private equity fund that would help prevent wind turbine blades being wasted and put into landfills.
School: The University of Edinburgh Business School