Morgan Stanley sadly lost Deborah Konigsberg, a Financial Advisor in Dallas complex, last year. The Firm's Women's Advisory Council honored her with a moving, and blooming, tribute.
In December 2020, Morgan Stanley sadly lost Deborah Konigsberg, a Financial Advisor in the Dallas complex. With more than 20 years at the Firm, her colleagues, and more specifically the Morgan Stanley Women's Advisory Council (WAC) in Dallas, wanted to appropriately mark Deborah's passing as well as recognize her contributions to Morgan Stanley, women in finance and her local community.
Learning from Deborah's obituary that the Dallas Arboretum and Botanical Gardens was a place she enjoyed and frequented often, Morgan Stanley Financial Advisor and WAC member Sandy MacDowell thought of a meaningful way in which the WAC might honor their colleague—the Arboretum's Annual Blooming Bed Sponsorship, which took place during the Dallas Blooms Festival, the largest floral festival in the Southwest, from Feb. 21 through April 11, 2021.
Not only would a 10-square-foot bed of spectacular flowers be marked with a plaque commemorating Deborah and noting the Firm as donor, but a lovely reception was also part of the tribute. Wanting to recognize that everyone at Morgan Stanley is part of a much larger corporate family, Deborah's three daughters attended the special afternoon memorial event and were visibly moved as members of the Dallas WAC during amid shared anecdotes and memories.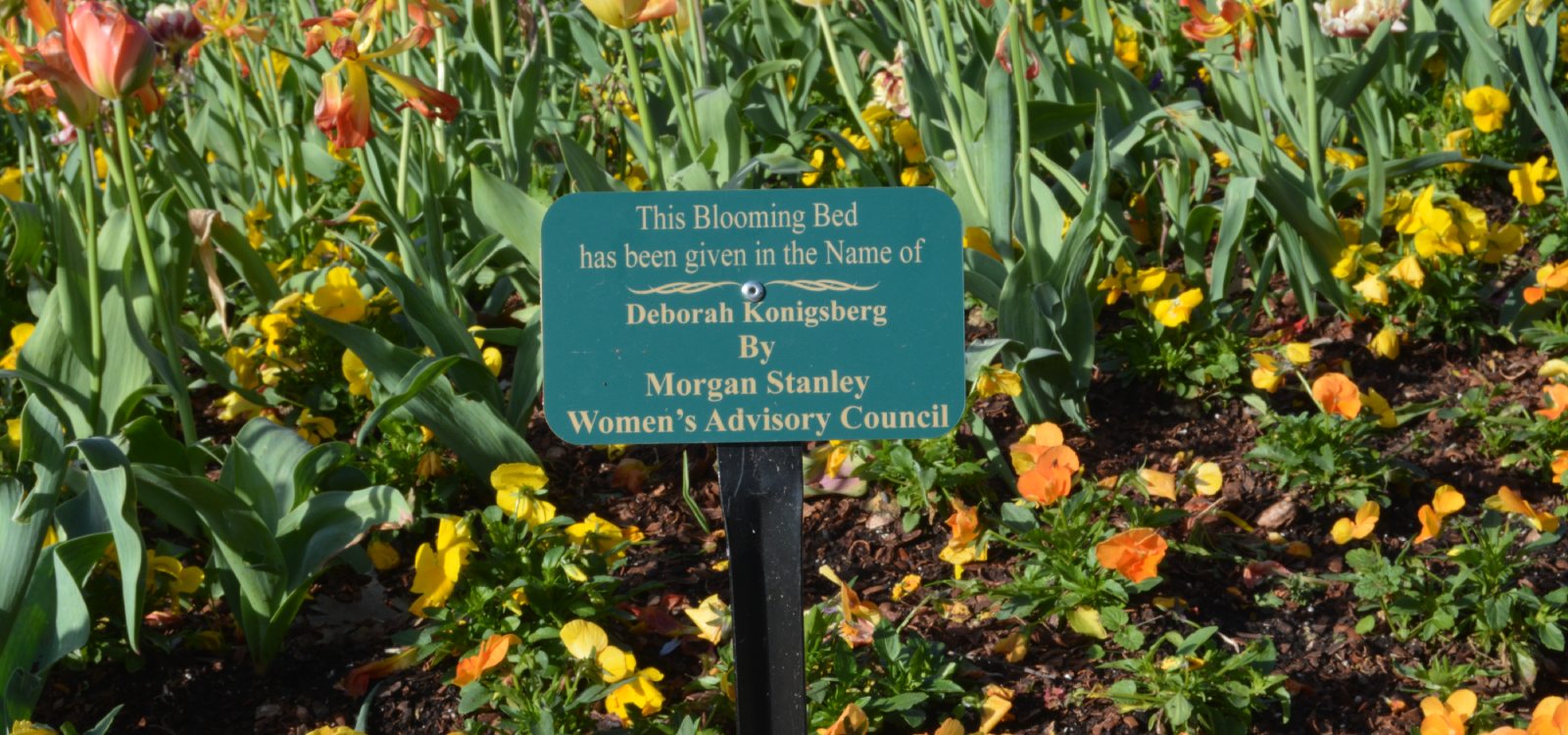 Those in attendance wore red roses (a nod to Deborah's favorite color) on their lapels and photos captured much of the activity as Deborah's colleagues spoke about how very appreciated and valued Deborah was at Morgan Stanley. The daughters thanked members of the Firm and the WAC and expressed how this supportive and meaningful event enriched the memory of their mother, who unexpectedly passed due to complications from surgery at the young age of 61.
"We are a fabulous investment bank and wealth management firm comprised of individuals with their own respective families, so when things such as this happen, it is life changing for all impacted," Sandy said.
The Dallas WAC is grateful that the Firm partnered with them to acknowledge, in a very personal way, the time and energy Deborah gave to Morgan Stanley, which gladly supported the dedication, Sandy added. "Doing so speaks to our culture." It also underlines one of the WAC's mission tenets, which is to empower women, she pointed out. "One act of kindness can have such far-reaching ripple effects. A gesture of this nature truly reflects the ethos of an institution and for all of us, for Deborah and her family, that is Morgan Stanley."