Think Strategically About Your Equity Compensation Program
Broad-based equity compensation programs are generally started as "talent" programs, based on research1 showing that they lead to higher employee satisfaction, engagement and retention rates. But as the program founders leave and plan management shifts to the human resources department, plans too often drift into "spending" programs that risk losing sight of the their strategic value to the company.
For insights on how to maintain a talent focus, align your employees' compensation package with your corporate culture and integrate your equity program with your long-term strategy, Morgan Stanley partnered with Joseph Blasi, Douglas Kruse and Bill Castellano. These three industry-leading researchers, professors and innovators of HR management and labor relations have advised presidents, the White House Council of Economic Advisers and Fortune 50 companies. They share three key findings.

Key Finding #1: Integrate Equity Compensation Into Your Company's Strategy
An equity compensation program that is well-designed, has executive support and shows measurable results often begins with an authentic story that helps drive the long-term goals of the company. It maintains highly engaged employees and a collective focus on achieving success.
The best strategies:
Encourage company leaders to talk about the program in speeches and media interviews while linking it to the company's core goals.
Help the board of directors understand how the program supports the company's goals.
Describe the program in SEC filings, explaining how it fits into the company strategy, who participates and why it matters to the overall success of the company.
Measure effectiveness by including several dedicated questions in employee surveys.
Discuss the program's strategic fit and measured effectiveness with Institutional Shareholder Services or other proxy advisors.
Key Finding #2: Embed Your Equity Plans Within a Supportive Corporate Culture
A supportive corporate culture can increase the probability that a broad-based equity compensation program will benefit both shareholders and employees, adding true value and measurably better outcomes.
Along with the fair-market wage, a supportive corporate culture reflects the following qualities:
Employee empowerment. Employee involvement structures, such as self-directed work teams, encourage employees to solve customer and company problems at the level of their job or department. This generates a sense of employee ownership, pride and commitment.
Manager facilitation. Employees excel when managers provide goals and the tools to achieve them, without micromanagement or overly tight supervision. Managers need strong facilitation skills to involve employees in solving customer problems while giving them the skills and training to do so. Regular performance reviews are critical. They provide a structured forum for constructive feedback and tie an employee's personal performance to the overall success of the company.
Training. A strong commitment to training goes a long way. Companies that offer significant formal and informal training have better outcomes for both the corporations and individual employees than those that do not.
Job security. The perception of job security over the coming year enhances the probability that an employee is more committed to the company.
Key Finding #3: Pay a Fair-Market Wage
For compensation plans to be effective, employee wages must be at or above the market rate. When employees report their wages are below market, virtually all intrinsic benefits of an equity compensation program—including employee motivation, satisfaction and commitment—are cancelled out.3 This "wage substitution" occurs when companies do not want to pay a fair-market wage and instead challenge the employee to make up for the gap by participating in an equity compensation or profit-sharing plan, and it generally doesn't work.
When equity compensation plans create an opportunity to earn wealth on top of a fair-market wage, both employees and companies benefit. In these cases, there is no evidence of employees preferring wages over equity or in support of statements like "millennials just want cash."
Keep the following in mind when determining an appropriate compensation mix:
Most U.S. employees report they prefer to have some wage increases come from a capital share plan.
Employees seek opportunities to earn more over the long term, and over the last 30 years, real wages have increased by about 1% a year on average4, while the stock market has historically returned an annualized average of around 10% before inflation5.
The preference for equity compensation is true regardless of stock market risk tolerance, with two-thirds of surveyed employees who measured low in risk tolerance nevertheless wanting equity as part of their future compensation.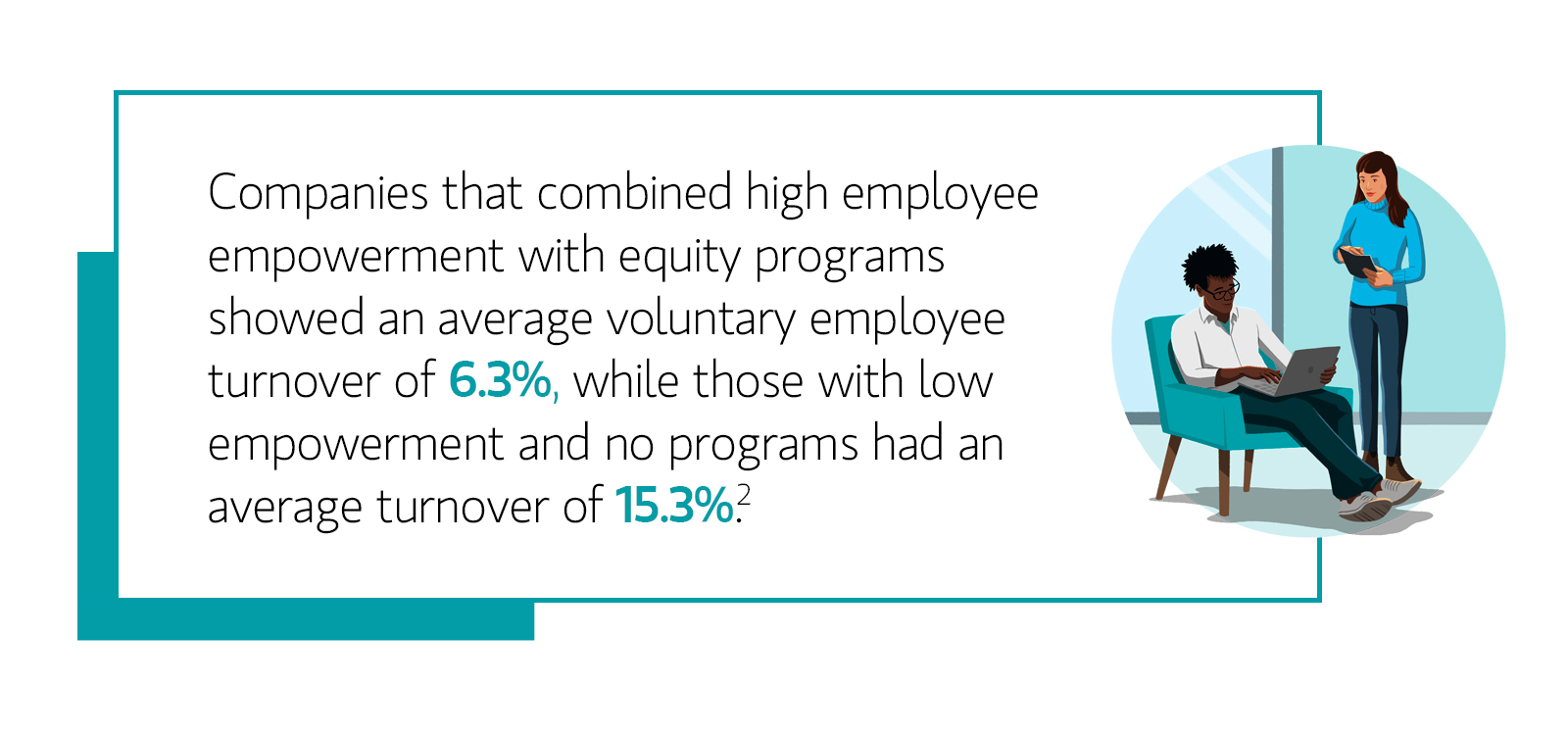 How Big Is the Impact?
When compensation plans are combined with an empowered workforce, the impact is big. Charting 800 companies that applied to Fortune Magazine's "Best Companies to Work For" contest highlights the relationship between plans, empowerment and turnover.* Companies that combined high employee empowerment with equity programs showed an average voluntary employee turnover of 6.3%, while those with low empowerment and no programs had an average turnover of 15.3%. Companies with plans but disempowered employees had a 17.6% turnover rate, illustrating that an equity plan without a supportive corporate culture was unable to hold employees at the firm.6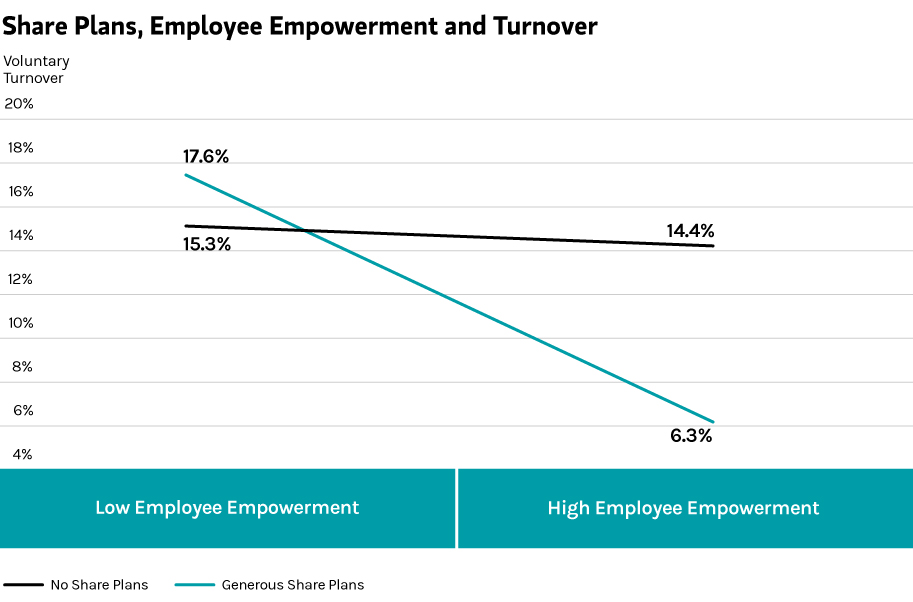 The results are based on data from the approximately 800 companies that applied for the Best Companies to Work For contest by Fortune magazine and had employee and management surveys done by the Great Place to Work Institute from 2005-2007. Of those, just 100 companies win the Hundred Best Companies designation each year.
Designing an effective equity compensation plan requires a holistic approach capable of integrating the plan into your company's culture, compensation approach and overall strategy. It may require modifying elements of your culture, conducting your own primary research with your employees through surveys and outreach programs, and engaging top executives, board members, and proxy advisor firms. The benefits of such a strategic approach include higher employee satisfaction, engagement and retention rates, significantly lower turnover, and better organizational performance.
With an end-to-end approach to workplace financial solutions, Morgan Stanley at Work provides a unique combination of thoughtful education, insightful advice and leading technology to help your workforce feel more invested and productive.