Discover the inspiration for Morgan Stanley's 2016 Chelsea Flower Show exhibit. Chris Beardshaw describes it as a place for parents and families to escape.
Having a child is a thrilling affirmation of the cycle of life. Having a sick child is a terrifying one. Anyone experiencing that kind of nightmare can benefit from an environment that operates on a completely different timescale.
The Morgan Stanley Chelsea Flower Show Garden for Great Ormond Street Hospital (GOSH) – designed by Chris Beardshaw and set to debut at the 2016 Chelsea Flower Show – will be that environment. Unveiling his plans for the show garden last week, Beardshaw described it as a place where parents and families "can leave unwanted emotional baggage at the door and get a change of perspective that brings new hope and optimism. It will be a reflective space – not just physically, from the play of light, texture and shadow, but emotionally as well."
The woodland garden will be on show during the Chelsea Flower Show next May, but its permanent home is GOSH, where it will move piece by piece after the exhibition. Secluded on a second-floor rooftop surrounded by 10-storey buildings, the sanctuary will be for anyone in the hospital and, most importantly, visible from the rooms above, where children can be sequestered for days or months at a time.
Beardshaw is overcoming the site's limitations by incorporating a dense copse of trees, some three stories tall, where the canopies mingle and capture the scant direct sunlight from above. The varieties he's chosen will appeal year-round, whether "dripping with foliage", coated in frost or scattering their leaves. At other times, natural sunlight will reflect off the buildings and into the space.
Effervescence and Optimism
The designer is reserving a clearing within the trees for colorful flowers that will open briefly when hit by direct sunlight. "These plants will provide a fleeting emotional response for those who witness them," he says. In contrast with the rich, green surroundings, they highlight the effervescence and optimism of childhood.
"What's striking to me about engaging with children is how surprising and insightful they are," says Beardshaw "They'll give you that jewel of a moment. And I've tried to capture that horticulturally."
Since 2007, Morgan Stanley has raised more than £12 million for GOSH. A portion of that went into the operating theatres and in-patient wards of the Morgan Stanley Clinical Building, which anchors the garden at one end. Toward the other, Beardshaw has designed three interlinked wood shelters that frame views around the verdant space like natural cameos. "Their green roofs create a tapestry for those looking down from the rooms above," he says.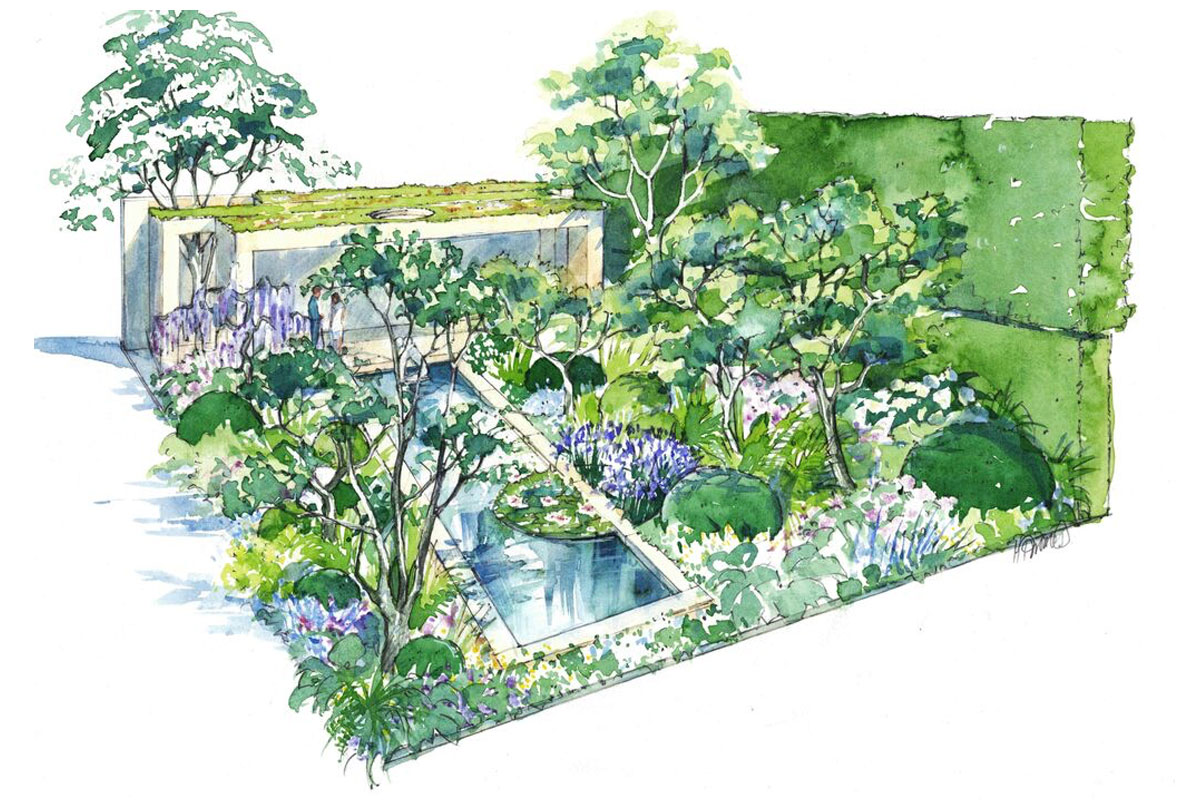 Artist's Impression of Morgan Stanley's Chelsea Flower Show garden for GOSH, designed by Chris Beardshaw
Before them extends a long rectangular pond Beardshaw calls the canal. "It's the mirror image of the cuboid form of the buildings." Beardshaw will continue working on the garden in the new year – not a moment too soon for a man who talks about landscaping with the enthusiasm and reverence usually reserved for one's children. It's an encouraging sign that this garden will come into being with the attentive hands of a concerned parent – and delightfully apropos.
More articles and blogs can be found on our Chelsea Flower Show site.