We are recruiting talented individuals from a variety of degree backgrounds to start an exciting career with us. Candidates should have the following skills and attributes to apply - regardless of the specific position or programme:
Relevant degree or studies in business, economics, finance, accounting, IT, engineering, mathematics, physics. For certain roles applicants with different backgrounds may also apply.
Excellent analytical and problem solving skills
Strong written and spoken English
Excellent communication and cooperation skills are essential as employees in the Budapest office are in daily contact with colleagues and in some cases our clients around the globe.

For overviews of some of the hiring departments, please see the links below.
Technology
To support its businesses and to achieve a competitive edge, the firm invests heavily in advanced technology and recruits the highest caliber personnel. Partnering strategically with both the business units and industry-leading technology companies across the globe, Morgan Stanley Information Technology continues to redefine the way the firm conducts business worldwide. Our significant investment in technology enables the development and delivery of quantitative trading systems, modeling and simulation software, analytics and security systems. Developing the state-of-the-art technology behind the industry's first auction-based initial public offering (IPO), customizing client technology solutions for hedge funds and money managers, and leading the way on the use of virtualization technologies, are just some of the achievements that have put Morgan Stanley at the forefront of technology innovation.
The Budapest Technology & Data unit was established early on and has grown both in size and importance in the global organization. Numerous well established and recently started teams work as integral part of their global team or practice area, many with global or regional functional or system ownership.
The six divisions with presence in Budapest provide a wide range of professional and career development opportunities for our technologist: Corporate & Post Trade Technology, Enterprise Data & Services, Enterprise Infrastructure, Institutional Securities Group Technology, Quality Assurance & Production Management, and Divisional Management.
Application development teams, working in partnership with their respective business units, design, develop and maintain solutions for their area and function for different financial products and markets, responding to the ever changing business environment. These include high-performing, low-latency electronic trading systems, real-time market data processing, complex trade capturing and lifecycle management applications, pricing engines, risk calculation and aggregation platforms, workflow and client service support solutions, complex time-series analytical tools, as well as critical corporate and post-trade processing platforms processing millions of transactions daily for special functions like settlement, clearing, and expiry. These solutions and teams rely heavily on robust common platform components and frameworks developed by the application infrastructure team.
Technology platforms that serve many businesses rely heavily on consolidated, consistent and high quality standardized data and services provided and managed at the enterprise level – like client and complex or elemental enterprise reference data.
Enterprise Infrastructure teams engineer, manage and operate the computing infrastructure (hardware, operating systems and databases) of the enterprise located in numerous data centers, voice and data networking solutions, wireless technologies, server and database operations, desktops and laptops, distributed servers, and multiple mainframes.
Our technologists working in the Budapest office are the integral part of a global team, well respected and have built an excellent reputation globally. They work closely with colleagues in Morgan Stanley's major financial hubs and other employee centers, assisted by advanced Collaborative technologies.
Finance
Finance supports senior management, both for Morgan Stanley as a whole and the individual business units, in managing the firm's risk, by implementing financial controls over the firm's business activities.
Finance is responsible for Morgan Stanley's financial records including:
Ensuring that the assets and liabilities of the firm are properly controlled
Providing accurate and timely financial information to senior management
Providing information externally to statutory and regulatory bodies
They also work in partnership with the other support services divisions such as Information Technology and Operations to provide the necessary business infrastructure. In essence, they act as Chief Financial Officers to the business units. Responsibility is two-fold not only to provide financial information, but also, and more importantly, to ensure that the information is accurate and complete.
The Finance team works in a variety of roles across a number of different areas including:
Valuation Review Group
Global Wealth Management Controllers
Management Reporting
Brockerage and Clearing
Expense Management
Strats & Modeling
The division supports the Firm's securities trading business by creating and implementing sophisticated mathematical models, software tools and libraries, and by providing quantitative business analysis to develop financial products, trading strategies and risk reduction methodologies. Our analytics tools are used to price, valuate and manage the risks of various financial derivative products and predict the future evolution of different markets. Our activity requires close coordination with the firm's higher management, IT developers, operations team, traders, controllers, and other global quantitative units. Staff typically has background in mathematics, physics, engineering, finance or economic sciences, computer sciences, informatics or other similar quantitative areas. Many of them possess a PhD or are close to earn the degree in the near future.
Market Modeling
The Market Modeling Group develops and implements quantitative models, algorithms, and analytics tools to calculate market prices and risk sensitivities for Interest Rate, Corporate Credit and Mortgage-Backed derivatives. Some of their assignments require extensive analysis of data collected from various firm systems about market indicators, market quotes and firm positions.
The Corporate Credit team, the Rates Modeling team, the Foreign Exchange Modeling team and the Bank Resource Management team develops, implements, and maintains mathematical models. The models are used in firm systems for pricing and risk managing corresponding products, and for predicting markets in electronic trading. This includes defining algorithms, optimizing source code, verifying and debugging model and cashflow implementations, testing models, and documenting model design.
The Mortgage-Backed Securities team owns models related to Commercial MBS products. They monitor daily runs, debug problematic positions, communicate with controllers on mark reviews and model certification, and develop new features. The team also works on Residential MBS products and supports global strat teams working in this area with modeling, analytics and implementation.
The Regulatory Modeling team verifies models under extreme market scenarios; performs tests for model limitations, and investigates model improvements. This team responds to requests coming from Regulators regarding the firm`s models in the Rates, Credit, FX, Commodity and CVA business.
Core Analytics
The Core Analytics team in Budapest implements mathematical and statistical models, and develops numerical algorithms for the pricing of financial instruments and model calibration. The software produced by the team are used in risk systems, real time trading systems, and in spreadsheets supporting trading activity. The libraries are implemented in Scala and C++, with an emphasis on design patterns, algorithms & data structures, and functional programming. Our work also involves various fields of numerical and discrete mathematics such as optimization, linear algebra, probability theory, formal languages, graph theory, statistics, and machine learning.
Structuring
The Budapest Securitized Products Structuring team is involved in analytical processes regarding several fixed income products with special focus on Asset-Backed Securities (ABS) and Mortgage-Backed Securities (MBS). Structurers build computational models to help issuers and investors optimize a transaction's economics and quantify sources of value and risk. The team has exposure to both the primary and the secondary markets of these products.
As a core function, the team builds cash flow models to support the firm's advisory role in providing financing solutions for clients. Among others, this involves creating capital structures that can survive extreme rating agency scenarios while providing the cheapest source of funding for our clients.
Building on our cash flow modeling expertise, we also support the secondary trading functions of our firm in the ABS and MBS space. Reverse-engineering means understanding existing deals based on legal documents and investor reports and creating a pricing model based on available information. Our models help identify the risk and reward characteristics of these products given market expectations. The team works both on short- and long-term projects depending on the asset class, strategy, and geographical region.
Risk Management
Risk Management is an independent risk oversight function covering Market, Credit and Operational risks at firmwide level. The Risk Analytics Group represents the quant teams within the Market, Credit and Operational Risk Departments.
Market Risk
The Market Risk Department measures, monitors, reports and manages market risk throughout Morgan Stanley. The Market Risk Department defines and implements a framework to approve, monitor and report on market risks and exposures arising from lending, trading, treasury and settlement activities in accordance with the firm's Risk Management Principles.
The Market Risk Department's specific responsibilities include measuring market risk using Value at Risk and related models, ensuring the adequacy of models used for pricing and risk, enforcing limits on position sizes, advising senior management on the firm's risk profile, and computing risk-based regulatory capital reported to Regulatory Controllers. Moreover, it provides regulatory rules guidance, supports new market risk related regulations, and performs user acceptance testing (UAT) for changes in market risk rules implementation.
Within the Market Risk Department, we have established teams of professionals in the Budapest office dealing with Capital and Reporting requirements.
The Budapest teams are integrated into the global Market Risk Group and work closely with professionals based in New York, London and Hong Kong, holding close relations with Regulatory Controllers and several departments like Finance, Audit, Treasury, Legal and Compliance, Business Units and Business Unit Risk management.
Credit Risk
The Credit Risk Department measures, monitors, reports and manages credit risk throughout Morgan Stanley. The Credit Risk Department defines and implements a framework to approve, monitor and report on credit risks and exposures arising from lending, trading, treasury and settlement activities in accordance with the firm's Risk Management Principles.
The Credit Risk Department's specific responsibilities include evaluating and rating the credit risk of counterparties, establishing and managing counterparty credit risk limits, evaluating credit risk within transactions and approving, rejecting or modifying them as appropriate.
Within the Credit Risk Department, we have established a team of professionals in the Budapest office who manage the above mentioned responsibilities as Research Analysts dealing with Corporates, Financial Institutions and Funds. In addition, the Credit Middle Office team is responsible for credit data management, credit policy/procedure implementation, portfolio and single name limits monitoring/ reporting/escalation, and process change management. Another important part of the team is the Credit Capital group, which is responsible for the implementation of the Basel capital framework as well as the analysis, calculation and reporting of the Firm's required credit capital and Risk Weighted Assets.
The Budapest team is integrated into the global Credit Risk Group and works closely with professionals based in New York, London, Tokyo and Hong Kong and holds close relations with different departments like Sales, Prime Brokerage, Documentation, Legal and Business Unit Risk management.
Operational Risk
The Operational Risk Department assists in embedding an Operational Risk culture throughout the Firm to promote transparency, disclosure and best practices to assist Business Lines in the management of Operational Risk.
The Operational Risk Department's specific responsibilities include reporting to Boards and Senior Management on operational risk issues, ensuring that requirements of investors, senior management and regulators are adequately met.
Within the Operational Risk Department, we have established a team of professionals in the Budapest office dealing with reporting and analytics. Their work includes providing analysis and deep dives on certain ad hoc topics, designing, creating and implementing reports for senior management and enhancing/localizing the current operational risk capital model.
The Budapest team is integrated into the global Operational Risk Group and works closely with professionals based in New York, London and Hong Kong and holds close relations with different departments like Sales, Prime Brokerage, Documentation, Legal and Business Unit Risk management.
Risk Analytics
The Risk Analytics Group represents the quant teams within the Market, Credit and Operational Risk Departments.
The Group's specific responsibilities include the testing and assessment of the firm's derivative pricing and risk management models as well as research projects and model development with the aim of quantifying and managing model risk.
Within the Risk Analytics Group, we have established a team of professionals in the Budapest office who manage the above mentioned responsibilities as Quantitative Analysts dealing with Model Reviews, VaR & Methodology and Credit Methodology.
The Budapest teams are integrated into the global teams and work closely with professionals based in New York, London, Tokyo, and Hong Kong and hold close relations with desk strategists, modelers, VRG, and risk managers.
Bank Resource Management
Bank Resource Management (BRM) is a division within the Institutional Securities Group that is responsible for the Firm's securities financing transactions (including repo and securities lending), hedging of OTC derivative counterparty exposures and global collateral management.
This is accomplished through the sourcing, pricing, and distribution of resources across Morgan Stanley's businesses, under consistent documentation and within Firm-established targets and limits.
BRM's centralized framework enables the division to most efficiently provide durable resources to the Firm and its clients, while supporting Morgan Stanley's strategic efforts to optimize resources and maximize returns.
Beside the above BRM is also responsible for firm wide Business Continuity Management.
BRM Budapest is an integrated part of the global team. Our teams work closely in each layer with professional based in other regions, hold close relationship with other BUs such as Risk, IT, Operations, Sales&Trading, Onboarding and interact with external clients.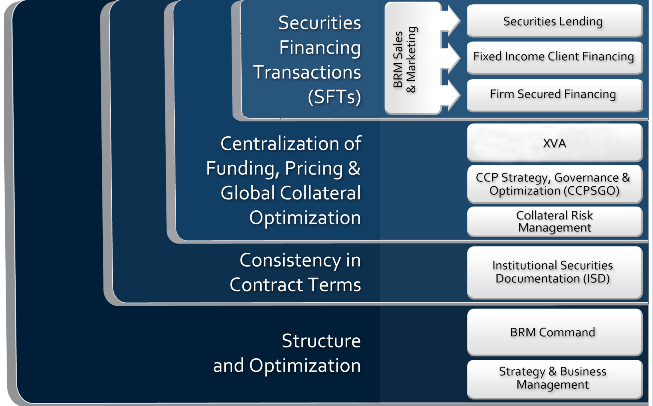 Internal Audit
Morgan Stanley's Internal Audit Department reports directly to the Firm's Board Audit Committee and comprises over 270 financial, technology and risk auditors globally. Our mission is to be recognized as a strong and high performing audit function that is viewed as a trusted authority and advisor to the Board, Firm management and industry regulators in assessing and strengthening the Firm's control environment. The Internal Audit Department uses a risk-based methodology, developed from professional auditing standards, to provide an independent assessment of the Firm's risks and controls. It ensures compliance with internal guidelines set for risk management and risk monitoring as well as external rules and regulations governing the industry. Ultimately, Internal Audit helps to verify that the Firm meets all of its fiduciary responsibilities to its shareholders.
Internal Audit's presence in Budapest dates back to 2013 January. Members of the team have degrees in mathematics, economics and jurisprudence.
The first audit team established in Budapest was the Quantitative Analytics Group within Risk Management Audit. QAG provides an independent model validation control service for most of the firm's regulatory market and operational risk models. The team leverages its diverse quantitative skill sets, product knowledge and programming expertise to act as a guardian and approver of key risk models used for regulatory compliance and managerial decision-making. The group's major client is the Market Risk Department (MRD) that develops and operates these critical risk systems.
The QAG team is responsible for
Primary Model Validations: quantitative hands-on validations (by bench-marking or replication) of the firm's key risk models, including: Value at Risk (VaR), Stressed VaR, Stress-VaR, Incremental Risk Charge, Comprehensive Risk Measure and the Advanced Measurement Approach (AMA Operational Risk) models.
Secondary Reviews of Model Validations: audit the model validation methods and procedures of the Model Review Group and the Credit Review Model Group within MRD on an annual basis.
Closure Verification of Regulatory Findings: verify work performed by MRD to remediate regulatory findings in the form of Matters Requiring Immediate Attention (MRIA), Matters Requiring Attention (MRA), Market Risk Rules (MRR) and Observations. This involves a review of methodology and MRD testing performed, and, as necessary, additional testing by QAG.
Risk Management Audit also expanded its Credit Review group to Budapest 2013 July. The Credit Review group has a global responsibility to evaluate the quality of the firm's credit process and opine on the quality of the credit portfolio. The Credit Review group's responsibilities include assessing
appropriateness of internal credit ratings,
adequacy of and adherence to internal Credit policies and procedures,
compliance with regulatory guidelines and standards,
quality of underwriting and credit analysis,
on-going monitoring of credit exposures and portfolio management.