James Gorman
Chairman and CEO, Morgan Stanley
Chairman Emeritus, Advisory Board, Institute for Sustainable Investing

James Gorman is Chairman of the Board and Chief Executive Officer of Morgan Stanley. Mr. Gorman served as Co-President of Morgan Stanley, as well as Co-Head of Corporate Strategy, from 2007 to 2009. He joined Morgan Stanley in 2006 as President and Chief Operating officer of Wealth Management. Previously, Mr. Gorman held a number of executive positions at Merrill Lynch, including head of the global private client businesses, head of Strategy and Research, and Chief Marketing Officer. He was also a senior partner of McKinsey & Co. and, earlier in his career, an attorney in Melbourne, Australia. Mr. Gorman serves on the Federal Advisory Council to the U.S. Federal Reserve Board, the Board of Overseers of the Columbia Business School, the Monetary Authority of Singapore International Advisory Panel, the Financial Services Forum, and the boards of the Partnership for New York City and Institute of International Finance. He formerly served on the board and as Chairman of the Securities Industry and Financial Markets Association in Washington, D.C.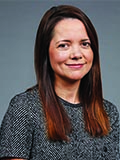 Jessica Alsford
Chief Sustainability Officer, Morgan Stanley
CEO and Chairman, Institute for Sustainable Investing
Jessica Alsford is Morgan Stanley's Chief Sustainability Officer and is CEO of Morgan Stanley's industry-leading Institute for Sustainable Investing, where she oversees the firm's efforts to promote global sustainability through the capital markets. Jessica was formerly Global Head of Sustainability Research at Morgan Stanley. In the 2020 and 2021 European Institutional Investor surveys, Jessica and her team were ranked 1st for both individual ESG Research analyst and sell-side ESG Research firm respectively. The team also ranked 1st for ESG Research in the 2021 All-Asia Institutional Investor survey, 2nd in the 2021 All-America Institutional Investor survey and 3rd in the 2021 Fixed Income Institutional Investor survey. Jessica joined Morgan Stanley in 2005 and previously co-headed the European Business Services Equity Research team. She holds an M.A. in Social and Political Sciences from Cambridge University and is a CFA charterholder. Jessica is also a member of the Advisory Board for Imperial College's MSc in Climate Change, Management and Finance and a member of FTSE Russell Green Industries Advisory Committee.
Rosina Bierbaum
Dr. Rosina Bierbaum is a Professor and Dean Emerita at the University of Michigan, with appointments in the School of Natural Resources & Environment and the School of Public Health. She chairs the Scientific and Advisory Panel of the Global Environment Facility, served on President Obama's Council of Advisors on Science and Technology, and is an Adaptation Fellow at the World Bank. She was a lead author of the US National Climate Assessment and co-directed the World Bank's World Development Report 2010, which focused on climate change and development. Dr. Bierbaum served for two decades in the US Government, leading the first Environment Division at the White House Office of Science and Technology Policy. She is a Fellow of the American Academy of Arts and Sciences and the recipient of the Environmental Protection Agency's Climate Protection Award. She serves on the Boards of several foundations and NGOs and has lectured on every continent.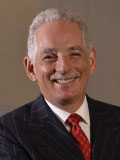 Steven Corwin
Steven J. Corwin, M.D, is President and Chief Executive Officer of NewYork-Presbyterian, one of the nation's largest, most comprehensive healthcare systems. Under his leadership, NewYork-Presbyterian has nearly doubled in size and now comprises more than 47,000 employees and affiliated physicians, providing world-class care at 10 hospitals, and 200 community-based primary and specialty care clinics and medical practices across Greater New York. NewYork-Presbyterian Hospital is the only academic medical center in the country affiliated with two top-ranked medical schools − Columbia University Vagelos College of Physicians and Surgeons and Weill Cornell Medicine. NYP is ranked among the top 10 hospitals in the nation, and has been the No. 1 hospital in New York for more than 20 years, according to U.S. News and World Report's "Best Hospitals" list. During the first wave of COVID-19, New York City became one of the early epicenters of the disease. Between March and May 2020, approximately 54,000 New York City residents were hospitalized, including more than 11,500 COVID-19 patients who were admitted to NYP locations – some of the highest volumes of COVID patients in the nation. Under Dr. Corwin's leadership, NYP undertook a multifaceted response to the pandemic, in close collaboration with the two medical schools, to address inpatient capacity, staffing needs, equipment shortages, disease management, and patient and community education. As President and CEO, Dr. Corwin has launched groundbreaking initiatives such as NYP OnDemand, a suite of digital health services that increases access to NewYork-Presbyterian's expert care, and the installation of a single, integrated, electronic medical record across the NYP enterprise. He has overseen development of state-of-the-art care facilities including the NewYork-Presbyterian David H. Koch Center, an ambulatory care facility; the Alexandra Cohen Hospital for Women and Newborns at Weill Cornell Medicine, exclusively dedicated to the healthcare needs of pregnant women and their newborn babies; the Center for Community Health, a multispecialty outpatient center in Brooklyn; and the Och Spine Hospital, a premier center for orthopedic and neurological spine surgery. In an era of racial reckoning across the country, Dr. Corwin positioned NYP to national leadership on addressing the root causes of health inequity by establishing the Dalio Center for Health Justice in late 2020. The center is committed to improving the health and well-being of NYP's patients and communities through research, dialogue and education; equity in its clinical operations; investment in communities; and advocacy. Dr. Corwin has championed a Respect Credo, and a Diversity, Inclusion and Belonging Initiative that foster a culture of respect, inclusion, and belonging throughout NYP. Under his leadership, NewYork-Presbyterian has been recognized as a "Best Place to Work" by Forbes, Fortune, Glassdoor, Becker's Healthcare, and others. A cardiologist and internist, Dr. Corwin is Past Chairman of the Health Care Systems Council of the American Hospital Association. He is also a Past Chairman and current board member of the Healthcare Association of New York State, and the Greater New York Hospital Association, as well as an Advisory Board Member at the New York Academy of Medicine. In addition, he is a member of the Citizens' Committee for Children of New York's Corporate Advisory Council, the Association for a Better New York's Census 2020 Committee, and a member of the Mayor's Fund Board of Advisors. In May 2021, Dr. Corwin was elected to membership in the American Academy of Arts and Sciences.
LINDA A. HILL
Linda A. Hill is the Wallace Brett Donham Professor of Business Administration at the Harvard Business School and chair of the Leadership Initiative. Hill is regarded as one of the world's top experts on leadership. She was named by Thinkers50 as one of the top ten management thinkers in the world in 2013 and received the Thinkers50 Innovation Award in 2015. Hill is the author or co-author of several award-winning articles and books including Collective Genius: The Art and Practice of Leading Innovation, Being the Boss: The 3 Imperatives of Becoming a Great Leader and Becoming a Manager: How New Managers Master the Challenges of Leadership. Hill's TED talk on how to manage for collective creativity has over 2.6 million views. Hill's research and consulting focuses on leadership development, leading change and innovation, and implementing global strategies. In 2014, she co-founded Paradox Strategies—an advisory and research firm that advises organizations and boards on leadership, innovation, and diversity and inclusion. Hill is a member of the Board of Directors of Relay Therapeutics and is on the Board of Trustees of the ArtCenter College of Design and of Brigham Health. She is also a member of the Team8 Fintech Strategic Committee and she serves on the advisory boards of several organizations including the American Repertory Theater, the Aspen Institute Business and Society Program, the California Institute for Telecommunications and Information Technology (Calit2), Eight Inc., the Morgan Stanley Institute for Sustainable Investing, and the United Nations Institute for Training and Research. She sits on the board of the Global Citizens Initiative, Inc. and is a Special Representative to the Board of Trustees of Bryn Mawr College. Hill is a former member of the Board of Directors of Harvard Business Publishing, State Street Corporation, The Bridgespan Group, and the Eaton Corporation. She is also a former member of the Board of Trustees of The Rockefeller Foundation and the Nelson Mandela Children's Fund USA. Hill completed a post-doctoral research fellowship at the Harvard Business School and earned a Ph.D. in Behavioral Sciences at the University of Chicago. She has a B.A., summa cum laude, in psychology from Bryn Mawr College.
Jeffrey Hollender
Jeffrey Hollender is the founder of Hollender Sustainable Brands and an adjunct professor for sustainability and social entrepreneurship at New York University. He is the co-founder and former CEO of Seventh Generation, which he built into a leading natural product brand known for its authenticity, transparency, and progressive business practices. Mr. Hollender is also the co-chair of Greenpeace US; co-founder and board chair of the American Sustainable Business Council, a coalition of 140,000 business leaders committed to progressive public policy; and the author of seven books, including "How to Make the World a Better Place – A Beginner's Guide"; "The Responsibility Revolution: How the Next Generation of Businesses Will Win"; and "Planet Home."
Mindy Lubber
Mindy S. Lubber is president of Ceres, an international coalition of investors, environmental organizations and other public interest groups working with companies to address sustainability challenges. She also directs the Investor Network on Climate Risk (INCR), a group of more than 100 leading institutional investors managing $10 trillion in assets focused on the business risks and opportunities of climate change. Ms. Lubber is a recipient of the Skoll Award for Social Entrepreneurship and was recently named one of "The 100 Most Influential People in Corporate Governance" by Directorship Magazine. Before Ceres, she served as Regional Administrator of the US Environmental Protection Agency for New England and founded Green Century Capital Management, a family of environmentally responsible mutual funds.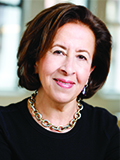 Hutham S. Olayan
Hutham S. Olayan is Chairman of The Olayan Group, an international investor and operator of commercial businesses in the Middle East. The family-owned enterprise originated in 1947. Ms. Olayan was named a director of The Olayan Group in 1981. She has spent her career overseeing the Group's investments outside the Middle East.  As CEO of Olayan America, she headed the Group's US operations for over 30 years.  She became Chairman of the Group's Corporate Board in October 2018. Outside of the Olayan Group, she serves on the board of Brookfield Asset Management and the Executive Advisory Board of General Atlantic. In the non-profit sector, Ms. Olayan serves on Stanford University's Global Advisory Council, the board of the Peter G. Peterson Institute for International Economics, and the board of Memorial Sloan Kettering Cancer Center. She is Trustee Emeritus of the American University of Beirut and a member of AUB's International Advisory Council. Ms. Olayan is a former director/trustee of Morgan Stanley, IBM and Thermo Electron (now Thermo Fisher), Georgetown University, and the MasterCard Foundation.  She is a current member of the Council on Foreign Relations and the Economic Club of New York. In 1983, Ms. Olayan co-founded the Arab Bankers Association of North America (ABANA), a professional organization for individuals and institutions with an interest in the Middle East and North Africa. Ms. Olayan has been widely recognized for her work with humanitarian, educational and professional organizations that focus on the Middle East and building East-West bridges.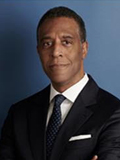 Rey Ramsey
Rey Ramsey is Founder & CEO of Centri Capital, and Trustee, Member of the Investment Committee and former CEO of The Nathan Cummings Foundation. He has devoted his career to building and leading social enterprises with a particular emphasis on housing equity and expanding access to technology in low-income communities. After serving as Oregon's Director of Housing and Community Services, Mr. Ramsey held successive positions as President and COO of Enterprise Community Partners, Chairman of Habitat for Humanity International; and founding CEO and Chairman of One Economy Corporation, a nonprofit provider of internet services to low-income homes. Additionally, he served as President and CEO, of TechNet, a bipartisan network of tech executives representing two million employees and $800 billion in revenues. Mr. Ramsey has served as Chairman of the NAACP Futures Commission, and now serves as a director on numerous boards, including the Morgan Stanley Institute for Sustainable Investing, MMGL Real Estate, the Local Initiatives Support Corporation (LISC), and the Washington Jesuit Academy.
EMMANUEL ROMAN
Mr. Roman is PIMCO's chief executive officer and a managing director of the firm. As CEO, he serves on PIMCO's Executive Committee and has executive oversight of the firm's client and business areas, including broad strategy-setting and resource management. Prior to joining PIMCO in 2016, Mr. Roman was CEO at Man Group PLC, one of the world's largest publicly traded alternative asset managers and a leader in liquid, high-alpha investment strategies. Previously, he was chief operating officer at Man Group from 2010–2013, and co-chief executive officer at GLG Partners, Inc., prior to the firm's acquisition by Man Group in 2010. Earlier in his career, he was with Goldman Sachs for 18 years, serving as co-head of worldwide global securities and co-head of the European services division. He has served as a trustee of the Hedge Fund Standards Board Ltd. as well as a trustee of the Paris Review of Books, the Royal Marsden NHS Foundation Trust, the Tate Foundation and the University of Chicago. He has 31 years of investment experience and holds an MBA in finance and econometrics from the University of Chicago and a bachelor's degree from the University of Paris IX Dauphine.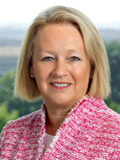 Mary Schapiro
Mary L. Schapiro is the Vice Chair for Global Public Policy of Bloomberg, the global financial technology company that was founded in 1981. She has been at Bloomberg since October 2018, and also serves as a Special Advisor to the Founder and Chairman. Ms. Schapiro, who has had a distinguished career as a financial services regulator under four U.S. presidents from both political parties, oversees Bloomberg's public policy and regulatory priorities globally. Her service as the 29th SEC Chair culminated decades of regulatory leadership. She was the first woman to serve as SEC Chair, and the only person to have served as chair of the SEC, the Commodity Futures Trading Commission (CFTC) and the Financial Industry Regulatory Authority (FINRA). During her four years as SEC Chair, Ms. Schapiro presided over one of the busiest rulemaking agendas in the SEC's history, during which the agency also executed a comprehensive restructuring program to improve protections for investors and pursued aggressive enforcement of the federal securities laws. Ms. Schapiro also serves as an advisor to Bloomberg in multiple capacities, including as the leader of the Financial Stability Board's Task Force on Climate-Related Financial Disclosures, or TCFD.  The TCFD has developed and garnered widespread support for a voluntary framework for corporate disclosure of climate-related risk information to help investors, lenders, and underwriters make informed financial decisions. She is also the vice chair of the Climate Finance Leadership Initiative (CFLI) created at the request of the UN Secretary General to work on scaling climate finance.  She serves as vice chair of the Working Group on U.S. RMB Trading and Clearing, which works to improve the competitiveness and efficiency of U.S. businesses by lowering trading costs and improving access to China's markets. Before becoming SEC Chair and working for Bloomberg, Ms. Schapiro served as chief executive officer of the Financial Industry Regulatory Authority, the largest nongovernmental regulator of securities firms. Earlier, she was Chair of the CFTC from 1994 to 1996, and a commissioner of the SEC from 1988 to 1994.  She serves on the board of both Morgan Stanley (NYSE: MS), and CVS Health (NYSE: CVS).  She is also a member of the governing board of the Center for Audit Quality and serves on advisory boards at the China Securities Regulatory Commission and the Hong Kong Stock Exchange.  She is a member of the Council on Foreign Relations and the Board of Trustees of Franklin and Marshall College and the Humane Rescue Alliance.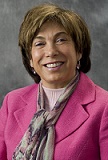 Laura Tyson
Laura D. Tyson is a Distinguished Professor of the Graduate School at the Haas School of Business, University of California, Berkeley and she chairs the Blum Center for Developing Economies Board of Trustees at UC Berkeley. She is the co-chair California Governor Gavin Newsom's Council of Economic Advisors. From July 2018 to December 2018, she served as Interim Dean of Berkeley Haas. Previously, she was the Dean of London Business School (2002-2006) and the Dean of the Berkeley Haas (1998-2001). Tyson was a member of the US Department of State Foreign Affairs Policy Board and a member of President Obama's Council on Jobs and Competitiveness and the President's Economic Recovery Advisory Board. She served in the Clinton Administration as the Chair of the Council of Economic Advisers (1993-1995) and as Director of the National Economic Council (1995 – 1996). She is a member of the Board of Directors of CBRE Group Inc., Lexmark International Inc., and Apex Swiss Holdings SARL. She is the co-author of Leave No One Behind, a report for the United Nation's High-Level Panel on Women's Economic Empowerment.