The country's ambitious Belt and Road Initiative will connect 65 countries and cost north of $1 trillion. The goal? Improving trade and connections between China and Europe, Asia and the Middle East.
From constructing the world's largest dam to building a 26-mile-long bridge, China is no stranger to ambitious infrastructure projects. But the country's Belt and Road Initiative dwarfs them all, in what many contend is the largest undertaking in the country's modern history.
The initiative will accelerate China's transformation into a high-income economy and cement its position as a global economic superpower.
First proposed by President Xi Jinping in 2013, the initiative would develop and construct a vast network of railroads and shipping lanes between China and 65 countries in Asia, North Africa, the Middle East and Europe. The result would be enhanced trade routes and investment links between China and participating nations.
While the initiative had gotten off to a slow start, Morgan Stanley Research believes it will accelerate in 2018. "We're seeing improved economics in Belt and Road countries, alongside supportive government policies in China," says Robin Xing, Morgan Stanley's Chief China Economist. "These factors reinforce our view that China's investment in B&R countries will increase by 14% annually over the next two years, and the total investment amount could double to $1.2-1.3 trillion by 2027."

In the near-term, this massive uptick in investment and construction activity bodes well for Chinese companies and countries with an economic link to the China. Long term, the initiative could accelerate China's transformation into a high-income economy and cement the country's position as a global economic power.
A Re-imagined Silk Road
The original Silk Road was an ancient series of maritime and overland trade routes that connected Asia to Western Europe and beyond. These routes played a key role China's economic development and helped the country establish political and cultural connections with the rest of the world.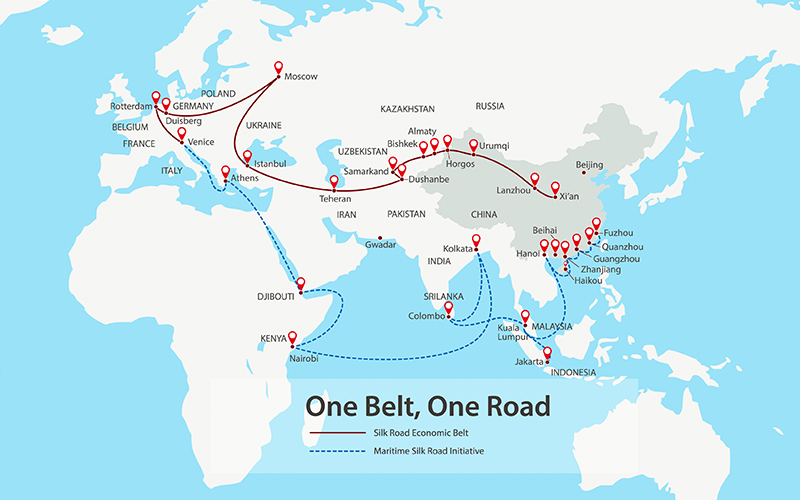 The "belts" in the initiative refer to railroads that will connect China with Europe, Russia, the Middle East and Central and Southeast Asia. The "roads" refer to maritime routes and multiple ports that will be enhanced or built along the South China Sea, Indian Ocean and South Pacific. These routes and the 65 countries they connect represent a significant portion of the world's economy. The initiative countries account for 30% of global nominal GDP, 40% of global GDP growth and 44% of the world's population.
Jenny Zheng from Morgan Stanley's China Economics Research team, notes that the initiative will likely be mutually beneficial to both China and the participating countries. "Many of these countries have lagging investment in their infrastructure despite generally favorable demographic trends. An estimate from the Asian Infrastructure Investment Bank notes a $21 trillion gap between the infrastructure needs of B&R countries and the available financial support." Financing and investment via the initiative could fill these needs, giving B&R countries an economic boost.
Bright Prospects for China's Economy
While the participating B&R countries may benefit, China has the potential to notch the biggest win. First, the initiative promotes more strategic outbound investment by China in railways, roads, ports and power plants.
In addition, the country's low-end manufacturing has become less competitive because of increased protectionism around the world and weakening global demand. The initiative could open up new export markets for the country, and help China manufacturers move up the value chain.
The initiative may also increase the use of Chinese currency, in line with the country's efforts to internationalize the renminbi (RMB). In some belt and road countries, it is already happening. For example, in the past three years, Malaysia's RMB use grew by 551%, Russia's by 56% and Thailand's by 50%.
The B&R Initiative Links China with 65 Countries in
Asia, North Africa and Europe
Southeast Asia (11)
Central & West Asia (14)
Middle East and Africa (16)
Europe (24)
Brunei
Afghanistan
Bahrain
Albania
Lithuania
Cambodia
Bangladesh
Egypt
Armenia
Macedonia
Indonesia
Bhutan
Iran
Azerbaijian
Moldova
Laos
India
Iraq
Belarus
Montenegro
Malaysia
Maldives
Israel
Bosnia & Herzegovina
Poland
Myanmar
Nepal
Jordan
Bulgaria
Romania
Philippines
Pakistan
Kuwait
Croatia
Russia
Singapore
Sri Lanka
Lebanon
Czech
Serbia
Timor-Leste
Kazakhstan
Oman
Estonia
Slovakia
Thailand
Mongolia
Palestine
Georgia
Slovenia
Vietnam
Kyrgyzstan
Qatar
Hungary
Turkey
Tajikistan
Saudi Arabia
Latvia
Ukraine
Turkmenistan
South Africa
Uzbekistan
Syria
UAE
Yemen
Source: China Belt and Road Portal, Morgan Stanley Research
Picking Up Steam
According to Kevin Luo, who heads Morgan Stanley's China Capital Goods and Construction Research team, despite the potential benefits all around, progress on the B&R initiative has been slower than the market expected. "New contracts for the country's engineering, procurement and construction firms grew at 11% between 2014 and 2017, but revenue increased by only 6%, well below the double-digit increases expected."
What's been the hold-up? Chinese contractors typically require a 20% deposit as prepayment for construction. However, the strong U.S. dollar and low commodity prices over the past couple of years made financing such projects difficult for the B&R countries.
Today, that could be changing. Commodity prices and local currencies are on the rise. The latter is especially important because it means that B&R countries can ultimately pay less for these large and often costly infrastructure projects.
Investment Momentum to B&R Countries Rebounded in 2nd Half, 2017
Source: CEIC, Morgan Stanley Research
China has also revamped its guidance on outbound investment. Property, hotels and entertainment investments dominated the country's capital outflows in 2015 and 2016. But policymakers have tightened capital controls toward those "irrational" investments and instead are making B&R investments the new priority.
"The positive developments over the past few months reinforced our view that China could double its B&R investment to $1.2 trillion-$1.3 trillion by 2027," Xing says.
For more Morgan Stanley Research on China and trade, ask your Morgan Stanley representative or Financial Advisor for the full report "China Industrials: Belt and Road: Becoming More Affordable" (Jan 30, 2018). Plus, more Ideas.