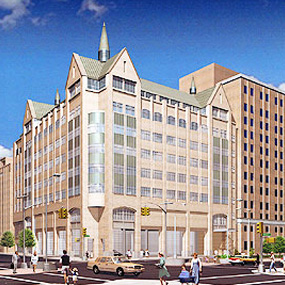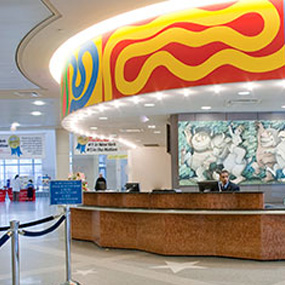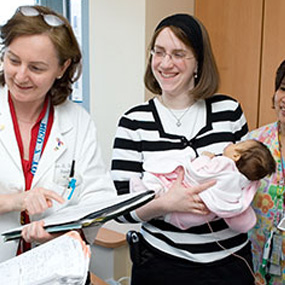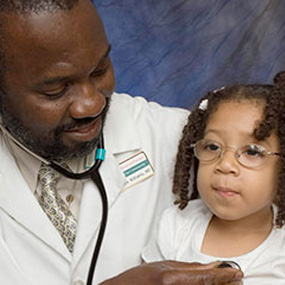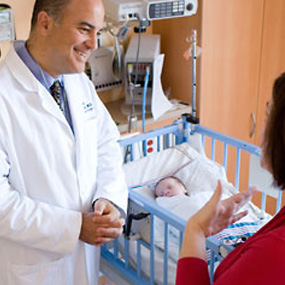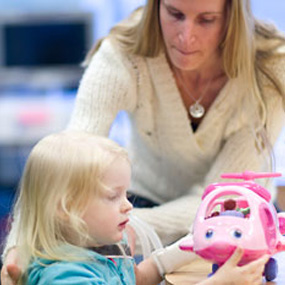 The Hospital was among the U.S. News & World Report's top children's hospitals in 2010.
Morgan Stanley volunteer events take place in the Wintergarden. Mural by Sol Lewitt.
The Neonatal Intensive Care Unit is the top referral center in the New York region.
The Hospital has one of the foremost Divisions of Pediatric Cardiology in the nation.
Our family-centered philosophy encourages discussion of a child's medical care with staff.
A mother and daughter playing - an important part of any child's daily routine.
Morgan Stanley and its employees have built a strong relationship with NewYork-Presbyterian Hospital over the past 40 years. We are proud that our support, including $60 million to create NewYork-Presbyterian/Morgan Stanley Children's Hospital in 2003, has allowed the Hospital to remain the top pediatric center in the tristate region and among the top children's hospitals in the United States according to U.S. News and World Report. There are approximately 8,000 pediatric discharges a year, and more than 50,000 visits to the pediatric emergency room.
Ambassador Program
In addition to our ongoing financial support, Morgan Stanley lends the hospital one of our best minds. Through our Ambassador Program, one of our leading third-year analysts is loaned for a full year of service to the Hospital. This person works directly with the Hospital's Chief Operations Officer to improve efficiencies and reduce costs.
Employee Involvement
Morgan Stanley employees play a critical role in our relationship with NewYork-Presbyterian - providing leadership, giving time, and raising and contributing funds. Among the highlights of this service, which annually include the efforts of more than 1,000 employees:
150 women from the Firm's Women in Finance group put together the annual Morgan Stanley Carnival, serving as organizers, fundraisers and entertainment for children and their families.
An additional 470 employees also supported the Hospital during its Warm Their Hearts drive, collecting several thousand items for families treated at the Hospital.
During Global Volunteer Month, employees also give time every working day of June, helping the Hospital's Child Life and Sibling programs and in the Diagnostic Suite, Outpatient Oncology Clinic and Same Day Surgery areas, by participating in activities with patients and their families, while waiting for procedures, at their bedsides, or in the Child Life Centers.