Access Investing is minutes away
In just a few clicks, you'll have a detailed investment plan based on model portfolio guidance from some of our top investment strategists. It's our answer to a robo-advisor, backed by more than 80 years of expertise.
Whatever you're dreaming of, we can help you get there. We'll tailor your portfolio to help grow your investments based on your individual needs.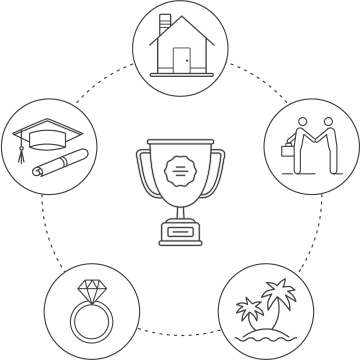 Let us know your risk tolerance, investment timeline, and investing preferences, including industries or causes you want in on.
Get instant recommendations
Our algorithm will recommend an investment model and run thousands of simulations that show you how your portfolio may grow over time.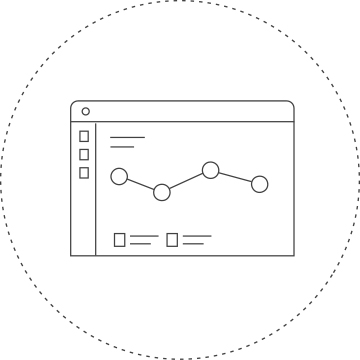 Let us be hands-on so you don't have to be
Tax-loss harvesting
We can help you avoid unnecessary taxes and maximize your after-tax returns.
Investing shouldn't be complicated
$5,000
minimum investment
7306344
64416
3CD19151-F46C-4595-84CF-8EEC3E05FD19
Stay in touch so we can talk about what matters most to you
Thank You for Subscribing!
Would you like to help us improve our coverage of topics that might interest you? Tell us about yourself.
0
What investing topics interest you most?
General investing insights
Sustainable investing: Climate Action
New tech: Robotics & Cybersecurity
Social Impact: Gender Diversity
Thank You for Taking the Survey!
Hear from our experts
See how Access Investing offers insights from Morgan Stanley's 80 years of investment excellence.
Frequently Asked Questions
For general investing, you can open a taxable personal account. If you're investing for retirement, you can open a traditional or a Roth IRA. The IRS offers more information on IRAs at www.irs.gov.
Important information
General:
References to "Morgan Stanley" throughout refers to Morgan Stanley Smith Barney LLC. Morgan Stanley is both a registered broker-dealer and investment adviser. Your Morgan Stanley Access Investing ("MSAI") account is a discretionary investment advisory account. Morgan Stanley is responsible for implementing the model portfolios in your MSAI account, as well as any reasonable restrictions you may impose.
This material is provided for informational purposes only and is not intended as an offer or solicitation with respect to the purchase or sale of any security or other financial instrument or to participate in any trading strategy.
Morgan Stanley is a member of SIPC. It is not a bank. Where appropriate, Morgan Stanley has entered into arrangements with banks and other third parties to assist in offering certain banking related products and services.
Differences between a brokerage and an investment advisory relationship:
You should understand the differences between a brokerage and advisory relationship. When providing you brokerage services, our legal obligations to you are governed by the Securities Act of 1933, the Securities Exchange Act of 1934, the rules of self-regulatory organizations such as the Financial Industry Regulatory Authority (FINRA), and state securities laws, where applicable. When providing you advisory services, our legal obligations to you are governed by the Investment Advisers Act of 1940 and applicable state securities laws. These latter advisory obligations govern our conduct and disclosure requirements, creating a legal standard which is referred to as a "fiduciary" duty to you. Please call the help desk if you have questions about your rights and our obligations to you, including the extent of our obligations to disclose conflicts of interest and to act in your best interest. For additional answers to questions about the differences between our advisory and brokerage services, please visit our web site at http://www.morganstanley.com/ourcommitment/ or contact us at +1 (866) 866-7426.
Morgan Stanley's Global Investment Committee:
Morgan Stanley Wealth Management's Global Investment Committee provides guidance on asset allocation recommendations through the creation and maintenance of the investment models called the GIC Asset Allocation Models. The GIC Asset Allocation Models have both strategic allocations (seeking to maximize returns in the long run) and tactical allocations (seeking to maximize returns over a shorter period). The asset allocation recommendations in the GIC Asset Allocation Models are used as the basis for the model portfolios offered in the MSAI Program. A Morgan Stanley investment team then selects and invests the specific mutual funds and exchange traded funds that populate the model portfolio in your separately managed MSAI Program account, tailored to your specific financial needs and situation, your risk tolerance and subject to any reasonable investment restrictions imposed by you.
The GIC was formed in August 2009 and is currently made up of senior professionals from Morgan Stanley and its affiliate, Morgan Stanley & Co. LLC.
The GIC Asset Allocation Models are not available to be directly implemented as part of an investment advisory service and should not be regarded as a recommendation of any Morgan Stanley investment advisory service. The GIC Asset Allocation Models do not represent actual trading or any type of account or any type of investment strategies and none of the fees or other expenses (e.g. commissions, mark-ups, mark-downs, advisory fees, fund expenses) associated with actual trading or accounts are reflected in the GIC Asset Allocation Models which, when compounded over a period of years, would decrease returns. Performance of the GIC Asset Allocation Models should not be taken as a reflection of the performance of accounts managed by Morgan Stanley, and because the GIC Asset Allocation Models are not themselves investable, among other factors, the performance of your MSAI Program account may differ materially.
Information used by us:
Our calculation of projected hypothetical performance is based in part on information provided by you, including related to assets held in one or more of your Morgan Stanley accounts and your accounts custodied elsewhere, as well as certain third party sources which Morgan Stanley believes to be reliable. Morgan Stanley makes no warranties or representations of any kind relating to the accuracy, completeness, or timeliness of the data such third party sources provided and shall not have liability for any damages of any kind relating to such data.
Morgan Stanley will not verify any external holdings or account information. The information contained herein is subject to, and does not supersede the trade confirmations and account statements you receive from us and/or your external custodian. Values shown in your official account statement may differ from the values reflected due to, among other things, different reporting methods, delays, market conditions and interruptions. If there are discrepancies between your official account statement and this information, rely on your official account statement.
The external account information used to produce this analysis has been provided by you. This information, as well as your Morgan Stanley account information in this analysis, is approximate and subject to updating, correction and other changes. We are not obligated to notify you if information changes.
Investment Model Strategy Recommendations
We will ask you to provide us with information about your suitability attributes, including your indicated investment goal and risk tolerance as well as certain additional information, such as your age, your financial situation, the amount you intend to contribute initially and on an ongoing basis to fund the account, and other accounts and assets you hold either with Morgan Stanley, or at third party financial institutions. Based upon this information we will also assign additional suitability attributes, as applicable, such as liquidity and time horizon. Together, this information creates a complete investment profile of your account that we refer to as your "Investor Profile". Based upon your Investor Profile, together with the market guidance from the GIC, our proprietary algorithm will recommend an investment model strategy that we believe best fits your investment goal, risk tolerance, and financial needs. You may choose to accept our recommendation or select a different investment model strategy for your account.
How we calculate performance returns in your MSAI Program account:
In addition to projected hypothetical performance, actual performance returns for your MSAI Program account will be available to be viewed by you. The actual performance returns include all cash and cash equivalents, are time weighted, annualized for time periods greater than one year and include realized and unrealized capital gains and losses and reinvestment of dividends, interest and income. Past performance is not an indication or a guarantee of future results.
Investment Earnings refers to a combination of the income received and total portfolio value increase or decrease, excluding net contributions and withdrawals, over the reporting period.
Net Contributions/Withdrawals refers to the net value of cash and securities contributed to or withdrawn from the account during the reporting period. Net contributions and withdrawals may include advisory fees for advisory accounts.
Time Weighted Return means a return calculation that measures the investment performance of a portfolio over the reporting period. Time weighted returns do not include the impact of client contributions and withdrawals and therefore, may not reflect the actual rate of return the client received. Time weighted returns isolate investment actions and can be compared to benchmarks and used to evaluate the performance of a manager.
Projected Performance Results using a Monte Carlo Simulation:
IMPORTANT: The projections and other information referenced above regarding the likelihood of various investment outcomes are hypothetical in nature, do not reflect any actual investment results, and are not an indication or a guarantee of future results.
The Monte Carlo simulation provides projected, hypothetical performance of the investment strategy you have selected. Using the GIC's capital market assumptions, a Monte Carlo graph shows the total projected performance of your portfolio over your time horizon across a range of possible outcomes. In order to formulate our capital market assumptions, we look at the past performance of relevant indices which are used as a proxy for each of the asset classes that would be invested in your portfolio.
We base the graph on the information you told us: your initial and ongoing contribution amounts as well as, if applicable, information about your Morgan Stanley accounts and the accounts you hold at other financial institutions.
We assume you'll continue to make your ongoing contributions to your Access Investing account and other accounts either until the end of your goal's time horizon or until you retire, as applicable. For the Retirement Goal, if you indicated your goal includes your partner, we assume your contributions will continue until either you or your partner retires. As well, for a Retirement Goal, upon retirement, we will assume that you will continue to make taxable contributions only if your remaining income exceeds your Target Retirement Income. Tax-advantaged contributions into an IRA are assumed to continue until you retire, regardless of when your partner retires.
The projections assume your IRA contributions will not exceed the applicable annual IRA contribution limits. However, please note, the projections do not consider any contributions made earlier in the current year. As such, your actual IRA contributions in the current year may be less than what is used in the projections.
We also apply a constant rate of inflation to your ongoing contributions. We then add these investments up and forecast how they could potentially grow over time throughout your time horizon or until you or your partner retires, as applicable for your specific goal. To keep things simple, our forecast assumes that all of your investments, including any other accounts you've included, are invested according to your current investment model. We also assume you're not going to make any withdrawals until your goal's end date or until you retire, as applicable for your specific goal.
We run this simulation thousands of times, using different rates of return, to forecast which outcomes appear the most likely. The graph represents the estimated outcomes for multiple scenarios, ranging from "Unfavorable Market Conditions" (85% likelihood) to "Favorable Market Conditions" (15% likelihood). The solid center line represents the potential outcome for your investment in "Average Market Conditions" (50% likelihood). The Total Projected Amount shown above the graph corresponds to the "Average Market Conditions" scenario.
Additionally, first year projections are shown in partial-year increments, determined by the point in time during the calendar year when the graph his presented. All subsequent projections are shown in full-year increments. The first point on the chart reflects your stated initial contribution to your Access Investing account (if you are yet to fund your account), or the current market value of your Access Investing account (if you have funded your account). The value shown will also include any other accounts you've told us about. Each subsequent point on the chart reflects the projected value of your assets on January 1st of the corresponding year. The last point on the chart corresponds to the beginning of the last year in your goal or until you or your partner retires, as applicable for your specific goal. This is not a guarantee but an estimate given the information you provided and the analysis above.
The Monte Carlo projection does not reflect the performance of an actual portfolio, investment or account. It reflects actual historical performance of selected indices on a real-time basis over a specified period of time representing the GIC current strategic allocations. The calculation of the performance of these current strategic allocations assumes reinvestment of dividends and interest at net asset value without taxes and also assumes the annual "rebalancing" of the weighting of the asset class benchmarks back to the current strategic allocation. This hypothetical model portfolio performance is likely to differ from your actual investments in your account.
The historical risk-and-return information used in the Monte Carlo simulation includes estimated asset class returns based upon the weighted average of the actual returns of the respective indexes that are representative of each such asset class.
The forward-looking capital market assumptions used in the Monte Carlo simulation are set by Morgan Stanley's Global Investment Committee (GIC). The projected performance results reflect the deduction of annual advisory fee of 35 basis points. Other fees and expenses, including ones related to your investments in mutual funds and exchange traded funds, are not reflected in these projected performance results or other expense. Had the results reflected these costs, the hypothetical projected performance would have been lower.
Monte Carlo simulations are used to show how variations in rates of return each year can affect your results. A Monte Carlo simulation calculates the results of your strategy by running it many times, each time using a different sequence of returns. Some sequences of returns will give you better results, and some will give you worse results. These multiple trials provide a range of possible results, some successful (you would have met all your goals) and some unsuccessful (you would not have met all your goals). The percentage of trials that were successful is shown as the probability that your strategy, with all its underlying assumptions, could be successful. The Results Using Monte Carlo Simulations indicate the likelihood that an event may occur as well as the likelihood that it may not occur. In analyzing this information, please note that the analysis does not take into account actual market conditions, which may severely affect the outcome of your goals over the long-term.
No investment strategy or allocation can eliminate risk or guarantee investment results. It is important to remember that future rates of return can't be predicted with certainty and that investments that may provide higher rates of return are generally subject to higher risk and volatility.
The actual rate of return on investments can vary widely over time. This includes the potential loss of principal on your investment. You should carefully consider several important factors when making asset allocation decisions using projected investment performance data based on assumed rates of return of indices: Indices illustrate the investment performance of instruments that have certain similar characteristics and are intended to reflect broad segments of an asset class. Indices do not represent the actual or hypothetical performance of any specific investment, including any individual security within an index.
Although some indices can be replicated, it is not possible to directly invest in an index. It is important to remember the investment performance of an index does not reflect deductions for investment charges, expenses, or fees that may apply when investing in securities and financial instruments such as commissions, investment advisory fees, sales loads, fund expenses, or other applicable fees.
Another important factor to keep in mind when considering the historical and projected returns of indices is that the risk of loss in value of a specific asset, such as a stock, a bond or a share of a mutual fund, is not the same as, and does not match, the risk of loss in a broad asset class index. As a result, the investment performance of an index will not be the same as the investment performance of a specific instrument, including one that is contained in the index. Such a possible lack of "investment performance correlation" may also apply to the future of a specific instrument relative to an index. For these reasons, the ultimate decision to invest in specific instruments should not be premised on expectations that the historical or projected returns of indices will be the same as those for specific investments made.
Projected Performance Assumptions:
The information you provided about your assets, financial goals, and personal situation are key assumptions for the calculations and projections in this material. Every individual's financial circumstances, needs and risk tolerances are different. The hypothetical projected returns or income produced by the MSAI is based on the information you provided to us, the assumptions you have provided and the other assumptions made by Morgan Stanley indicated herein. Please review all the information thoroughly to ensure that it is correct and complete before accepting the recommended investment model. Even small changes in assumptions can have a substantial impact on the results shown in this material. The information provided by you should be reviewed periodically and updated when either the information or your circumstances change. Morgan Stanley has no responsibility and is under no obligation to monitor or update this material in the future unless expressly engaged by you to do so at that time.
Financial forecasts, rates of return, risk, inflation, and other assumptions may be used as the basis for illustrations in MSAI. They should not be considered a guarantee of future performance or a guarantee of achieving overall financial objectives. All results use simplifying estimates and assumptions. No tool has the ability to accurately predict the future, eliminate risk or guarantee investment results. As investment returns, inflation, taxes, and other economic conditions vary from the assumptions used by the MSAI investment analysis tool, your actual results will vary (perhaps significantly) from those presented herein.
The assumed return rates utilized in MSAI are not reflective of any specific investment and do not include any fees or expenses that may be incurred by investing in specific products. The actual returns of a specific investment may be more or less than the returns used in MSAI. The return assumptions are partially based on historic rates of return of securities indices which serve as proxies for the broad asset classes. It is not possible to directly invest in an index. Moreover, different forecasts may choose different indices as a proxy for the same asset class, thus influencing the return of the asset class. MSAI results may vary with each use and over time.
Morgan Stanley's Global Investment Committee defines the GIC Asset Allocation Models in part based upon its capital market assumptions. For more information about the Global Investment Committee's process and the relevant market assumptions, please refer to: Inputs for GIC Asset Allocation
In projecting your account value over time, Morgan Stanley's proprietary analytics take inflation into account. Nominal values, which are not inflation adjusted, allow us to project the value of your account at a future date because they include the effect of inflation.
Inflation is the change in price of goods and services over time. As prices increase, the purchasing power, or amount of goods and services you can get for a unit of money, decreases.
Although this is a valuable metric, it is also important to understand the current purchasing power of your assets today, or in real terms. Real values are referred to as inflation adjusted, because they exclude the effect of inflation over time.
For the Retirement and Build Wealth goals, all projected values are in real terms, even though you may not plan on retiring or withdrawing from your portfolio for many years. This is because it is easier to understand your projected retirement income and account balance in the context of what it could buy you in today's dollars.
For the Buy a Car, Buy a House, Save for a Wedding, Start a Business, Education and Custom Purchase goals, all projected values are expressed in nominal terms. For all of these goal types, you will be defining a future date by which you want a certain amount of money. When deciding how much money you may need, you should consider that what you want may cost you more in the future.
Hypothetical, Projected Performance and Its Limitations:
Any projected returns or income referenced is based upon certain market projections effective as at today's date only and can change at any time. Such projected returns and income are hypothetical, do not reflect actual investment results, and are not guarantees of future results. They are referenced for illustrative purposes only. Morgan Stanley does not represent or guarantee that the projected returns or income referenced will or can be attained.
Hypothetical performance results have inherent limitations. There are frequently large differences between hypothetical performance and actual performance results subsequently achieved by any particular asset allocation or trading strategy. Hypothetical performance results do not represent the investment performance of actual portfolios trading in a certain strategy and are generally designed with the benefit of hindsight and are created on the basis of certain assumptions about short and long-term risk and return forecasts of asset classes and global economic outlooks. We make no representation or warranty as to the reasonableness of the assumptions made, or that all assumptions used to construct this projected performance have been stated or fully considered. To the extent that the assumptions made do not reflect actual conditions, the illustrative value of the hypothetical projected performance will decrease. The projected performance shown may under or over compensate for the impact of actual market conditions and other factors, such as expenses. It cannot account for all factors associated with risk, including the impact of financial risk in actual trading or the ability to withstand losses or to adhere to a particular trading strategy in the face of trading losses. There are numerous other factors related to the markets in general or to the implementation of any specific trading strategy that cannot be fully accounted for in the preparation of hypothetical performance results and all of which can adversely affect actual trading results. For example, the risk of loss in value of a specific security, such as a stock or bond, is not the same as, and does not match, the risk of loss in a broad-market index. As such, this projected returns or income may not be a meaningful tool in determining how a strategy will actually perform. Similarly, trading certain types of securities, such as international and emerging market, high yield and derivatives may have unique trading risks. As a result, the historical returns of an index will not be the same as a historical return of a specific security, including one that is contained in the index. This lack of "volatility correlation" will likely continue to apply in future returns of a specific security relative to an index.
How we calculate your Goal Status:
Your overall goal status assesses the current probability your goal will reach its targets. There are a few ways that we measure your progress towards your goal. For a Retirement Goal, we look at your funding ratio, your probability of reaching your target retirement income, and your probability of meeting your essential retirement income. For all other goal types, we assess your goal status based upon your probability of success.
To calculate your funding ratio, we look at how much you have invested now, both in your Morgan Stanley Access Investing account and any other accounts you told us are intended for your retirement, plus what you plan to contribute in the future. We then divide that number by the present value of your total Target Retirement Amount.
Your funding ratio only looks at the current balance of the accounts aligned to your retirement goal and what you plan to contribute in the future—that means it does not rely on forecasts of your portfolio's performance or future market returns. It's a more conservative calculation, which makes it a prudent way to track the health of your retirement goal over time. To determine if you are on track, we compare your actual funding ratio with what we think is an appropriate funding ratio for people your age.
Next, we look at your probability of success. We run Monte Carlo simulations to calculate the probability that your portfolio will perform well enough to achieve your target goal amount, assuming average market performance. For a Retirement Goal, we also offer you a second, more conservative probability of success, by looking at a lower income that would only take care of basic expenses like housing and food when you're retired. We call this your "essential" retirement income, which we identify from the Consumer Expenditure Survey produced by U.S. Bureau of Labor Statistics as a percentage of your Target Retirement Income.
Your Retirement Goal Status will be broken down based upon the following criteria:
Goal Status: On Track – must meet ALL of the following criteria
| | |
| --- | --- |
| Probability of Success: Essential | 95% or Greater |
| Probability of Success: Non-Essential | 70% or Greater |
| Funding Ratio | Your funding Ratio is greater than or equal to where we think you should be for people your age. |
Goal Status: Off Track – meets ANY of the following criteria
| | |
| --- | --- |
| Probability of Success: Essential | Less than 85% |
| Probability of Success: Non-Essential | Less than 40% |
| Funding Ratio | Your funding Ratio is less than where we think you should be for people your age. |
Goal Status: Almost There – does not meet the criteria to be "Off Track" or "On Track".
For Major Purchase Goals, your Goal Status will be broken down based upon the following criteria:
| | |
| --- | --- |
| Goal Status | Probability of Success |
| On-Track | 55% or Greater |
| Almost There | Between 40% and 54% |
| Off-Track | Less than 40% |
Morgan Stanley does not represent or guarantee that you will reach your target goal amount or that the projected returns or income referenced can or will be attained.
How we calculate your Target Retirement Income for the Retirement Goal:
In order to recommend a Target Retirement Income for your Retirement Goal, first we take your indicated current annual income and calculate how much you could be earning by your retirement age by using historical income growth data from the U.S. Center for Economic and Policy and Research. Then we get a picture of how you'll probably spend when you're retired by looking at data from the U.S. Bureau of Labor Statistics Consumer Expenditure Survey. We use this information to determine your Target Retirement Income.
General Risks of Investing:
Return and principal value of investments will fluctuate and, when redeemed, may be worth more or less than their original cost. Investments are not FDIC insured or bank guaranteed, and investors may lose money. There is no guarantee that past performance or information relating to return, volatility, style reliability and other attributes will be predictive of future results. The value of an investor's shares of any fund will fluctuate and, when redeemed, may be worth more or less than the investor's cost.
You should note that investing in financial instruments carries with it the possibility of losses and that a focus on above-market returns exposes the portfolio to above-average risk. Performance aspirations are not guaranteed and are subject to market conditions. High volatility investments may be subject to sudden and large falls in value, and there could be a large loss on realization which could be equal to the amount invested.
Asset allocation, diversification and rebalancing do not assure a profit or protect against loss. There may be a potential tax implication with a rebalancing strategy. Please consult your tax advisor before implementing such a strategy.
Non diversification is attributed to a portfolio that holds a concentrated or limited number of securities, a decline in the value of these investments would cause the portfolio's overall value to decline to a greater degree than a less concentrated portfolio. Portfolios that invest a large percentage of assets in only one industry sector (or in only a few sectors) are more vulnerable to price fluctuation than those that diversify among a broad range of sectors.
Value and growth investing also carry risks. Value investing involves the risk that the market may not recognize that securities are undervalued and they may not appreciate as anticipated. Growth investing does not guarantee a profit or eliminate risk. The stocks of these companies can have relatively high valuations. Because of these high valuations, an investment in a growth stock can be more risky than an investment in a company with more modest growth expectations.
Risks related to investing in Mutual Funds and Exchange Traded Funds (ETFs):
Please refer to the MSAI Program Form ADV Brochure for an explanation of the fees and charges that will apply to your investments in mutual funds and ETFs.
All funds are sold by prospectus, which contains more complete information about the fund. As with any fund investment, you should consider the investment objectives, risks and charges and expenses of the funds carefully before investing. Additionally, the prospectus of each fund contains such information and other information about the fund. Prospectuses and current performance data are available on our website at www.morganstanley.com.
There is no assurance that a mutual fund will achieve its investment objective. Funds are subject to market risk, which is the possibility that the market values of securities owned by the fund will decline and that the value of fund shares may therefore be less than what you paid for them. Accordingly, you can lose money investing in a mutual fund. Each fund's ability to achieve its investment objective depends upon the accuracy of the fund manager's analysis of macroeconomic trends and asset class valuations and its ability to select the appropriate mix of underlying securities. There is risk that the fund manager's evaluations and assumptions regarding macroeconomic trends, asset class valuations and selected underlying securities may be incorrect in view of actual market conditions.
An investment in an exchange-traded fund (ETF) involves risks similar to those of investing in a broadly based portfolio of equity securities traded on exchange in the relevant securities market, such as market fluctuations caused by such factors as economic and political developments, changes in interest rates and perceived trends in stock prices. Investing in an international ETF also involves certain risks and considerations not typically associated with investing in an ETF that invests in the securities of U.S. issues, such as political, currency, economic and market risks. These risks are magnified in countries with emerging markets, and even more so in frontier markets, since these countries may have relatively unstable governments and less established markets and economics. For specifics and a greater explanation of possible risks with ETFs, please consult a copy of the ETFs prospectus. Investing in sectors may be more volatile than diversifying across many industries. The investment return and principal value of ETF investments will fluctuate, so an investor's ETF shares (Creation Units), if or when sold, may be worth more or less than the original cost. ETFs are redeemable only in Creation Unit size through an Authorized Participant and are not individually redeemable for a Fund.
An investment in a money market fund is not insured or guaranteed by the Federal Deposit Insurance Corporation or any other government agency. Although the Fund seeks to preserve the value of your investment at $1.00 per share, it is possible to lose money by investing in the fund.
Retirement Accounts:
Individual retirement accounts and other retirement plan clients that participate in Morgan Stanley advisory programs may be prohibited from purchasing investment products managed by affiliates of Morgan Stanley.
Tax-Qualified and Tax-Deferred Assets:
If your current portfolio contains assets which are tax-qualified or tax-deferred under the Internal Revenue Code, you should consider the tax effects of any portfolio withdrawal from such amounts, as opposed to from fully taxable accounts, with your tax and/or legal advisor(s). Generally speaking, the withdrawal of tax-qualified or tax-deferred amounts can result in income tax liability where no such liability would exist if the amounts had been withdrawn from a taxable account. Furthermore, (a) tax penalties can occur when such assets are withdrawn prior to age 59½, (b) such withdrawals can have detrimental effects on specific tax planning strategies (e.g., "72(t) payments"), and (c) certain qualified or tax-deferred assets are eligible for or receive special treatment upon withdrawal (e.g., net unrealized appreciation treatment, eligibility for rollover). The performance of tax-managed accounts is likely to vary from that of non-taxed managed accounts.
Morgan Stanley does not provide legal, tax or accounting advice. In light of the foregoing, we strongly recommend that you consult your tax and/or legal advisors in connection with this material and any withdrawals that you make from your portfolio.
We monitor your account:
After you have accepted the investment model we have recommended and your account assets are invested, we will periodically monitor your account's performance. We believe that an investment management program does not end with the initial selection of a strategy. Periodic evaluation and monitoring of your account and your long-term investment objectives help you to make periodic adjustments. Morgan Stanley will also provide you with periodic reports showing your account performance.
Asset Allocation and Rebalancing:
Asset Allocation refers to how your investments are diversified across different asset classes, such as stocks, bonds, cash and alternative investments.
Rebalancing describes the discipline of selling assets and buying others to match the target weightings of an asset allocation model. Because assets increase and decrease in value over time, the percentage amounts of assets invested in each class will tend to vary from their original target weightings.
Performance of an asset class within a portfolio is dependent upon the allocation of securities within the asset class and the weighting or the percentage of the asset class within that portfolio. Potential for a portfolio's loss is exacerbated in a downward trending market. A well-diversified portfolio is less vulnerable in a falling market.
The asset class hypothetical return assumptions leveraged in the MSAI are based on what Morgan Stanley's GIC believes are reasoned estimates of drivers of capital market returns and historical relationships. As with any forecasting discipline, the assumptions and inputs underlying Morgan Stanley GIC's forecasting process may or may not reconcile with, or reflect, each investor's individual investment horizon, risk tolerance, capital markets outlook, and world view. For these reasons, and because forecasting methods are complicated, investors should keep in mind that asset allocation, diversification, and rebalancing do not assure a profit or protect against loss in a declining market.
Bank Deposit Program:
Under the Bank Deposit Program, cash balances held in account(s) at Morgan Stanley are automatically deposited into an interest bearing FDIC–insured deposit account(s), at Morgan Stanley Bank, N.A. and/or Morgan Stanley Private Bank, National Association, each a national bank, Member FDIC, and an affiliate of Morgan Stanley Smith Barney LLC. Detailed information on federal deposit insurance coverage is available on the FDIC's website (https://www.fdic.gov/deposit/deposits/). Cash balances generally include the uninvested cash in a client's account(s) minus certain items such as purchase transactions due to settle within a specified time period, other charges to a client's account(s), and cash balances that are designated as collateral for a client's obligations.
Investment, insurance and annuity products offered through Morgan Stanley Smith Barney LLC are: NOT FDIC INSURED | MAY LOSE VALUE | NOT BANK GUARANTEED | NOT A BANK DEPOSIT | NOT INSURED BY ANY FEDERAL GOVERNMENT AGENCY
This is not a financial plan:
This material is not a financial plan. A financial plan generally seeks to address a wide spectrum of your long-term financial needs, and can include recommendations about insurance, savings, tax and estate planning, and investments, taking into consideration your goals and situation, including anticipated retirement or other employee benefits. Morgan Stanley will only prepare a financial plan at your specific request using Morgan Stanley approved financial planning software where you will enter into a written agreement with a Financial Advisor. If you would like to have a financial plan prepared for you, please consult with a Morgan Stanley Financial Advisor.
This material provides a snapshot of your current financial position and can help you to focus on your financial resources and goals, and to create a strategy designed to get you closer toward meeting your goal. Because the hypothetical results are calculated over many years, small changes can create large differences in potential future results. You should use this material to help you focus on the factors that are most important to you.
Morgan Stanley Access Investing ® is a registered service mark of Morgan Stanley Smith Barney LLC.
©2018 Morgan Stanley Smith Barney LLC. Member SIPC.
CRC 2214955 8/18.