For NextGen entrepreneurs, incorporating social good isn't just a PR strategy, it's a progressive business model that may change how companies operate.
Does the future of business center on integrating the twin goals of building a better world alongside growing profits? With an increasing frequency, Americans are saying it should—with their wallets.
According to a recent study, 78% of Americans want companies to address important social issues. And 87% say they will purchase a product because the brand supported a cause. 1
NextGen entrepreneurs have recognized this trend. According to The Deloitte Millennial Survey 2017, 76% of Millennials believe the success of a business should be measured by more than just its financial performance.2 For this cohort, addressing both profits and social good isn't just a PR strategy, it's a progressive business model that should be an integrated part of how businesses operate.
Business for the Greater Good
Recently, Morgan Stanley's Private Wealth Management team hosted the "Next Generation of Leaders" event to talk about corporate social responsibility and other ideas with young entrepreneurs and investors. The event brought together a diverse field of young thought leaders, ages 21 to 30, all with a common goal of building their personal brand, networking with peers and talking entrepreneurship. The event also covered a variety of topics such as wealth planning strategies, building leadership skills and impact investing.
Several of the panels during the two day event focused specifically on developing business models with an eye toward making an impact, whether through integrated sustainability strategies or business models centered around giving back to communities.  The 'giving back' model was explored in particular with keynote speaker Bert Jacobs, Co-founder of the Life is Good apparel and lifestyle brand.
Jacobs and his brother launched the company in 1994 with $78 dollars in their pockets, selling T-shirts on the streets of Boston. With their simple but optimistic message of "Life is Good," they aimed to sell T-shirts but also to combat what they saw as overwhelming negativity flooding the daily news. A community of consumers began embracing their positivity and a brand was built around this life affirming message. After receiving multitudes of letters from children, the brothers realized the depth of the message "Life is Good." From these letters, they learned that optimism is actually most powerful in the face of great adversity.
These stories inspired the brothers to fully integrate the Life is Good Kids Foundation into the brand by donating 10% of the company's annual net profits to support kids in need. "This is where capitalism is going. It's not 'Let me make a fortune first, then figure out how to give back,' it's 'How can I build a good business and become more profitable by making the world a better place,' said Jacobs.  Today, the Life is Good Kids Foundation positively impacts over 1 million kids every year who are facing early childhood trauma.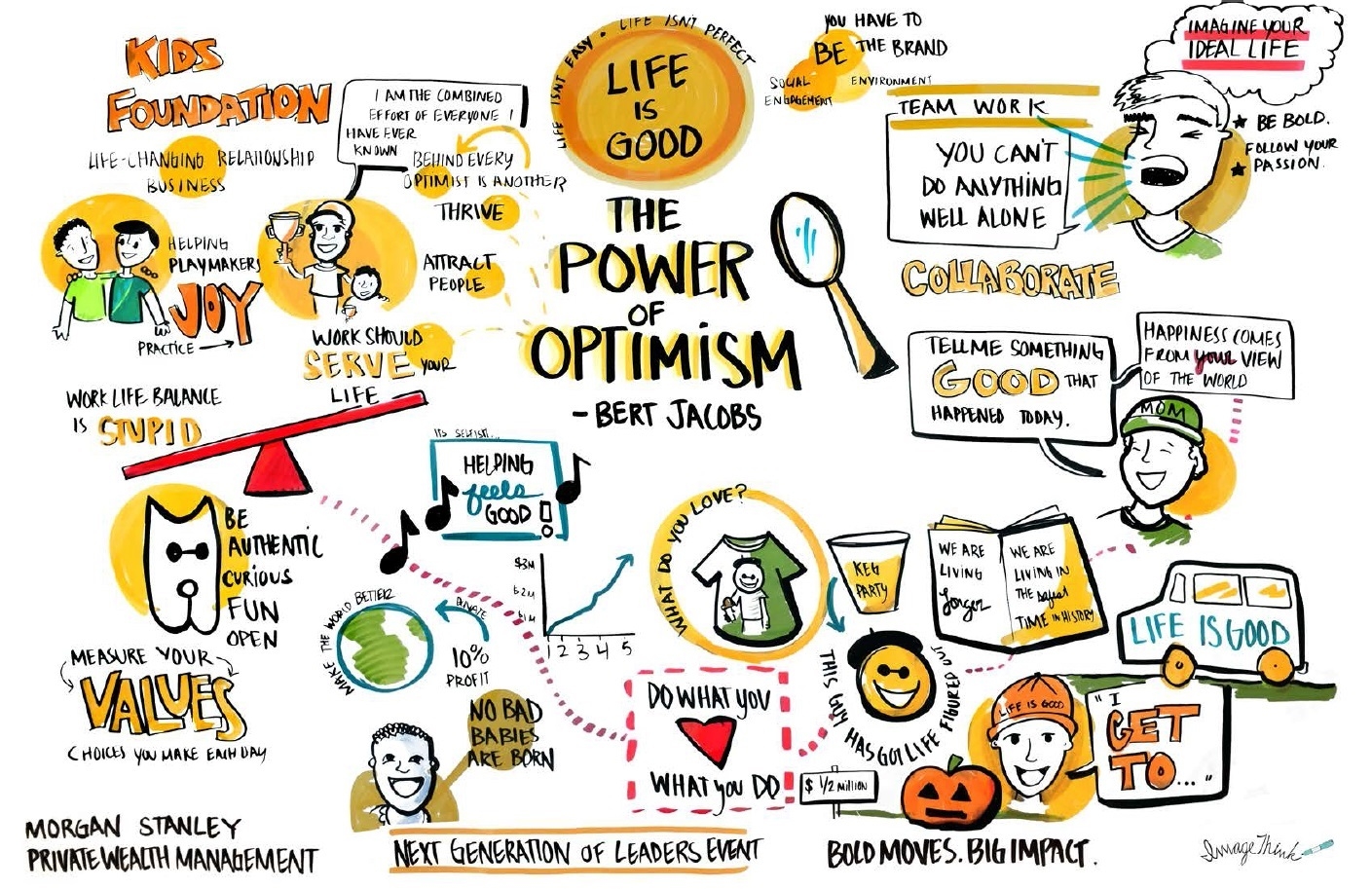 Keynote speaker Bert Jacobs shared his life story and explained why giving back, optimism and the power of community are the keys to building 21st century brands.
This message of "Social good is also smart business" seems to resonate with NextGen entrepreneurs as they create the next wave of American businesses. "Young entrepreneurs know that consumers have now taken control. The digital age has allowed consumers to vote with their dollars. Ripping businesses down when they don't like what they stand for or building them up. The consumer is now part author of the story of your brand," said Jacobs.
During another panel, Nancy Pfund from DBL Partners expanded on this idea, talking about businesses which have integrated sustainability strategies. DBL Partners—named from the concept of Double Bottom Line (profits and social impact)—believes in using venture capital to invest in companies that aim to deliver both top-tier venture capital returns as well social environmental and economic change directly through their products and business operations. "The old view is if you ever tamper with your profit motive by addressing any sort of social concerns you would diminish the brand. That is not what the vanguard of investors believes today. And the biggest cohort of that thinking is the millennial group."
Promoting the Next Generation
Morgan Stanley's event underscored the firm's desire to connect with young entrepreneurs and help shape these new business models.  Joan Steinberg, Head of Morgan Stanley's Community Affairs team, offers NextGen some advice from her own experience. "Young entrepreneurs need to think about integrated programs that directly align with their brand, their business and the way they operate.  To be authentic, community and social constructs need to be center stage and bought in at all levels.  At Morgan Stanley, our social responsibility approach is consciously integrated into every aspect of the Firm, from the decision making at each line of business to the day to day employee experience."
The event also emphasized the drive that NextGen entrepreneurs have to create successful, growing businesses, and harness that drive to create a better world. Mandell Crawley, Head of Morgan Stanley's Private Wealth Management group summed up this passion to change business and society, saying, "As an entrepreneur, you're not just selling your ideas, you're selling yourself and your vision—because energy attracts energy. To succeed and create the world you envison, you have to light yourself on fire with enthusiasm. Do that and people will come from miles around to watch you burn. That's how you create change."