Activist investors have ramped up a push for change, helping to raise the bar on smart capital allocation.
Edited excerpt from a report written by Dan Skelly, Research Analyst, and published in On the Markets, November 4, 2014.
They say that breaking up is hard to do, but not when activist investors are pressuring corporate boards and managers to do it. The latest wave of activist-investor involvement has led to a record number of spinoffs, divestitures and various other strategic reorganizations in 2014, many of which often elicit cheers from shareholders.
This mostly hedge-fund-driven activist strategy has grown more popular at the right time. With the financial crisis in the rear-view mirror, management teams have become receptive to calls for taking risks to pursue more focused strategies. Also, the initial gains of certain companies that acted on activists' push for change have attracted more investor money into activist hedge funds. And, their outperformance thus far further differentiates them from other investment managers who are struggling to keep up with market returns.
Activists Gaining Momentum
Here's how it works: Activist investors, usually through the hedge funds they control, typically take a large equity stake in a company to obtain board seats or other means of exerting influence. They then seek to boost the value of their stakes by putting pressure on management to adopt a change in strategy—such as a spinoff, sale, or other organizational restructuring or changes in capital allocation—aimed at "enhancing shareholder value."
Activist investment strategies are not new, but the volume of these campaigns has ramped up in recent quarters—and so has their impact. In 2014, activists notched a 72% success rate in proxy fights so far, up from 60% in 2013 and just 36% in 2003, according to FactSet (see chart). Directly or indirectly, many of these campaigns are prompting corporate directors to pursue spinoffs, typically a tax-free distribution of a particular business unit. Indeed, nonfinancial US companies have executed 57 spinoffs so far this year, up from 44 for all of 2013, and 33 in all of 2012, according to Standard & Poor's.
Increasing Success for Dissidents' Proxy Battles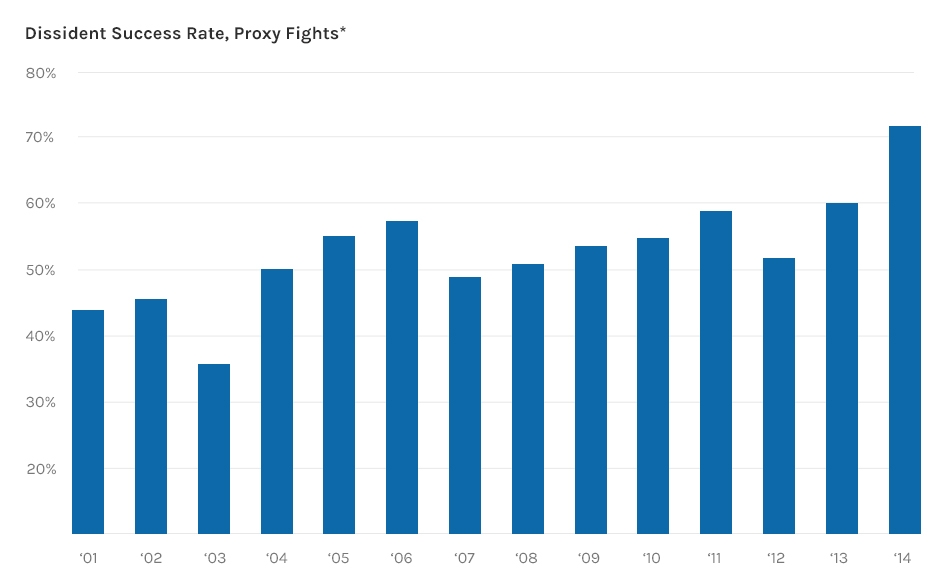 Source: FactSet as at October 2014
With this magnitude of strategic activity and broadly positive investment performance from activist managers, investors have taken notice. In fact, activist investing was the top-performing strategy among hedge funds in 2013. Inflows to these funds have remained strong this year. Driven by increasing mergers-and-acquisitions volume, as well as activist trends, investors allocated roughly $15.7 billion to event-driven hedge funds in the first half of 2014, with the activist-only component garnering $9.4 billion.
Signs of a Market Top?
A cynic might argue that all this activism should raise red flags about where in the economic and market cycle we are right now. Skeptics might well ask: Are management teams simply stretching for returns, or are they pursuing creative and disruptive strategies to spur shareholder returns amid an environment of lackluster growth and a dearth of investment opportunities?
Here are a few reasons to believe otherwise. Much of the activists' focus has been on companies beset by management missteps or technology-induced changes. For example, many media companies are splitting off their slow-growth print businesses from faster-growing segments such as film, TV and Internet. In technology, changes in consumer and business behaviors are also realigning portfolios. In the energy sector, improved fossil-fuel extraction methods and differing growth outlooks are forcing legacy companies to reconsider their strategies.
Most importantly, we do not foresee the end of the economic expansion on the near-term horizon. That means corporate revenue and earnings in general should continue to improve. Activist investors can push companies to be more efficient and create value by breaking up stale corporate structures that no longer make sense.
What remains are often leaner and better organized entities to deliver growth and profitability. Rather than signal a market top, activist investors have raised the bar on smart capital allocation. That's certainly a win for shareholders.