For nine years in a row, Kathleen Weber has made the Barron's Top 100 Women Financial Advisors list.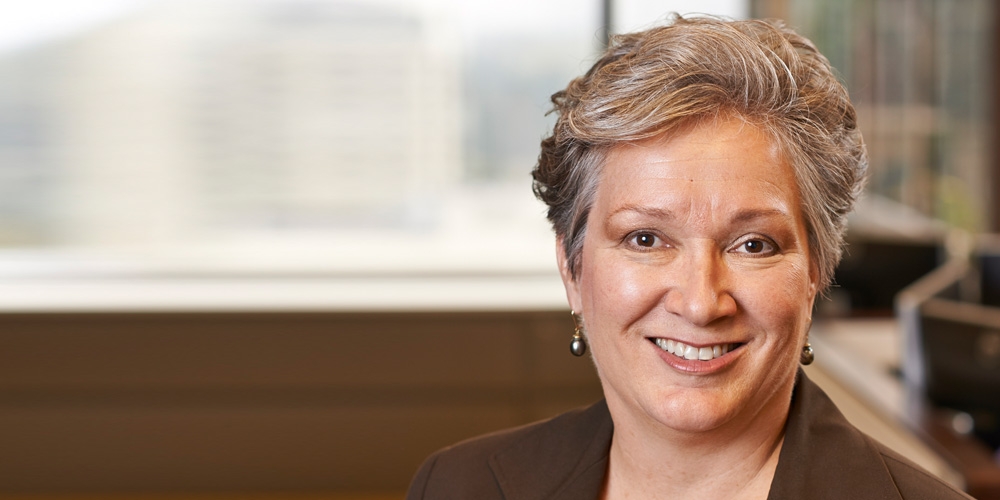 Bellevue, Wash. – For nine years in a row, Kathleen Weber has made the Barron's Top 100 Women Financial Advisors list. She attributes her success to controlling what she can control, choosing the right clients, and making it as easy as possible for them to find her.
"You can control your behavior, your attitude, and your activity level," says Weber, "Behavior involves learning, keeping up to date on markets, trends, economic policy, portfolio strategy, tax law, and estate planning law that might impact your clients from a wealth management perspective.
"Attitude is like if you haven't got something nice to say, take a day off," she adds. "Bring a good attitude to the workplace and to your clients and help them through challenging times, either in the markets or in their personal lives."
As for controlling your activity, Weber says you can't just sit at your desk watching the monitor or attending meetings. You've got to take intentional action.
Talk to Your Clients
"You could spend your whole week at your computer or going to meetings," says Weber. "What you should be doing is developing your knowledge and skills and talking to clients and prospects."
Weber says she talks to each of her 500 clients at least once a year and communicates more frequently by email, plus someone on her team talks to clients more often.
When it comes to making it easy for potential clients to find her, Weber says the best way to find them is by doing well for the clients you already have, so they'll talk about you to their friends and recommend you to others.
Weber is the founding partner of the Weber Nagan Russo Group, a team of three financial advisors and two support staff based in Bellevue, WA. The group services over $500 million in assets under management.
"Julie Nagan has been with me for 20 years—first in a supporting role, and then as a partner for the past five years," says Weber. "My third partner, Jim Russo, joined the firm in 2006 and became a partner in 2014. He's also my son-in-law. We each have primary responsibilities around product or solutions and around maintaining relationships with our clients. All three of us know every client. Our two support staff take care of administrative responsibilities, respond to client inquiries and requests, move funds, and schedule appointments."
Weber (second from the right) and her partners Julie Nagan (far right), Jim Russo, (second from the left), with their assistants, Kari Groot (left, standing) and Irena Romanyuk (seated).
From Broker to Advisor
With a career that spans over 30 years in financial services, Weber has seen her role evolve from broker to financial advisor.
"People used to call us to get a stock quote or information," she recalls. "Today people are buried in information. There's data everywhere, and now they need us to be the curator of information, to explain what matters and help them filter and sort through the mountain of data so they know what to act on and what to ignore."
When it comes to Weber's philosophy toward money and investing, she believes that the most important thing is having inflation protection for a long life.
"My portfolios lean toward equities," says Weber. "My strategy is to take just enough risk to get the job done. I look at trends going forward, and I don't rely on the past. I look at what's going to be different going forward and keep it simple, which means avoiding fads, new ventures and unnecessary complexities."
Weber and her assistant Irena Romanyuk.
Biggest Challenge
Today, Weber says her biggest challenge is determining which of a client's heirs are a good fit for their practice when that client dies. "A good fit means somebody who wants to have the inheritance invested rather than spending it," she explains. "A good fit is somebody who is inheriting enough capital and has enough complexity to make it an interesting fit for our business. Plus, they must either want advice or realize they need advice."
From Pre-Med to Financial Services
Interestingly, Weber didn't always want to be a financial advisor. She has a BA in Art History from the University of Washington and started out as a pre-med student during her undergraduate years. After two years, she switched majors because she didn't like the direction medicine was going.
"In my heart, I was an entrepreneur and didn't think doctors would become entrepreneurs because the government and insurance companies were going to take over health care," says Weber.
Although her major was Art History, Weber managed to squeeze in a few business courses, and by the time she graduated, she was already fascinated with the stock market.
"My grandparents talked about the stock market and how having dividends funded their retirement," says Weber. "I had a cousin who was a broker at Dean Witter and one day I overheard him talking to somebody about his work and thought it sounded pretty interesting."
The rest, as they say, is history.