Three Morgan Stanley Financial Advisors have Investing 101 sessions to teach clients' children about responsible finance.
New York – When it comes to uncomfortable parent-child conversation topics, the subject of money is high on the list. So, three of Morgan Stanley's top Private Wealth Advisors—Mary Deatherage, Deborah Montaperto, and Susan Kingsolver—have taken on that responsibility.
"Parents do not want to have this conversation with their children," said Susan. "They just don't quite want to go there."
Enter Susan, Deborah and Mary. Together, they have created Investing 101 sessions. Mary's team even uses an online financial game known as "Financially Fit" to teach children about investing, the markets and how to be financially responsible.
"One of the biggest challenges of engaging with the next generation is understanding what information they want and how they want it delivered," says Mary. "I know that an 18 year old or a 23-year-old would rather talk to a 27 year old than to me."
Knowing when to have the money discussion can be tricky.
"We've found that when a client is going to leave money to a child," says Deborah, "it's a fine balance between how early you talk to children about wealth, how much you discuss with them."
All three agree that clients are really concerned that their kids won't make smart choices.
"Kids don't always make smart choices," says Mary. But that's okay, because you learn more from the mistakes you make."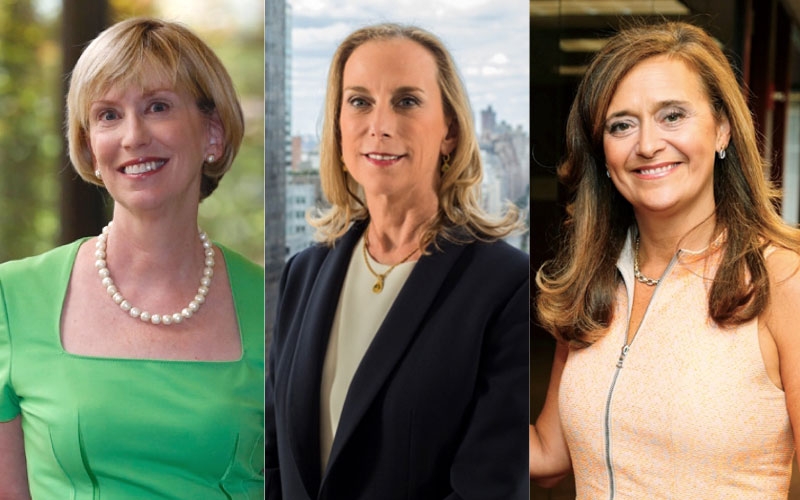 Mary Deatherage, Susan Kingsolver, Deborah Montaperto, Morgan Stanley Wealth Management
While offering to teach their clients' children about money seems to go beyond the scope of a financial advisor's responsibility, all three financial advisors have strong motivations to do this.
"There's a startling statistic: nearly always, the children of the parents will pick another advisor once both parents are gone," says Deborah.
One possible way to prevent this is to get to know the children. A great method to do that is by teaching them about investing, the markets, and everything to do with life around finance.
"We really try to keep that connectivity, because it's a very different generation," says Susan. "What I really encourage a lot of parents to let us do– instead of my doing the quarterly conference call in terms of 'how'd you do this quarter in their account,' let the children start taking that responsibility on to make it to that quarterly call."
Their goal is to get the children to reach out to them.
"We want them to come to our team and ask for advice and really build a deep relationship," says Deborah, "because if we're able to tap into what keeps them up at night – what their hopes and dreams are – and find ways to help them, that makes all the difference. We become the trusted advisor."
Today, Mary has nine people on her team serving approximately 150 clients with a median account size of $5 million.
"We're so high-touch that we need a lot of overhead to get it done right," notes Mary. "The clients appreciate it because there are always smart people on the other end of the phone."
Mary's overall investment philosophy? She takes risk very seriously. "Risk sounds like a bad word, but it's not—as long as you know you're taking the appropriate level for you," explains Mary. "The challenge for me is making sure the portfolio actually matches the risk that people want to take. Most of my clients are attracted to me because I'm more about risk aversion. I only take the kind of risk the client is comfortable with."
The women agree that there's no reason other financial advisors can't replicate what they do. They just need to get over a few hurdles.
"I often hear financial advisors say, 'I wouldn't want to get too personal,'" says Mary, who replies, "If you don't get personal, you don't know the people." When they say, "I wouldn't know how to start," Mary says, "you start with an easy question. Tell me about your kids. Tell me about your parents. It's an open-ended question. There are a lot of potential answers. But if you never start, you're never getting anywhere with it."