Top female Financial Advisors and their clients from the NY Metro Region are focused on building enriching business practices for their women clients.
New York (May 5, 2016) - Nearly 200 of Morgan Stanley's top female Financial Advisors and their clients from the NY Metro Region, spent Thursday night, May 5, networking and shopping at MILLY, a designer boutique on Manhattan's Upper East Side. The event was organized by the New York Metro Region's Women's Business Development Council, a network of Morgan Stanley Financial Advisors, Managers, Regional Staff and Partners focused on cultivating and encouraging enriching business practices for women Financial Advisors and their clients.
The group's theme is "LIFT"—which aims to advance women through coaching, networking, peer mentoring and recruiting, and they are dedicated to supporting their peers to achieve business success and realize meaningful connections with their clients.
"The goal of the business development committee is twofold: to bring meaningful content to our financial advisors to help with their personal and professional development and to create events such as this, where they are able to connect with their clients and prospective clients on a personal level." said Rebecca Powell, Senior Vice President and Financial Advisor based in the Florham Park, NJ office. "Our goal is to share ideas, knowledge, have a few drinks and a whole lot of fun."
Morgan Stanley is committed to the supporting the financial needs of women.
"Women currently control 39% of the investable assets in the United States – and that number is on the rise. Morgan Stanley is uniquely positioned to assist our women clients with holistic financial management," said Danielle Furze, Executive Director at Morgan Stanley. "Events like this help promote connections and enhance relationships among our employees and clients."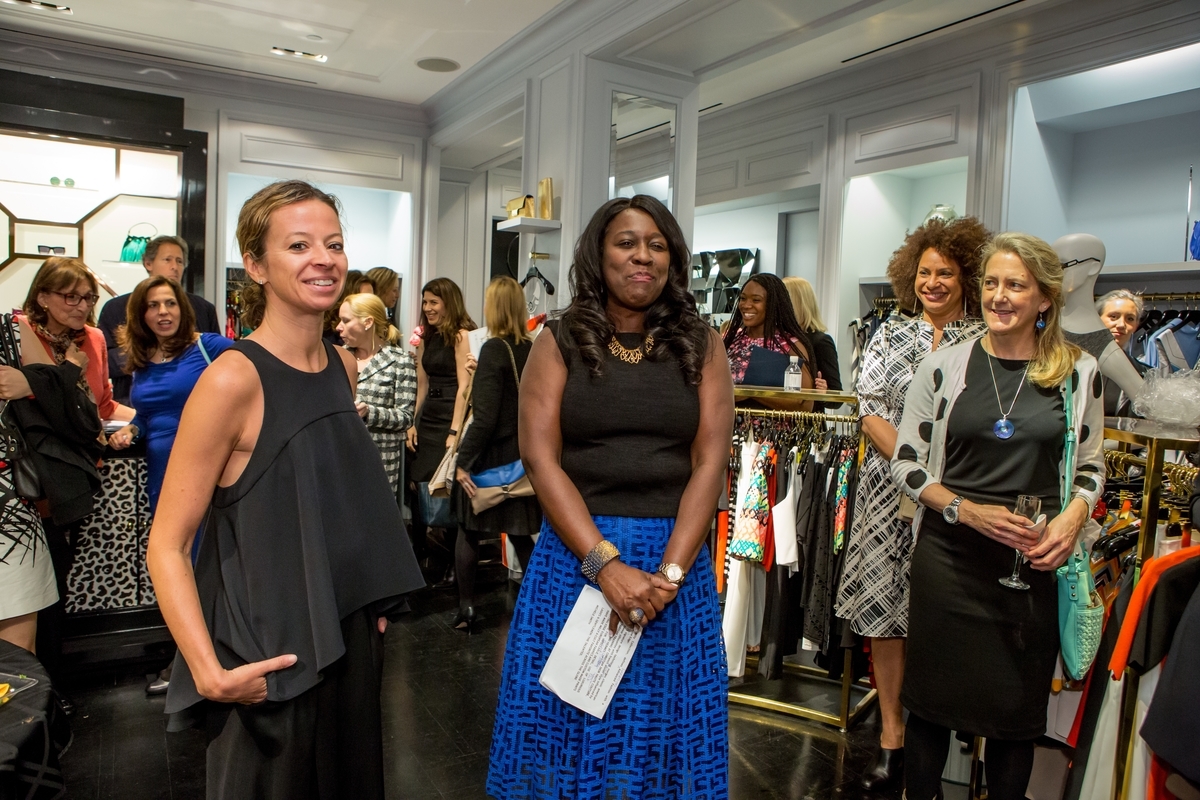 Michelle Smith, Rebecca Powell, Morgan Stanley Wealth Management
Michelle Smith, owner of MILLY, a contemporary women's boutique, was honored to host the event. This was MILLY's second time hosting a similar event, and since it was Cinco de Mayo, they featured margaritas and quesadillas.
As a woman business owner, Smith finds Morgan Stanley's mission inspiring: educating and empowering women on how to manage and grow their personal wealth.
"Both companies have a global perspective, passion for innovation and a respect for women," said Smith. "Finance and fashion are different ways women can make a statement and be independent."
"I live in the city and love to be around women who are empowering," said Morgan Stanley client Elizabeth Coons. "I feel like I have a special connection working with a female advisor."
Friends and clients of Financial Advisor Rebecca Powell really appreciated the women-centric event as a way to foster new connections.
"This is a fabulous idea, the season is right and the time is right," said Gail Sims Robinson. "The event introduced me to a new store and new people."
"Rebecca is always trying to empower me and all the women we know with good financial health." says Jill Lotenberg. "She knows me – she puts financial concepts into real terms, often with humor. For example, do I want 5 new purses in the short term or to save my money for my longer term real estate goals?"
Financial Advisors are always looking for opportunities to enjoy time with clients and colleagues, and appreciate the support of Morgan Stanley.
"The Women's Development Council and LIFT initiatives are a grassroots efforts, built from the ground up," says Ilene Epstein, Associate Complex Manager for Eastern Long Island at Morgan Stanley. "We have tremendous support from the highest levels, which has been crucial to our success."
In the end, The Council's President, Susan Palmer, First Vice President, Wealth Management, hopes people walk away educated, elevated, and just maybe with a new outfit.
"We feel it's a fabulous time for women on Wall Street and we're happy we can share the values we have at Morgan Stanley," said Palmer. "Tonight was about fun and fashion but if they have any finance questions, we are always happy to help."