The 2nd Annual Athlete Leadership Connection provided skills for women athletes to help transition into life after sports.
New York, NY – Over 100 former and current women athletes came together on October 18th for a day of learning, networking, and empowerment at the 2nd annual Athlete Leadership Connection.
The event, which took place at Morgan Stanley's New York offices in Times Square, is the brainchild of the Women's Sports Foundation. The organization was founded in 1974 by tennis legend Billie Jean King, to create women leaders by ensuring girls have access to sports.
In 2015, the Women's Sports Foundation teamed up with Morgan Stanley to host the first Athlete Leadership Connection, an all-day summit created by athletes for athletes to provide them with skills and exposure to help advance in their sports and transition to successful careers after competition. This year's event looked to build off the success of last year's and to offer new and unique opportunities for the athletes.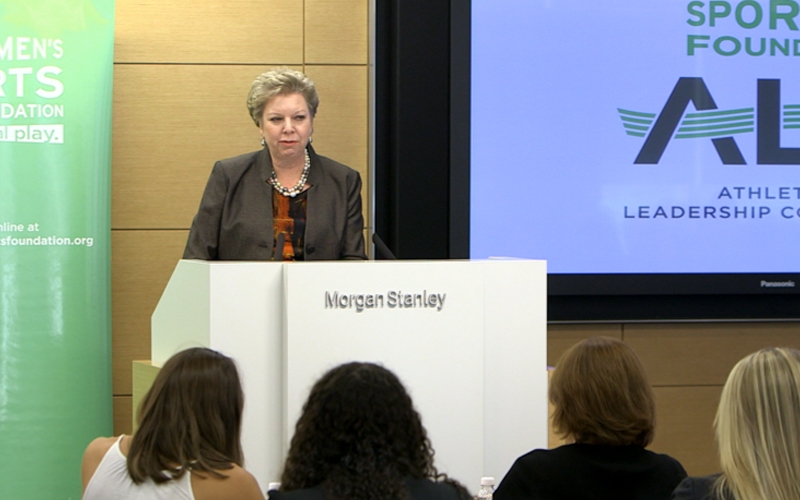 Lisa Cregan, Mid-Atlantic Regional Director at Morgan Stanley, opened the event by reinforcing the unique skill set athletes bring to the business world.
The event began with opening remarks from Lisa Cregan, Mid-Atlantic Regional Director at Morgan Stanley Wealth Management. Lisa, a trustee of the Women's Sports Foundation, spent her early years as a competitive equestrian. She spoke about how all the experiences from her life in competitive sports helped build her character and define the type of person she would become after leaving sports.
"I'm such a believer that sports create great leaders," said Lisa. "The persistence, the resilience, being able to fail and dust yourself off and stand back up again and go at it. Those are qualities that corporations really, really admire and look for."
Two-time Olympic gold medalist and current President of the Women's Sports Foundation, Angela Hucles, welcomed the athletes and encouraged them to learn from their peers.
Billie Jean King made a surprise appearance at the conference and encouraged all the women to become vocal advocates for their fellow athletes. (Photo Credit: Women's Sports Foundation).
Presentations throughout the day focused on many of the challenges that women athletes face when they retire and must transition to the business world. Dr. Caroline Silby, an expert sports psychologist, hosted a session with Sanya Richards-Ross, a four-time Olympic gold medalist. They discussed tactics to navigate the sometimes-difficult emotional challenges of transitioning from competitive athletics.
A number of "Power Talks" throughout the day focused on some of the inherent skills that athletes possess which give them an advantage in the business world. Sarah Robb O'Hagan, Founder of ExtremeYou and "branding guru," discussed the importance of establishing a personal brand. Ndidi Massay, Chairperson of the New York State Athletic Commission, stressed the unique position that athletes have to become vocal advocates for change on community issues.
The final Power Talk of the day featured a conversation with Women's Sports Foundation CEO Deborah Slaner Larkin and President of the Player's Tribune Jaymee Messler. The two discussed how female athletes can use their platforms to champion other women and empower young girls with their own stories.
Breakout sessions gave the women a chance to learn and engage with each other in smaller groups. These sessions featured subjects like improving your digital footprint through social media, and getting more closely involved in philanthropic endeavors.
Benita Fitzgerald Mosley, an Olympic gold medalist and former President of the Women's Sports Foundation, emphasized how important it is for women athletes to be given the opportunity to network with their peers and learn from those who came before them.
"This conference gives women athletes an opportunity to just sit back for a minute and think about their own career path," said Benita. "They can think about what they want to do after sport, and plan for that transition."
One of highlights of the day was when the founder of the Women's Sports Foundation, Billie Jean King, made a surprise appearance to speak to all of the athletes. Ms. King has been working to improve the lives and careers of women athletes for over 50 years, and is constantly looking for new ways to engage women athletes and help them transition to life after sport.
"Each generation has to help make it better for the next generation," stressed Ms. King. She asked the athletes to "lead through your own lives, but also help lead others. It's sometimes scary, and it's sometimes unfamiliar territory, but I promise you you'll be happy that you do it." Ms. King spent time after her speech meeting and talking with all the athletes and asking them directly what they liked about the conference and what kind of changes they wanted to see in years to come.
After a day of networking, mentoring and learning, the athletes left the conference equipped with knowledge they can take into the next phase of their lives. The leadership training provided throughout the day will help ensure that women athletes will always have a strong network championing their talents and empowering young girls for years to come.
"When you get a bunch of powerful, strong women together, magic always happens," remarked Lisa. "If we can just help them understand the power of their voice, and help them create their own story, I just think that's a great gift that we can give to these girls."
To learn more about Women's Sports Foundation, please click here.