Kara Ross' Diamonds Unleashed Salon Series, sponsored by MS Wealth Management, travels around the world to celebrate and support women's empowerment.
Washington, D.C. – An All-Star panel of female executives and entrepreneurs were gathered in the Nation's capital recently as part of a cross-country series designed to promote, and support women's empowerment. The gathering of minds was part of the Diamonds Unleashed Salon Series, sponsored by Morgan Stanley Wealth Management.
World-renowned jeweler Kara Ross created Diamonds Unleashed to celebrate women and shine a spotlight on the issues and solutions surrounding women's empowerment. In cities across the country, and then globally, Diamonds Unleashed will gather current and future leaders in key industries to explore how to identify, nurture, support and celebrate emerging talent and have a positive impact on the community.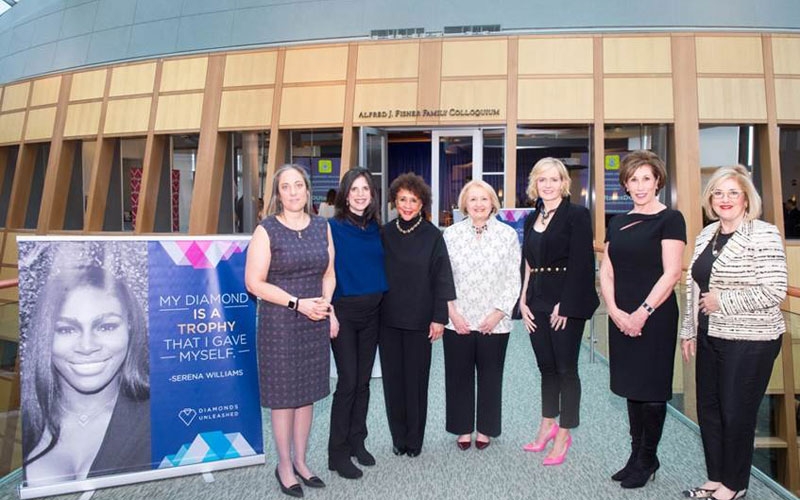 From Left to Right - Julie Katzman, Jenny Abramson Sheila Johnson, Melanne Verveer, Kara Ross, Catherine Reynolds, and Shelly Porges.
At a recent event in Washington, D.C. the panel consisted of Julie Katzman, EVP & COO, Inter-American Development Bank, Sheila Johnson, Co-Founder BET Network, Salamander Hotels and Resorts, Shelly Porges, Co-Founder Entrepreneurs for Hillary & Managing Director, Reservoir Q Global, LLC, Catherine Reynolds, Chairman & CEO, Catherine B. Reynolds Foundation, Jenny Abramson, Founder and Managing Partner, Rethink Impact, and Melanne Verveer, Executive Director, Georgetown Institute for Women, Peace & Security.
The panel discussed the challenges of being successful entrepreneurs and how to get the most out of networking. Access to capital plays a huge role in getting a small business off the ground and continues to in expanding the business, and the Diamonds Unleashed series aims to connect the finance world with young entrepreneurs looking to grow. Diamonds Unleashed uses the net profits from the sale of the Kara Ross' unique jewelry collection, channeling donations to programs that educate, equip and empower young women to reach their full potential.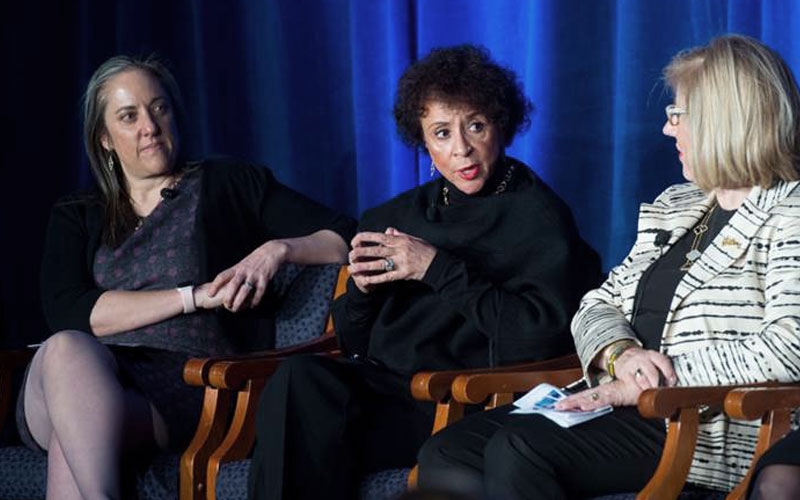 Featured panelists included Julie Katzman, Sheila Johnson, and Shelly Porges.
Lisa Cregan, Mid Atlantic Regional Director at Morgan Stanley visited the event in D.C. and was thrilled to see the spirit of entrepreneurialism thriving. "The Diamonds Unleashed program at Georgetown University brought together a panel of amazing, powerful, intelligent and inspirational women who shared their experiences and advice around entrepreneurship."
Sandra Richards, Executive Director, Head of Diverse & Multicultural Marketing & Principal Marketing Lead for National Sales, echoed Lisa's thoughts, saying, "We are delighted to sponsor the Diamond Unleashed Salon Speakers Series, highlighting women who are disrupting the status quo. They are business owners, entrepreneurs and executives changing the world. With grit, determination and grace these women are shining bright like diamonds."
The spirit was summed up perfectly by Donna Orender, former President of WNBA, who said of the event, "When you gather women together, there is an energy that is generated that always yields a focus on positive steps moving forward to align the world in which we want to live with the one we are living in."
To learn more about Diamonds Unleashed, please visit their website.