Morgan Stanley Financial Advisor Barb Finley, 1 of 16 women chosen for the 2016 MAKERS class, creates her own high standards of care for clients.
Madison, Wisconsin – As a second-generation financial advisor, Barb Finley feels quite comfortable having her husband and son on her Wealth Management team.
"My daughter has even expressed some interest in joining," says Barb, "but I want her to get experience working elsewhere in the financial services business first before making that decision. One thing I learned working for my father is that you can't be pressured into being a financial advisor.
"This is a wonderful field for women and the industry needs more women, more diversity," said Barb who was honored to be among the women named to the Morgan Stanley MAKERS Class of 2016. Nominations were solicited from across the wealth management organization and a panel of senior managers selected the 16 women to be recognized. "We need to reflect our clients, and our clients are diverse. I would encourage any woman who's interested to really explore it."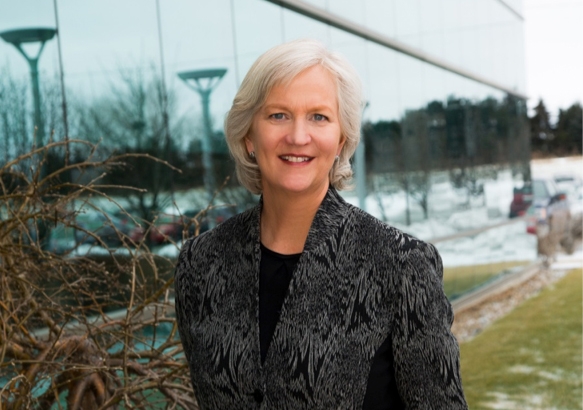 Barb Finley, Morgan Stanley Wealth Management
Barb started out as a convertible bond arbitrage analyst for Kemper Insurance before moving back to her hometown of Madison, Wisconsin and joining her father at a regional brokerage firm. She worked for him for six years until he retired and she became part of the group that opened the first Dean Witter office in Madison 23 years ago. When Dean Witter merged with Morgan Stanley, Finley stayed and has been with Morgan Stanley ever since.
"About 15 years ago my husband, Pat, joined me, followed by our son Sean last year after working at Morgan Stanley's client advisory center, so it's really become a family practice," says Barb.
Last March, Barb says her close friend and fellow financial advisor Steve Hird suggested they put their teams together to form the Finley Hird Group. They have $600 million in client assets under management (AUM) and provide wealth management advice to over 475 individuals and families.
"We have a seven person team, and it's re-energized me," says Barb. "The larger team allows us to provide more of the services our clients want. There were some things our team did well, and some things Steve's team did well. As we continue to evolve, what we're doing now is setting up standards of care for our clients who are at different stages."
Barb Finley feels quite comfortable having her husband Pat and son Sean on her Wealth Management team.
For Barb, that means becoming a complete wealth and relationship manager embracing a "goals based approach."
"You've always had to be an investment manager," says Barb. "But clients want a financial plan, and they want you to be involved in their estate planning, retirement planning, income planning and in discussions about family wealth such as educating the next generation. So we over communicate with our clients and actively reach out to them. We don't wait for them to call us, we call them."
Recently, Barb has become involved in impact investing, which is another way of saying socially responsible investing, in which the companies you invest in are positively impact society or the environment as well as offering a financial return.
"It's already very important to many of our clients," says Barb, "and it's only going to become more important as people realize that you can do well financially while also doing good for society and the environment."
Barb says that she finds that most clients have two basic questions.
"They want to know if they are going to make it financially, and where are their blind spots," she explains. "So the first stage is to do financial plans for people making sure they have enough money to make it. The blind spots are when we're doing everything else, such as estate planning, insurance planning, and working with their attorneys and accountants to make sure they have everything set up to pass along that wealth. That's where their blind spots are."
According to Barb, her biggest challenge is not having enough time to do all the things she wants to do.
"It's also why I love the business," she adds. "There's always more you can do. If you find a financial advisor who has enough time, that's usually trouble. You have to prioritize. I always believe in having a business plan and having specific but simple goals."
To help her and the team grow, Finley and her husband spent some money and brought in a coach.
"He gives us an outsider's view, plus he's also very familiar with the industry and we use him to bounce ideas off of," she says. "It's not that he has all the answers, but he helps us come to solutions. He keeps our nose to the grindstone and keeps us accountable. He keeps pushing the process forward."
On top of her day-to-day duties as a financial advisor, Barb found the time to co-chair the Morgan Stanley Financial Advisor Advisory Council. Her work on the Council is one of the highlights of her career.
"I try to do what I can to help people along the way," says Finely. "So many people have helped me. It's also important to me that we promote women. We've got a great local office and the women in the Morgan Stanley Branch here in Madison are really terrific when it comes to promoting women advisors. And from a client standpoint, we have two big events coming up this year. Morgan Stanley is the main sponsor of a golf outing for women and the money is going to support breast cancer research. Plus we're supporting a female speakers series which is going to benefit women's health programs through a local hospital."
As for her 23 years at Morgan Stanley, Barb says the one quote that inspires her the most is that "we do first class business in a first class way."
"What that means to me is always trying to improve and trying to get better with incremental changes," she says. "The other thing it means is that whether you're in front of a client or when no one is watching, you still do first class business in a first class way.
"That resonates with me and the rest of the team," Barb adds. "We're just trying to keep getting better and doing what we can control such as setting up standards of care for clients. I'd like to think we are really moving the needle."
To learn more about the MAKERS "Class of 2016," please click here.