Lisa Cregan's can-do enthusiasm powers the belief that business growth rests in, and through, diversity.
Washington -- Wealth Management Managing Director Lisa Cregan's can-do enthusiasm is captivating. The Director of the Mid-Atlantic Region believes, without fail, that future growth rests in, and through, diversity.
Driven by this belief, coupled with a convincing business case, Lisa is determined to change the face of Morgan Stanley by recruiting a more diverse workforce, including Complex and Branch Managers, Financial Advisors, and support staff.
"Diversity," Lisa contends, "provides an important competitive advantage. Recognizing, valuing, and welcoming differences between people is fundamental."
And, she adds, "Difference is the difference maker," one of her change mantras or what are becoming known as Creganisms.
"Diversity in and through the ranks is a game-changer;" says Lisa. "It allows the Firm to attract top-tier diverse talent and it gives us entrance to emerging growth markets. At the everyday level, when you add diverse perspectives to your team, you consistently get better solutions. You can't build the best team possible if everyone looks at business the same way."
As one of eight regional directors, Cregan is the highest-ranking woman in field management. From this platform she guides change by regularly attracting and hiring highly talented diverse candidates into a broad array of positions. Since her promotion to the regional director position last year, Cregan and her team have increased diversity in the management pool in her region by about 20 percent.
A Practical Innovator
Yet for all her zeal and vision, Lisa remains practical and solutions-oriented.
"My primary role is to run and grow the business in the region that includes Virginia, Maryland, Delaware, Washington DC, the metropolitan Philadelphia area and Southern New Jersey," says Lisa. "One of most efficient and effective ways to develop our region is to attract more women and diverse managers and financial advisors to the Firm. Women are a huge market. Women control more than half of the personal wealth in the country and that's going to continue to grow. In other words, the minority will soon become the majority."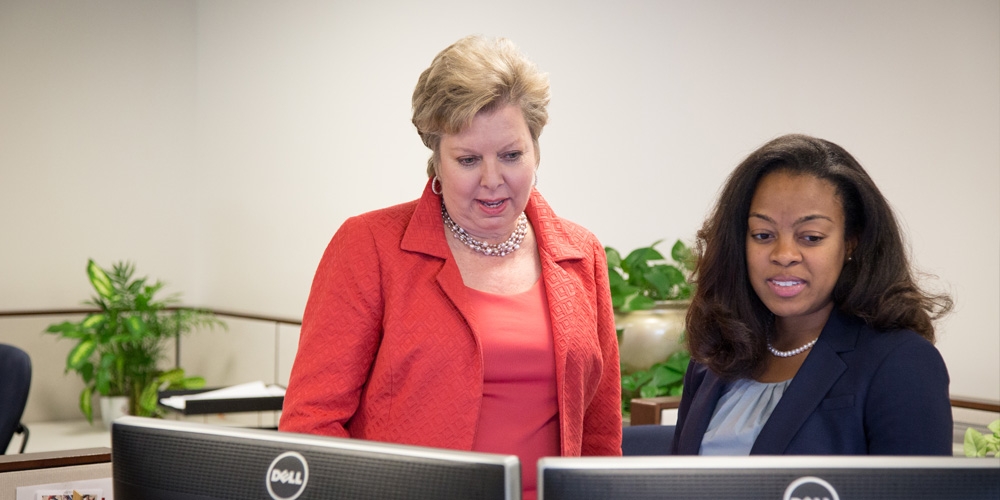 Cregan, with her assistant Lauren Francis.
Cregan has more than 30 years of financial services field experience and has been a champion of and trendsetter for women since she entered the industry. She understands that women build business and develop networks very differently than men, but traditionally women have had no forum to support one another.
While she was one of two Complex Managers in Houston, Cregan developed a strategy to promote women-centric ways to build business. Lisa's insight was to team with the other Houston Complex to create a Women's Advisory Council made up of five female Financial Advisors from each complex. They would meet once a month to share ideas, advice, and support to build their businesses.
These efforts paid off. The asset growth among those who participated in the Women's Advisory Council was three times that of the rest of the country.
"Our goal was twofold," she continues. "One, to help women do business the way women do business and, two, to brand Morgan Stanley in the marketplace as the Firm of choice for women FAs and women clients. The idea was exciting."
Once again, the practical, action-oriented nature of her thinking becomes apparent.
"We made it real by providing FAs on the council a budget which was used to become tangibly involved with organizations that support women," says Lisa. "Through these community-business relationships, council members measurably grew their practices. The strategy worked from the onset. It's taken off throughout the Firm. Today, there are more than 30 women's councils around the country and more forming all the time. I see what we did in Houston as a prototype, which we're now scaling."
Cregan imagines Women's Councils as part of a larger and more personal project to ensure that women support one another. "None of us got here without the support of those who came before us. Women must take responsibility for, and the impetuous to, help other women. And we also need to help the men at the Firm who are trying to drive this change."
Cregan's team (left to right) Lauren Francis (front), Jaime Shannon (back), Lisa Cregan, Kathy Bowman-Williams behind Michael Stadnik, Vincent Crimaldi, Stephanie Gay (back), Jennifer McGlynn (front), Cynthia Kao (back), Ali Smith-Capparelli.
In this vein, Lisa has recently coined her newest Creganism that's intended to inspire and promote her belief that women must help women─ Climb-Pause-Lift. By this she means work hard, move yourself upward, but commit to pause, then lift and guide those coming up behind you.
"Women must live the change we imagine," says Lisa. "Now is our time. We can't do it in isolation; we must support one another. Doing so, we change the face of the Firm for the better."
CHANGING PERSPECTIVES TO CHANGE THE FACE OF THE FIRM
Cregan spends a good portion of her time helping managers understand the business case for attracting more women financial advisors to the Firm.
"Diversity is a strategic business imperative, not a gender issue or a legal mandate," Lisa explains. She and her team bundle the business-case message with concrete suggestions and an array of best practices for working with female clients, so managers can quickly begin to work differently.
"Most men want to help," says Lisa, "they really do. But they aren't certain how best to do it.
"I advise men not to lead with a discussion about the portfolio," she adds. "Women expect a conversation. Ask about her kids; her husband; or her aging parents, who they may have to take care of one day; or her community interests. Understand that we are all different and don't stereotype us. That said, women are very financial planning oriented and expect to see a detailed outcomes–based plan. But first, you have to spend the time get to know her. Find out what's meaningful to her. Understand the nuance of her situation and do all of this before you start talking about wealth management."
According to Cregan, 70 percent of widows change Firms because of a lack of connection with the male financial advisor—who typically spent most of relationship working with the husband and never connected with the wife. "My basic advice to male Financial Advisors is to remember, it's all about the relationship," says Lisa.
A SEA CHANGE IS COMING
Cregan is intent to add one more real-world thought about the shift that's occurring. She believes it's important for everyone to understand that women obtain wealth in three ways: they create it, they inherit it from parents, and/or they inherit it from their spouse because women tend to outlive men.
"Also as evidence of the sea change that is occurring," she notes, "women are graduating at a much higher rate from undergraduate and graduate schools then men. So it's predicted that women will out-earn men in the next 20 years. As a Firm we need to understand this and prepare for it in two ways." And, here, Lisa is back to focusing on the reality of diversity. "We must recruit more women Financial Advisors, and we must provide male Financial Advisors their training and the understanding to better work with women clients."
MORE WOMEN, STRONGER FIRM
When it comes to her thoughts on how to recruit more women, Cregan is direct with a sly touch of humor: "The short answer is to have more women do the hiring, which means we need more women managers. And, as I mentioned earlier, we also must continue to help male managers understand the differences between men and women so they can do a better job of attracting and retaining women talent.
"Once we understand this," Lisa continues, "it becomes apparent that we must change how we present the FA role. When you describe the FA position by highlighting that 'you can make as much money as you want but only two out of 100 will make it,' most women will opt out."
"But when you position the role by emphasizing the relational rather than the über competitive, things change. I suggest something like this for women: 'You're going to establish multigenerational relationships with your clients. You're going to work closely with them, their children, and their children's children. You will support and guide them to build their wealth and their futures. You can form a collaborative work team. While the job is incredibly competitive and requires dedication and commitment, we have an incredibly robust training program and we'll provide you all the support you need to succeed.' That's a job a woman will jump at!
According to Cregan, significant progress has been made when it comes to diversity, but more can and will be done. Moreover, it makes solid business sense to do it.
"When the world knows Morgan Stanley understands and supports women better than anyone else," says Lisa, "then all that money that's going to be swirling around—from women in the workplace to women's inheritances—will naturally come here and we can really gain market share. And the byproduct: we'll have the most diverse workforce in the industry."