Morgan Stanley's NY Metro Region's second annual LIFT symposium provided networking and peer mentoring opportunities for women Financial Advisors at the firm.
New York, NY – The Women's Business Development Council (New York Metro Region) held its second annual LIFT symposium in early November. LIFT is an advocacy and business development network whose mission is to "lift" all women at the firm through coaching, networking, peer mentoring and recruiting.
Susan Palmer, a Morgan Stanley Financial Advisor and current President of the Women's Business Development Council, believes the core responsibility for members of the group is to get to know each other and build out their professional business networks. "Women aren't as good as men have been over the years in figuring out how to really connect with each other," says Susan. "We want everybody to really get to know each other, so we really can support each other."
Held at Morgan Stanley's New York headquarters, the event was kicked off with welcoming remarks from Ralph Balzano, Managing Director, Regional Director of the NY Metro Region and Vincent Colucci, Executive Director, Chief Operating Officer of the NY Metro Region. Balzano and Colucci then turned it over to keynote speaker Kara Underwood, a Managing Director of Diversity and Inclusion.
This year's event happened to fall on the day after Election Day. While it was clear that many in the audience had been up all night and were weary after a contentious and stressful election day, Underwood made it a point to address the growing importance women have in business roles, regardless of their political affiliation.
"We are at a pivotal moment for our nation, and our economy. We bore witness to one of the nastiest political dramas of our time. Gender, race, and inclusion were front and center in many of the discussions … and marked how much further we have to go to bridge the many divides that exist—in our society and in business."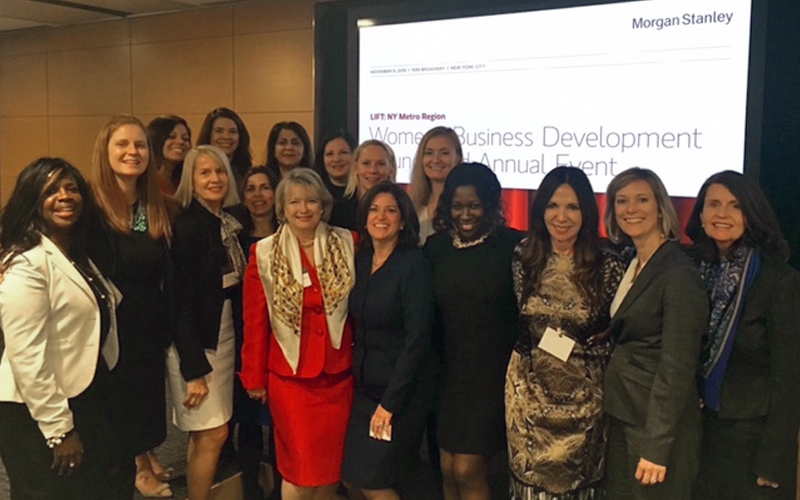 The Women's Business Development Council, Morgan Stanley Wealth Management
Underwood went on to talk about how proud she of all the women in her family and how honored she is to carry on the family tradition of strong, independent women. "My Grandmother raised 5 strong daughters, while working full-time as a Ward Secretary. My mother, a high school graduate, raised two strong women who never felt constrained by their gender. Thanks to these women, I work for one of the most influential financial services firm on Wall Street—in a senior position—doing work that I love—focused on creating opportunities for a broader range of talent."
In closing, Underwood challenged the women in the room to keep fighting for each other on behalf of all the women who paved the way for them to get where they are today. "Let's continue to dare greatly and work together to change the narrative of women at Morgan Stanley."
Underwood turned it over to Mirtha Kastrapeli, a Vice President and Senior Research Analyst with State Street Corporation. Kastrapeli discussed "The Folklore of Finance," and how beliefs and behaviors sabotage success in the investment management industry. She also shared her thoughts on how the finance industry's models for success are broken. Kastrapeli closed by talking about the Folklore of Finance's perpetuating cycle consisting of folklore, behaviors and activities and the difference in our current allocation of time, money and energy versus' our future allocation of time, money and energy.
Kastrapeli then introduced Mandell Crawley, Managing Director and the Chief Marketing Officer of Morgan Stanley. Crawley spoke to LIFT attendees about best ways to market their business. He emphasized Morgan Stanley's guiding principles: drive the brand, promote client engagement, and align to commercial activities. Crawley also displayed new ads, including forthcoming TV commercials promoting the Firm.
Steven Howard, a Managing Director of Fundamental Equity, spoke to the group on "The Bulls, Bears, Elephants and Donkeys," giving those in attendance a perspective on the stock market following the results of the election. Howard shared data of how the U.S. economy has looked during Republican and Democratic presidencies dating back to Truman and the results showed that the U.S. tends to be better off under a democratic president. He also shared key campaign promises made by presidents and the not so likelihood of them keeping them.
Following Howard's remarks, Caroline Gundeck, a Managing Director of Client Development Group, moderated a panel discussion on "Peer to Peer Sharing." Joining the panel were Natalie Engelhardt (Financial Advisor, CFP), Sarah McDaniel (Managing Director, CFA), Betsy Pakenas (Executive Director, Financial Advisor, CFP) and Suzanne Sheuerman (Sr. Vice President, Financial Advisor, CFP).
Following closing remarks from Kate Hutchinson, Vice President, Regional Diversity Officer, NY Metro Region and Kristie Leslie, Executive Director, Consulting Group, Regional Sales Manager, the evening wrapped up with another chance for attendees to network with each other and share ideas.
President of the Council Susan Palmer was encouraged by the enthusiasm that all the women showed, and their passion for building a better tomorrow for the next wave of women joining the workforce. "It's an exciting time to be a woman," she says. "And the firm has recognized the different perspectives that women bring to business, to a team, and to partnerships. They have so many attributes that are just perfect for this business."
"We really get it," says Susan, "and we really just want everybody to be successful."