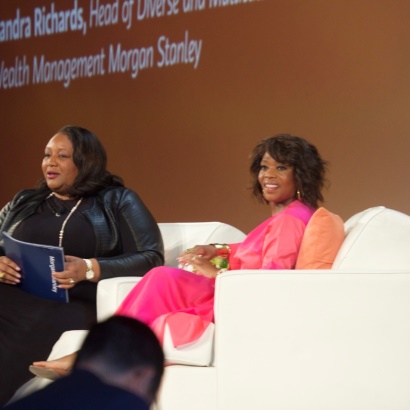 May 12th: 8:11 PM
Alfre Woodard on the Power to Choose
Alfre Woodard and Morgan Stanley's Sandra Richards, held an audience of 400 rapt as Ms. Woodard talked at length about her career as an actress. She also recalled growing up as a farmer's daughter who once taught her, "No man is below you," when she laughed at a "hobo" as a young girl. "And no man is above you," he quickly added.
There are attitudes and acts that help careers, she said. Ms. Woodard has a famous gathering of women actors around Oscar time to foster a celebration, not a competition, among the women. And in terms of the roles she accepts and does not? The script is a big convincer. But her self-view is also important. Whether she is engaged in a movie or not, she is an actor. Directors do not determine that by hiring her. She does. And that gives her the power and strength to choose the right roles.
"Make decisions on who you are and who you want to be," she told Sandra and the crowd. "Love and a good heart will get you through anything."