A California Financial Advisor and his family proves just how far-reaching the concept of "community" can be.
Menlo Park, CA – A core strength of Morgan Stanley is giving back to the community, and a California financial advisor and his family proved recently just how far-reaching the concept of "community" can be.
Brannan Vaughan took his family on a 10,000-mile journey to Moshi, Tanzania to experience a Swahili culture for six months. Nearby, were the villages of Kimashuku and Mlima Shabaha in the shadows of Mount Kilimanjaro. The family soon learned that Kimashuku has a footbridge that was on the verge of collapse. And in Mlima Shabaha, food and water were in short supply for 150 school children in the local school.
Vaughan, Laura, his wife, and their three children, Sam, Reid and Tate decided to give back to their new community and in a small but meaningful way launched their own "Capital Creates" project. They formed their own non-profit charitable fund to raise money for various projects; each selected to improve life in these poverty-stricken villages.
The original idea was to immerse their children in Swahili culture for six months this year with Vaughan joining them for several weeks on vacations and leave. Thanks to telecommuting and the support of his team, the Traum-Vaughan Group on Sand Hill in Menlo Park, Brannan was able to commute every other month to Tanzania. According to Senior Registered Associate, Olivia Bowles-Kymer, "With technology the way it is today, e-mail, texts and Skype played a big part in keeping the lines of communication open and Brannan's business running smoothly."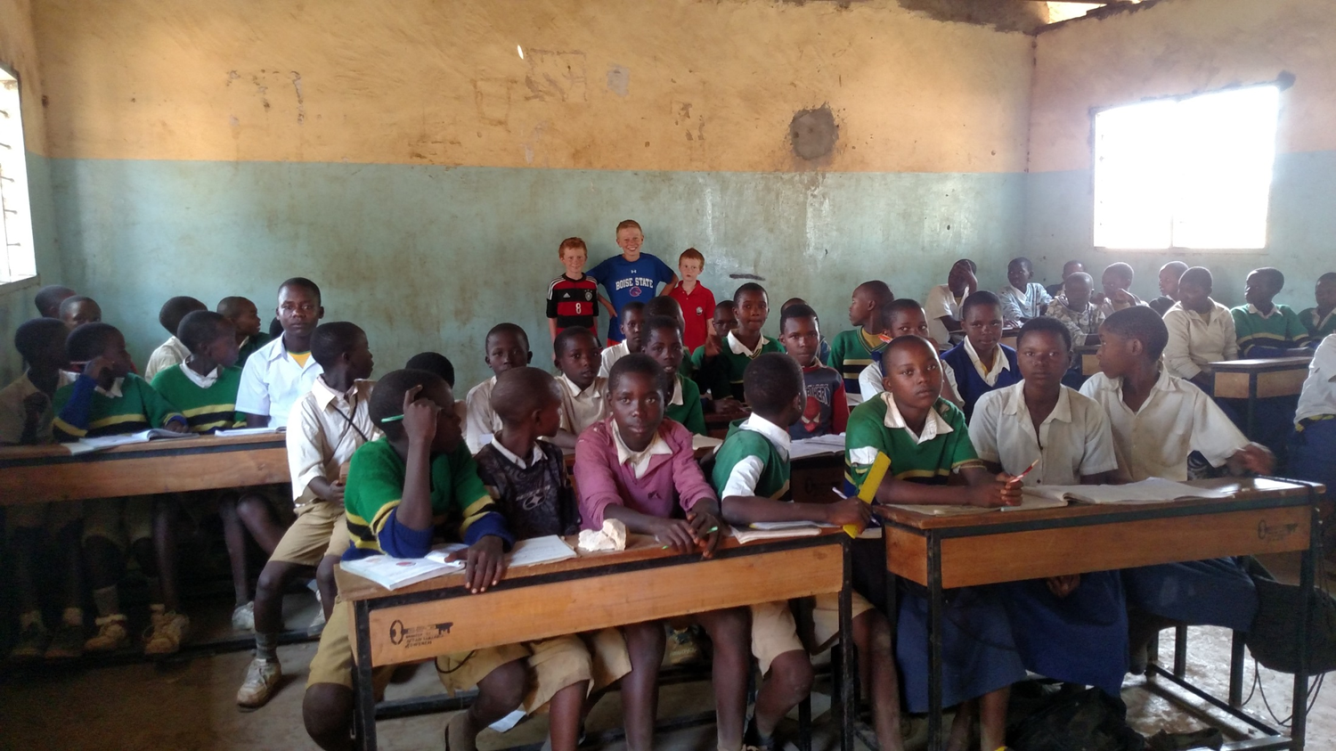 Three Vaughan children with the students of Sanya Station School.
Why Moshi?
"My wife and I have always traveled and we wanted our kids to live outside the U.S. to get a better perspective of the world, one that's different from life in the San Francisco Bay area," said Vaughan.
"Sub-Sahara Africa was new to us, and Moshi is a safe and beautiful city with good medical facilities and an international school. The area surrounding Moshi and Kilimanjaro is far less developed, and that's where the need for help is most pressing. Our plan was to expose our kids to a culture and way of living that is dramatically different than what they know in the San Francisco Bay area. Plus, Kilimanjaro was a big draw because it's a huge mountain and offers a lot of outdoor recreational opportunities."
The Vaughan's plan was to enroll their children in the local international school and immerse themselves in regional culture.
"The school was one of our top priorities because we didn't want the boys to fall behind in their studies during the six months we were in Tanzania," Vaughan says. "They went to the International School of Moshi, which has a diverse student body with a mix of Europeans and Tanzanians."
Service learning through volunteerism was key to the Vaughan children's journey out into the poverty-stricken areas surrounding Moshi and their new school community. As far as Vaughan was concerned, the whole point was to involve the entire family in a service project so that they all could experience and learn from the local community. Following the advice of a neighbor in Moshi, the Vaughans decided that instead of working through an established volunteer-travel organization they would find their own projects to fund.
"We figured if we could control the administration, the budget, and the donation money, we could make it last longer and have a bigger impact," said Vaughan. "This way we could teach our kids about raising money, completing a project, and seeing the results and how they affect a community."
Through the Moshi neighbor, the family was introduced to the two villages of Kimashuku and Mlima Shabaha. "Basically the footbridge (to Kimashuku) had been built 17 years ago, and the beams were starting to rot out and break down. If it collapsed before the rainy season began in May, the local kids would have difficulty getting to school and villagers would not be able to get to market to trade goods," Vaughan says. "My 10-year- old Tate decided he wanted to make the footbridge his project, so my wife and he set up a proposal, learned that it was going to cost $5,000 to repair the bridge, and went to gogetfunding.com to arrange for crowd funding. Tate pitched it to his schoolmates back home in California, and together they raised more than $6,000 to repair the bridge."
Rebuilding the footbridge to Kimashuku.
Not to be left out, the other two Vaughan children, Sam and Reid, wanted their own projects so they visited the village of Mlima Shabaha out in the desert west of Moshi and came upon a government public school with two problems that needed to be resolved.
"They saw this school where all the kids have to bring jugs of water with them every morning," said Vaughan. "Also, the kids go without any food during the entire school day, which lasts from 7 a.m. to 3 p.m." Learning was difficult for the students without food or water. Sam learned that if he could set up a lunch program where the kids would get a free meal every day, the students' academic performances and attendance would improve. He raised over $2,500 to feed 150 school kids lunch.
Sam Vaughan carrying supplies to into the school at Mlima Shabaha for student lunch program.
"Since they didn't have water, we decided to build a pipeline and install it at the school in order to provide water to the students," Vaughan says. "That project cost $2,500 and was handled by Reid, my 11-year-old. Reid put together a proposal, pitched it to his classmates back home, and set up the crowd funding campaign. Reid's classmates back home held a bake sale to help raise money as well. "
Bridgepipelinelunch.org was subsequently created as a fund for the more than $13,000 the Vaughan children raised to repair the footbridge in Kimashuku, install the mile-long water pipeline, and provide daily lunches for 150 school children in Mlima Shabaha.
The work the Vaughans are doing has prompted other families to get involved as well.
"After the kids' projects got funded and they connected with their schools back home, we had other families from California approach us to ask if there were additional projects they could sponsor," says Vaughan. "We've had one family sponsor the replacement costs of a deteriorated school roof in the neighboring village of Sanya Station, and another family who traveled to Moshi with their two children and visited a public school on the foothills of Kilimanjaro. These families are also interested in teaching their children about doing service projects."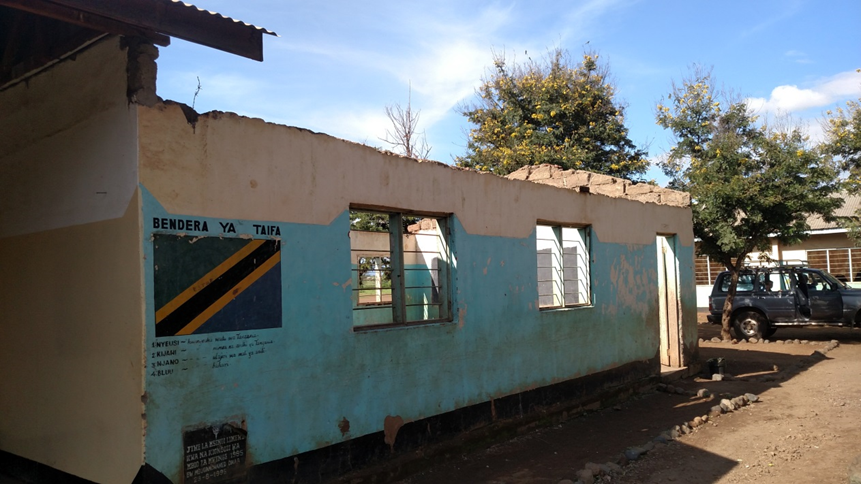 The school in Sanya Station in need of a new roof.
Vaughan's oldest son Sam, who starts Bellarmine High School in San Jose this fall, will continue to sponsor the school lunch program in Mlima Shabaha.
"He's committed to doing that through high school, so he's got four more years after this one," Vaughan says. "He's going to have to figure out how to raise the funds and administer the program from home. We've got local people in Moshi whom we trust, but it involves more than just giving money to someone. You have to really track the money."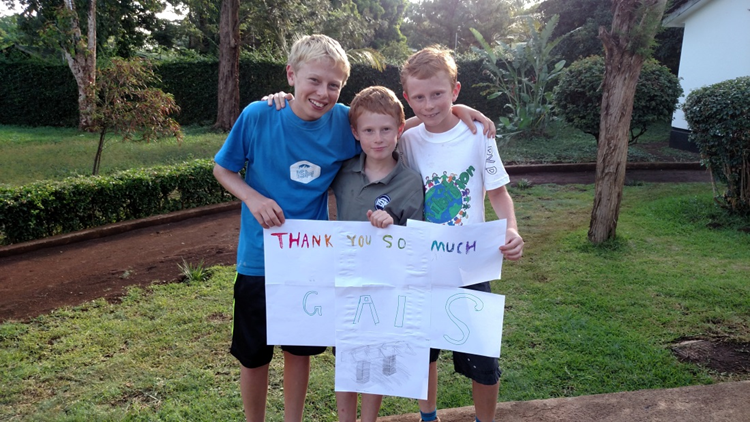 Sam, Tate and Reid Vaughan thank their donors, the German-American International School in Menlo Park, California
Vaughan says he's trying to find ways the family can make their volunteerism more sustainable so it's not just gifting money and having people continue to depend on it. He and his wife Laura are partnering with a local Moshi nonprofit called Anza that specializes in teaching Tanzanian children about economic sustainability. The Vaughans are also establishing a 501(c)(3) in California called "Lalafofofo," which means "sleep peacefully" in Swahili, to continue managing donations in the U.S. and plan future projects. The family will be returning to Tanzania every summer to continue work on their community projects.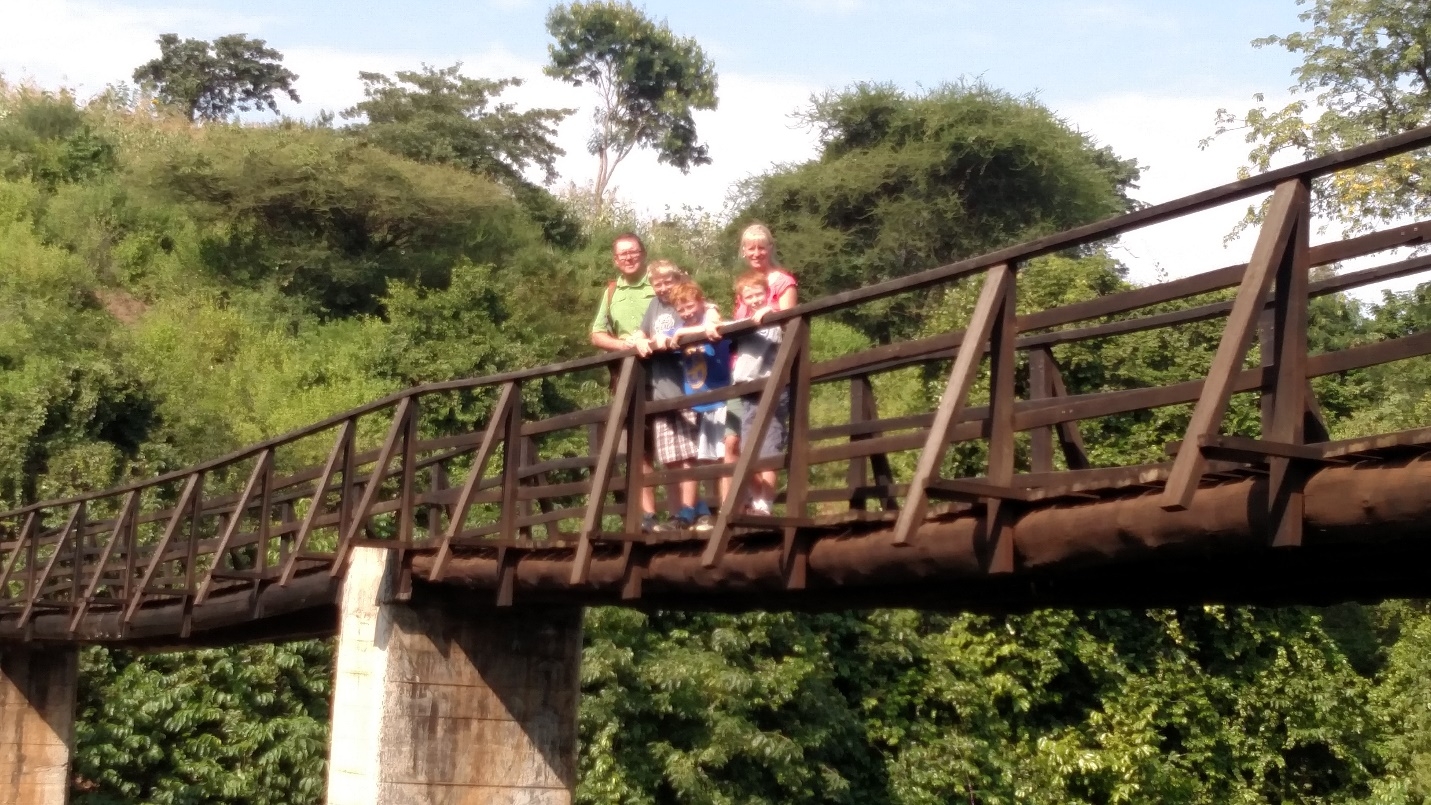 The Vaughan Family on the bridge to Kimashuku, which Tate raised money to repair.