Morgan Stanley volunteers partnered for a sixth year with the African American Men of Westchester to help students from 14 high schools build valuable business communications skills.
The subject was a familiar one for teens with smartphones: Google and artificial intelligence. The question: should Google keep its intelligent assistant technology in-house to drive proprietary services and products, or should it license the technology to third parties? Students had to consider the constraints of privacy and accuracy, as well as Google's competition, among other factors affecting their answer.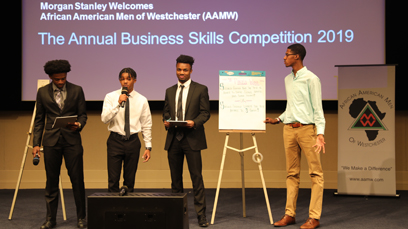 Students from the NY schools descended upon Morgan Stanley's campus in Purchase, NY where they were met by 30 volunteers from the firm. The students choose their team's point of view and prepared a four-minute presentation for the stage. In lieu of PowerPoint slides, students made charts with colored pens on big sheets of paper that they used as props on stage.
The winning teams were able to identify critical issues and present an impactful solution based on sound logic and resourcefulness.
The student team from Peekskill High argued convincingly that Google should license to third parties, landing them first place in the competition, for the second year in a row. Valhalla High School came in second, and Saunders Trades Technical High School in Yonkers came in third. The judges included leaders from the African American Men of Westchester and the greater community, as well as employees from Morgan Stanley Wealth Management.
But all of the participants walked away with new knowledge about speech and timing, with encouragement from Stacie Hoffmeister, an Executive Director in Wealth Management Administration who leads learning and development strategy for Morgan Stanley employees. She spoke to the students while they waited for the competition results.
Many of the teams had trouble trimming their presentations to adhere to the time limits. Some teams designated best speakers to present, while others allowed even the tongue-tied to go for the gold. Stacie, moved by their struggles, explained that that she overcame a speech impediment in elementary school. She imparted three lessons: Feeling nervous is a good thing because it means you care; if you make a mistake, don't give up, keep practicing; and, reflecting on her career switches, pursue the things you enjoy doing.
"I like that we got to talk one-to-one with a mentor who works at Morgan Stanley and invited us into the corporate culture," said Natalia Diaz, 18, from White Plains High School. "I liked the energy the other presenters had, and improving our own presenting skills."
Morgan Stanley's Nameeta Kamath, an associate in the Office of Business Management who organized the event for a second year, noted that the diversity of all involved is also important for students.
"If students see someone who looks like they look, who has succeeded in their role, they unearth a previously unseen opportunity - something they can potentially achieve," Nameeta said. "That is why events like this are so important. It gives students a sense of what they can accomplish if they put their minds to it."
The Firm's volunteers who guided students: Patrice Schreiber, Elizabeth Miller, Odia Ogona, Nadia Guirand-Jean, Ilana Manspeizer, Sherette Constant, Alyssa Weiss, Keith Munroe, Ed Buecker, Daniel DiBiasio, Loredana Denardo, Christopher Baxter, Vibhor Dave, Allyson Kalamaras, Derick Ansah, Erich Williams, Sophia Gilkes and Bradley Barber.