Anthony Paul, Colorado based Morgan Stanley Financial Advisor, uses his educational background in psychology and counseling to better understand and plan for his clients' financial goals.
He grew up playing basketball and pursued it with vigor in college, but when the 6-foot, 7-inch Brooklyn native decided that the sport would not offer him a living, he was happy for the influence his mother had on his life.
"My mom got me my first job, working in a bank," said Colorado Financial Advisor Anthony Paul. "She always wanted me to have something to fall back on if my dream didn't work out. Having a job at a bank helped me learn a lot about finances and handling money. So in the long run, my mom's guidance led me to my career."
With seven sisters and six aunts (and a wife and daughter, too), Anthony acknowledges the huge influence that women have played throughout his life and cites that involvement as the reason he enjoys working with women as clients. "I wanted to make sure they were all taken care of financially. I've seen too many women in positions where they were not. As the oldest in my family, I was always taking care of my sisters. I learned a lot about how to listen. 'Gender smarts' is what I call it."
Anthony honed his listening skills majoring in psychology at Buffalo State and obtaining a masters degree in counseling psychology from the University of San Francisco. He started in financial services while still in school as an intern with Charles Schwab in 1997. That was followed by a stint at Merrill Lynch before Anthony found his home at Morgan Stanley.
"I wanted to come to Morgan Stanley for a variety of reasons," said Anthony. "I was impressed with the firm's stability, its breadth of services and its dedication to diversity. They believe that by embracing different backgrounds and perspectives, we can better serve our clients.
Today he is part of a diverse team with diverse perspectives. Anthony and his two partners serve small to mid-sized business owners, corporate executives, and professional athletes.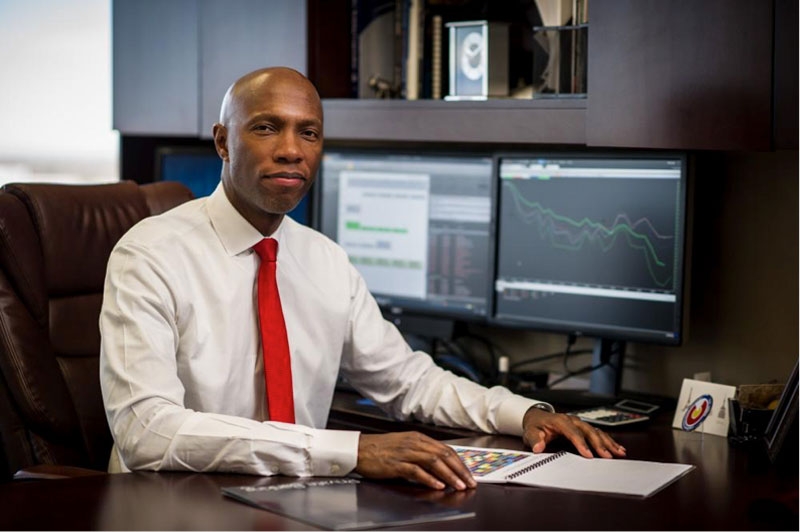 Colorado Financial Advisor Anthony Paul helps clients plan for their financial goals.
"In this job, I am an advisor and at times a counselor and clients share their confidential information with me. We will often touch on intimate details of their financial and personal lives in order to properly serve their needs. Jobs, marital status, major life events—these all play a role in the discussion.
"It requires first being that good listener, and then being able to interpret the discussion in order to provide the most appropriate advice for their circumstances. One executive I worked with had never been able to get through the process of planning before. But we made financial planning easier for him and his family, taking it in small bites. We walked him through it at a comfortable pace and he was grateful."
Professional Success
In 2015, Anthony earned the designation as an Executive Financial Services (EFS) Director, which recognizes Financial Advisors who have dedicated their practice to helping corporate executives manage all aspects of their investment portfolios. He also serves on the Morgan Stanley Wealth Management National Diversity Council.
Anthony's clients include many corporate executives as well as professional athletes –occupations he says share similar qualities. "You work your way up to a level of success until you reach a point where you have more than you can handle. You hit a level where it goes beyond 'what do I buy next' and it becomes important to consider 'who is my accountant' and 'what do I need to do about wills, trusts, insurance, charities'. At that point, it's more important than ever to plan – your goals and objectives, taking care of your family, your taxes, your retirement…and probably a budget."
Believing that his clients should be well-informed, Anthony is methodical about providing them with literature to help them learn about and understand important and often complicated issues. "I can't tell you how many people leave my office with reading material to take home and study, so that we can have a more informed discussion later. From weathering a divorce and advice on being a caregiver for an aging parent, to the fundamentals managing money—for adults, and for children—I have something for just about everyone."
It was Anthony's mom that introduced him to the concept of budgets, something he covers with many clients today as part of the feedback that results from their detailed conversations.
"One of my clients changed his habits when we started working together. He was a strong earner but had never had a budget. We showed him how it would help him save and it did. He said it was the most money he had been able to save in his life. Of course, I was very pleased to hear that."
Last year, Anthony was selected as a finalist for the Colorado Black Chamber of Commerce's 2015 Ascension Award for Corporate Executive of the Year. The nomination recognized his accomplishments and contributions to the black community within Colorado.
Outside of work, Anthony's passions include a love of film. "Growing up in Brooklyn, my escape was the movie theatre. My life-long love of movies led to my involvement with the Denver Film Society, where I've served as Chairman of Board, and led a capital campaign to help them buy their own theatre. The campaign surpassed its goal and the Sie Film Center is now its new and permanent home. That is an accomplishment I am very proud of," said Anthony.