Morgan Stanley partnered with Univision to host the first Senior Multicultural Leaders Conference on June 16th at the Waldorf Astoria in New York.
New York, NY-- On June 16th, Morgan Stanley hosted the inaugural Senior Multicultural Leaders Conference, a first-of-its-kind event on Wall Street. The conference, co-sponsored by Univision, Target, Paul Hasting and Deloitte, and in partnership with The Executive Leadership Council, the Hispanic Association of Corporate Responsibility, Leadership and Education for Asian Pacifics and Catalyst, convened over 250 attendees at the historic Waldorf Astoria hotel in New York City. One of the rare gatherings of senior multicultural leaders in the business and civic sectors, the event delivered high impact business content to leaders executing in a competitive global environment.
The day began with welcome remarks Carla Harris, Vice Chairman, Senior Client Advisor and Managing Director of Morgan Stanley. Harris' long list of impressive achievements, including being appointed by President Barack Obama to chair the National Women's Business Council, made her the perfect candidate to kick-off the day.
After Carla's opening remarks, Francisco Lopez-Balboa, Executive Vice President and Chief Financial Officer for Univision Communications, welcomed the audience and discussed the power of diversity. "Diversity is not just something that we have to do, but it makes compelling business sense. Bringing together this group will help create a powerful network that has potential to make a significant impact for each of us and our organizations," said Lopez-Balboa.
Carla Harris, Morgan Stanley Wealth Management
In the morning, there was a series of breakout conversations that focused on a broad range of topics. The topics ranged from the impact of diversity on the competitiveness of global companies to major global cyber security threats to major demographic changes occurring across the country. During the "Economics of the Changing Demographic of America," participants discussed the opportunities associated with the United States becoming more ethnically diverse. Multicultural individuals are approaching 40% of the total U.S. population and represent an even larger percentage of younger generations.
After a lunch discussion on the Civil Rights Imperative, there was another lively set of breakout conversations. One of the topics was "Disruptive Innovation – How Does Diversity Drive Innovation?" where technology and innovation's disruptive impact on specific industries were discussed by panelist from industry leading tech companies.
"If you are going to get to that one idea that will allow you to obtain and retain a leadership position in your industry, then you'll need to have a lot of ideas in the room because ideas create innovation, you need a lot of different perspectives in the room because ideas are born from perspectives, and you need a lot of different experiences in the room because perspectives are born from experiences, which means you must start with a lot of different people in the room to get to that one idea," encouraged Harris.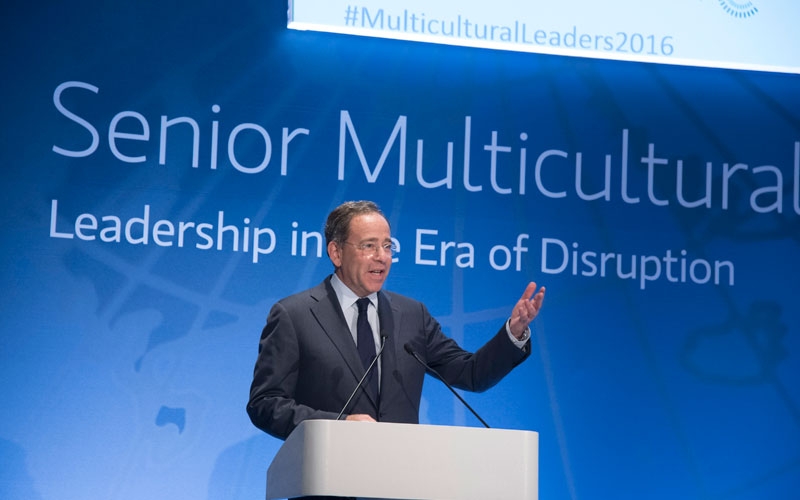 Morgan Stanley Vice Chairman and former US Deputy Secretary of State, Tom Nides introduced a panel on counterterrorism and cybersecurity.
The last topic of the day was "The Millennial Edge – Conversation with Young Entrepreneurs of Color." During this conversation, a diverse group of successful millennial entrepreneurs who are considered disruptive in their industries were introduced and presented. They focused on the entrepreneurial process, multiculturalism as a competitive advantage and barriers to entry for multicultural entrepreneurs.
"Millennials are now the largest segment of the overall population in this country. They are driving what we consume, they are driving how we live. Those who aren't thinking about how to disrupt themselves and actually executing on it, will not only be disrupted, but they won't exist," said Harris.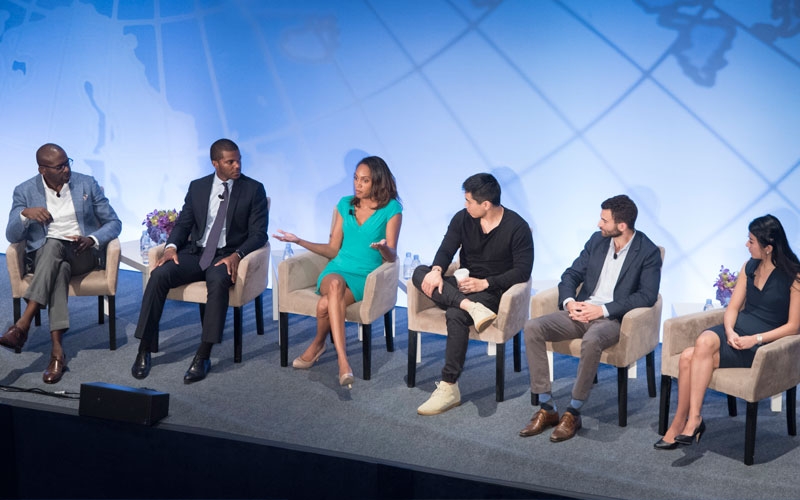 The final panel of the day featured a conversation with young entrepreneurs of color.
The Senior Multicultural Leaders Conference was not only a day of networking, but also a moment to fully appreciate the members who make up the multicultural American workforce. It is imperative to get comfortable with making diversity and inclusion part of a core business strategy starting with younger generations.
"I will consider the event a success if the folks who attended today say 'Wow, that was really high value-add, that was worth my time. I either have a tool or perspective that I will incorporate into my strategic thinking in my consumer products company, in my real-estate company, in my retail company, in my financial services company,' because we were fortunate enough to have every major industry represented at this conference today. So if people feel like they got something that caused them to do it differently and they got that because Morgan Stanley invited them, I'd have to say we've been successful," said Harris.
To learn more about Morgan Stanley and the competitive advantage of multiculturalism, visit http://www.morganstanley.com/ideas/multicultural-advantage