The program is an investment in managers who possess both competency and character, and are prepared to lead through change.
The historic West Point Military Academy, perched high upon the western banks of the majestic Hudson River in New York, is the backdrop for a new leadership development program for Morgan Stanley Wealth Management field managers.
The first in a series of two-day custom sessions, held in March 2017, brought together managers from across the country for immersive, character-building training that inspires leadership, teamwork and effective communication during times of uncertainty and change.
As the wealth management industry undergoes a meaningful shift, Morgan Stanley is investing in its leaders to help ensure they will be able to help steer Financial Advisors in whichever way the organization might need to go. This leadership development program is one of several the firm will be implementing to address the skill sets managers will need to lead change.
"This training comes at a great time, helping our managers strengthen and develop skills to lead us through a significant transformation," said Barry Goldstein, Chief Operating Officer of U.S. Field Management.
Divisional directors and their management teams were the first to experience the program, which is taught by The Thayer Leader Development Group (TLDG) at West Point, a team of decorated retired U.S. military officers now serving as mentors and coaches committed to developing leaders who possess both competency and character. All complex management teams, and regional directors and their teams, will have a chance to participate over the course of the next several years. The first session was one of four to be held in 2017, with intimate class sizes limited to about 40.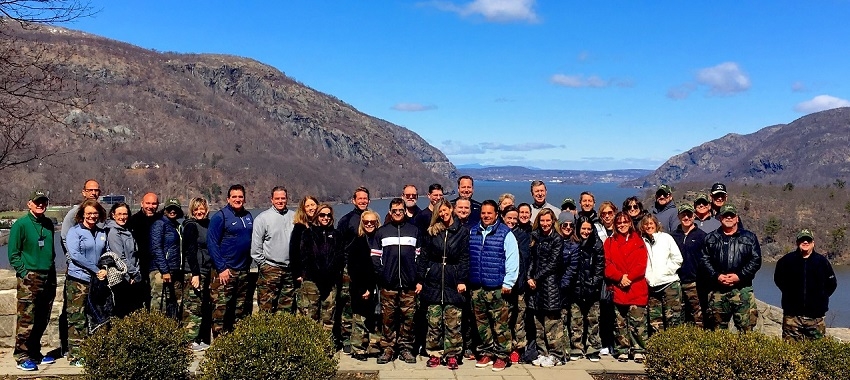 "We understand how much our employees bring to the table—and to stay relevant and ahead of the competition and to drive cultural change, we're investing in the very people who are going to get us there," said Christy Hahn, Head of Leadership Development.
Barry described his attendance at West Point as "inspirational and highly motivating. Learning from accomplished generals, were inspired by men and women with firsthand experience leading under fire through constantly changing environments, which is very relevant to our business right now."
He noted how "quickly they debunked the myth that the military is rigid and everyone is just expected to follow orders. Rather, they're very disciplined about sending out a clear mission and message, and empowering their teams to use their own ingenuity and creativity to accomplish the mission."
In fact, managers came away not only armed with specific "tactical tools for navigating and communicating through uncertainty and ambiguity, but inspired to lead from the heart, rather than the head," added Kimberly Bucello, Head of Experienced Manager Development.
A Leader's Intent
For example, a commander's intent clearly communicates a leader's vision for success of a mission, which translates to what each complex manager envisions for their respective complexes. Great Lakes Regional Director Steve Austin calls it "leader's intent." That's because "I don't see myself as a commander; I see myself as a leader."
Steve, one of six regional directors at Morgan Stanley and the first to go through the program, oversees 13 complexes, 111 branches and 2,500 Financial Advisors across 10 states. He said the program is "far and away the best leadership training I've ever experienced. It's made me a better leader with a higher appreciation for the development of those around you."
He's already established a clear intent for his region. "To truly gain excellence across the board in any organization, you have to let really smart people figure out the pathway to success based upon what they have," he said. "Every branch is different, but they each understand what we're doing and why, and now have the autonomy to figure out how we get there."
While glancing down at a small orange card on which he—and every participant—documented a personal implementation plan to become a better leader, Steve described another term that stuck with him: "inquire before advocacy," or the importance of doing a "deeper dive into an idea before falling into group think, where the first idea sometimes becomes the favored one."
Building Character
Experiential, outcome-focused components of the program focus on character and team building. For example, in a session called "Urban Orienteering," one team member sits in a command center while the rest of the team goes on a scavenger hunt with a map, compass and an old flip phone. "The team has to go out and work together to amass the most points while 'the enemy' is doing certain things to throw you off course, and you have to react accordingly," Christy explained.
In addition, participants go through a "boot camp" workout, where teammates with various physical fitness levels push themselves for the betterment of the team. "Seeing how individuals flexed to others' strengths or weaknesses was a really important learning," said Kara Underwood, Head of Field Talent Management. "We quickly assessed who was best suited for a particular role and went about it with a team consciousness. We win together or lose together, and no one gets left behind."
Kara said she's fascinated with the way the program is architected. "Whether it was a lecture, group discussion, orienteering exercise or boot camp, the entire experience is designed around practicing and strengthening your leadership muscles in the context of enhancing the outcome for the entire team."
And that's what the program is all about.