Learn how Morgan Stanley is celebrating Pride Month 2022 and creating an environment where LGBT+ employees can thrive as their authentic selves.
June is Pride Month, when the world's LGBT+ communities come together to celebrate the freedom to live openly and authentically. It's a time to look back at the struggles and extraordinary accomplishments of the LGBT+ movement, especially in the years since the 1969 Stonewall riots. And it's an opportunity to look forward as we continue to break down barriers that may exist to full inclusion.
Our Pride and Ally Network plays a vital role in our commitment to creating an environment where employees can thrive as their true selves. The group focuses on deepening connections among the members, allies and the larger community and leading a call to action on important issues, such as the current fight for transgender rights. Co-chairs Chuck Burke and Jen Ng also welcome leaders who are comfortable being out at work to serve as a resource and mentors for those who aren't.

Morgan Stanley celebrates Pride with conversations, programs and several events planned around this year's theme of United Together. A fireside chat Championing Diversity will take place on June 16 with Coqual CEO Lanaya Irvin and our own Global Head of Diversity and Inclusion Susan Reid. On June 21, Wealth Management will host its annual Out on Broadway event, which features an exciting conversation with professionals in the entertainment industry.

We'll hold an in-depth State of LGBT+ Rights conversation on June 30. An esteemed panel of community leaders will discuss the Biden administration's agenda on LGBT+ rights and recent policy changes in the U.S. that affect the community—particularly our transgender members. The panel will also weigh in on what it will take for these civil rights to be codified permanently.

We're also thrilled to continue our participation in LGBT+ Pride festivities around the world, including a brunch in New York City on Pride Sunday, June 26, for clients, colleagues and their families.
In honor of Pride Month, we reached out to two members of our LGBT+ community—Nathan Stein and Marcus Waterbury—for their thoughts on openness and inclusion at Morgan Stanley.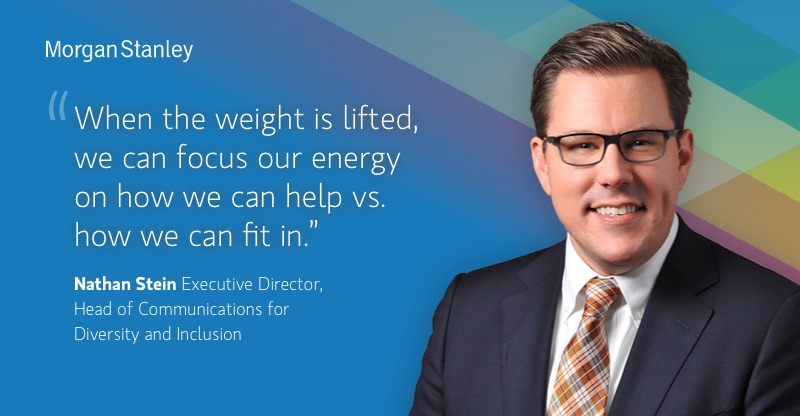 What does Pride Month mean to you?
Pride Month for me is equal parts celebration and remembrance. It's a reminder to live out loud, celebrate our progress in the fight for equal rights and be your true self. It's also a time to remember those who came before us and contributed so deeply, breaking down barriers and advocating for the progress we've made. Those who never gave up the fight, those who stood up for themselves and our community, and those who championed equal rights.
Why is it so important to create a culture where people can be their authentic selves?
Someone very close to me recently said, "Whenever I go somewhere, I don't want to be an event." That resonated with me and made me realize that in many ways, we all have those moments in our lives where we feel like the only one, or the "other." Unfortunately, I think that can create barriers that cause us to hold back, or limit our own ability to create, contribute and make a meaningful impact. Creating a culture where we can all thrive as our true, authentic selves breaks down those barriers and allows us live free from the fear of judgment. When that weight is lifted, we can focus our energy on how we can help vs. how we can fit in.
When the weight is lifted, we can focus our energy on how we can help vs. how we can fit in.
Where do you feel the most progress has been made in recognizing LGBT+ rights and contributions in our industry?
We're very fortunate to say that our industry has made a great deal of progress in recognizing and advocating for LGBT+ rights. Morgan Stanley has been an ardent champion of our community for more than a decade. We were the only major financial institution to sign two separate amicus briefs before the U.S. Supreme Court in 2013, advocating for the preservation of marriage in California and the overturning of the Defense of Marriage Act. In 2015, we joined hundreds of other companies in signing an amicus brief urging the U.S. Supreme Court to strike down laws banning same sex marriage. Internally, we've made a great deal of progress in significantly increasing the dollar amount available for adoption, surrogacy and our other family planning benefits. We've ensured those benefits are inclusive of single parents and same-sex couples, and we've enhanced our parental leave policies. We've also worked in consultation with the transgender community to make sure our medical benefits cover critical services.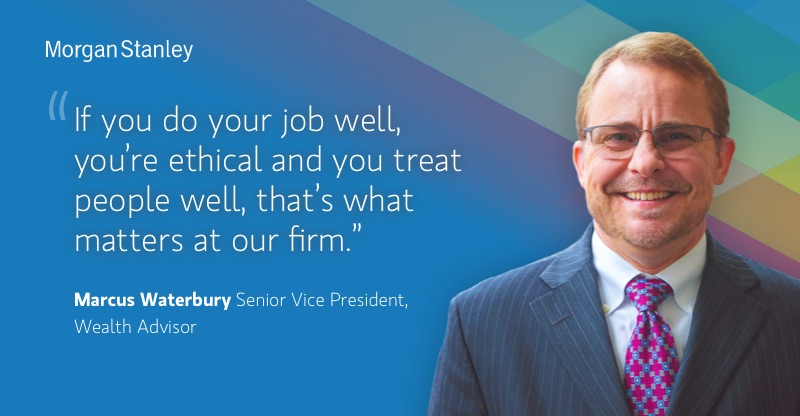 Why is it so important to create a culture where people can be their authentic selves?
We're all unique and have many different opinions and experiences. When people spend time conforming to what someone else thinks they should be, that is time and energy taken away from everything else. I believe that Morgan Stanley is a place where diversity can thrive. Whether you're LGBT+, have a disability or anything else, if you do your job well, you're ethical and you treat people well, that's what matters at our Firm. It's important for organizations to create a space where people across firms can gather and show support.
How can the industry best support people in the LGBT+ community in the current political climate?
I think it's imperative to listen to people whose rights are threatened. Parents of LGBT+ individuals can be a wonderful help in this area by sharing their experiences as parents. Many people can relate to the fears they had to overcome—including the irrational ones—on their journey to accepting their children. Being involved in community organizations is especially important to me because visibility is key. It helps young people who are questioning their identities and drives conversation about how people can be more open and accepting with transgender people.
If you do your job well, you're ethical and you treat people well, that's what matters at our Firm.
What accomplishments are you most proud of in your personal life related to LGBT+ equality?
Coming out and standing up. I came out to my parents as lesbian right after college. My dad didn't understand why women felt discriminated against, so I had no reason to believe he would understand where I was coming from. I was very wrong. In 1997 or 1998, my parents and I were the poster family for acceptance. The Sunday New York Times and USA Today ran a full-page ad of us nationally and we were featured in a short segment on Nightline. When I came out as transgender, my parents—with my blessing—threw me a very large birthday party at the Minneapolis Club. People tell me they still show the invitation from that event to others to demonstrate what support looks like or to open a conversation on acceptance.