Employees in Morgan Stanley's Midwest Region raise funds in support of the Children's Health Fund emergency care efforts for children in Flint, Michigan.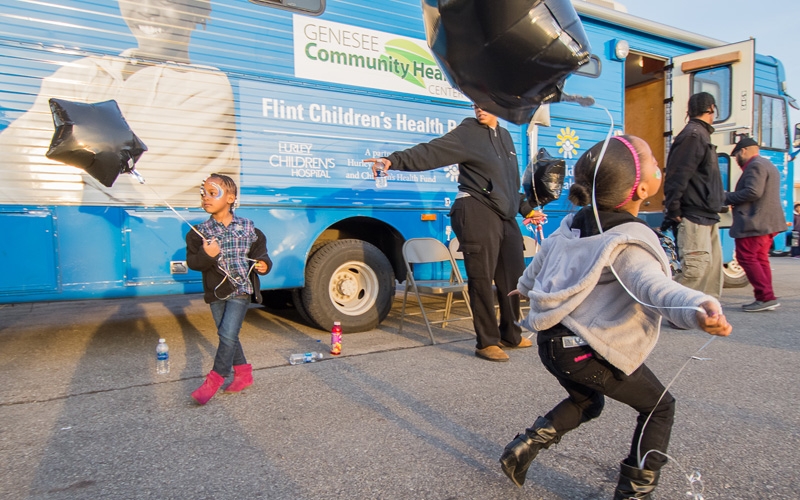 Flint Children's Health Project: the large, blue mobile doctor's office traveled to Flint from New York City and operates in conjunction with a children's center in Flint.
It started with a simple suggestion, an opportunity for the employees in Morgan Stanley's Midwest Region to help the children of Flint, MI where over the past two years families have been exposed to dangerously high levels of lead in their water. This kind of exposure to lead can lead to permanent damage in children.
The campaign, titled Our Flint Family, launched in early February with the goal of raising money to support the crisis-response in Flint
"Our employees responded enthusiastically to the campaign as we knew they would" said Regional Director Steve Austin. Combined with donations from friends and families, nearly $50,000 was raised in just over a month to support emergency care for the city's children.
Steve said they elected to support the efforts of the Children's Health Fund (CHF), an organization that has provided state-of-the-art health and emergency care following crises such as the 9/11 attacks and Hurricanes Andrew and Katrina.
"CHF developed a strategic plan to address both the short and projected long term needs of the children of Flint, MI with the use of a mobile medical clinic which can be used for basic screening for lead and developmental issues to full-scale comprehensive primary care. They agreed to partner with us, and created a webpage for online donations specific to Flint.
"Morgan Stanley has a longstanding relationship with the CHF (childrenshealthfund.org), providing support for health services in Chicago and Detroit for over a decade. Last year the Morgan Stanley Foundation provided funding for a mobile health clinic through the CHF for neighborhoods on the south side of Chicago. Regional Diversity Officer Perika Sampson and I as well as a few of our colleagues were at that event to thank the people that staffed the clinic," said Steve. "So when Perika presented a plan that would allow our branches to participate in fundraising that would do something similar for the Flint community, we jumped at the opportunity."
"We felt like this was a time we needed to step up and give back because our partners and clients and friends in that area are in need."
Co-founded in 1987 by pediatrician and professor of public health at Columbia University, Dr. Irwin Redlener and singer/songwriter Paul Simon, the Children's Health Fund has been providing essential health services to vulnerable kids in nearby Detroit since 2009.
"This mobile clinic is a doctor's office on wheels, providing both service and hope to families in Flint who are concerned about their children's health," said Perika. "CHF plans are for it stay in place in Flint for the rest of 2016 and beyond."
"So many people are aware and individuals have been asking how to help the children of Flint," said Perika. "We are pleased to be part of a collective effort that is helping to address the short term need for lead testing as well as psychological counseling and long term strategies to tackle projected learning challenges."
"We heard from several Morgan Stanley employees in Flint who were touched by the gesture," Steve said. "And we are extremely proud of our colleague's generous and enthusiastic support of the Our Flint Family campaign."
"Giving back to the communities we serve is one of our core values at Morgan Stanley. We ask that all our complexes and employees that feel like participating do something each year to demonstrate that value – to give back," said Steve.
"In Chicago we volunteer at the Chicago Food Depository and several Chicago branches participate in the Working in the Schools (WITS) program, where we invite children from Chicago public schools who may be academically challenged to come to our offices weekly for tutoring and reading sessions. It's an effort that the Chicago employees have been doing for years.
"Last summer we built a playground at a Chicago school. More than 100 employees came out on a rainy day in July; employees from every group, level and department working together as a focused team," Steve said. "We were constructing it in an area where there were no other playgrounds, so all the children who were watching us build it were intrigued by our efforts. One of the children watching us build the playground asked if when we were done building it, were we going to leave the playground there? Their appreciation was very touching and it provided a rewarding experience for our employees."
"Across the region, we look at issues important to our complexes and employees, we find ways to fundraise and volunteer. We take our core values seriously," Steve said. "We do these things because we are committed to giving back, we love the experience because we are meeting a need."