Morgan Stanley invited guests to celebrate the launch of Neuberger Museum's newest exhibit, "Destination: Latin America."
Earlier this summer, Morgan Stanley teamed up with MasterCard and The Network Journal to host a cultural celebration for clients and associates, bringing together art and jazz enthusiasts together for a memorable evening at the Neuberger Museum of art in in Purchase, NY. The highlight of the night was the opening of the Neuberger Museum's newest exhibition, Destination: Latin America, a collection of twentieth and twenty-first century Latin American art.
The event gave Morgan Stanley advisors and their clients a chance to relax, connect and enjoy the museum. Guests also included members of the Multicultural and Latino Employee Networking Groups at Morgan Stanley.
Early in the night, guests were treated to live music from the Jazz House Kids, one of the nation's pre-eminent arts and education performance organizations. Their mission is to transform young lives and open doors to the future by offering pre-professional, year-round musical training along with community engagement and education programs for K-12 students from diverse backgrounds.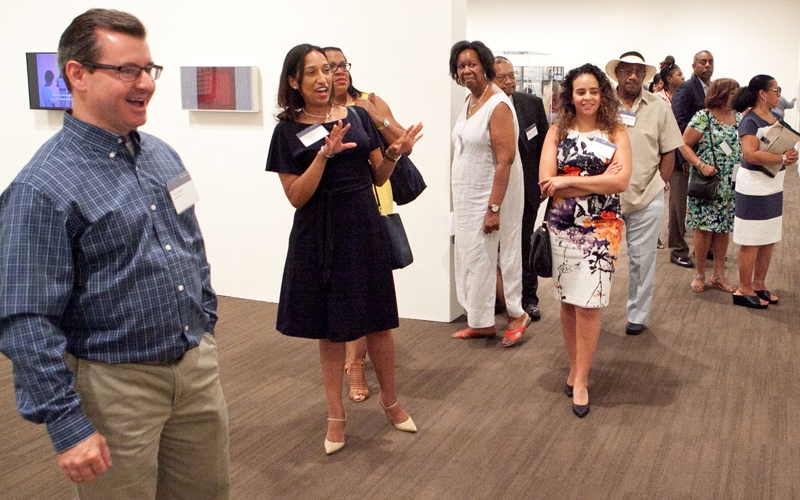 Destination: Latin America features a multifaceted collection of twentieth- and twenty-first-century Latin American art.
The event was kicked off by Sandra Richards, Executive Director & Head of Diverse and Multicultural Marketing at Morgan Stanley, who welcomed the attendees to the event that aimed to promote the preservation of history, while also celebrating the culture will hopefully inspire a new generation of thinkers and artists. Advisors and clients were then treated to a private tour of the Neuberger's newest exhibit.
Open through January, 2017, Destination: Latin America includes Mexican Modernist artworks; sculptures and paintings by South American artists exploring color, space and motion; Cuban artworks inspired by African art; and contemporary works exploring themes of globalization, violence, and social criticism. By the end night, all the guests at the Neuberger Museum felt honored to be among the first to experience this carefully curated tribute to Latin American culture and art.
To learn more about the Neuberger Museum, visit their website. You can also visit the website for the Jazz House Kids.