Jeffrey Rush spent his youth as a competitive swimmer, which helped prepare him for life as a Financial Advisor at Morgan Stanley.
Jeffrey Rush watched as his mother took his older brother to swim practices and swim meets. Then, at age five, he got tired of watching and dove into the pool.
In a matter of weeks, Rush went from spectator to competitor. He was thrilled with his first performance, running to his parents to celebrate. Then he learned he had been disqualified—because he had used an improper butterfly technique.
"That was kind of an interesting first experience but you get past it," said Rush, 42, raised in St. Louis and now based in Santa Monica, California.
He got far beyond it, becoming a strong enough swimmer that he qualified to compete in the U.S. Olympic trials at the age of 15. He moved from practice to practice, from meet to meet, setting his sights on records and breaking them. Practices were not easy. With before school, after school and weekend practices, life was grueling at times. It took a lot—a lot of grit.
Today, he is a Morgan Stanley Financial Advisor who also manages a branch office in Santa Monica, CA.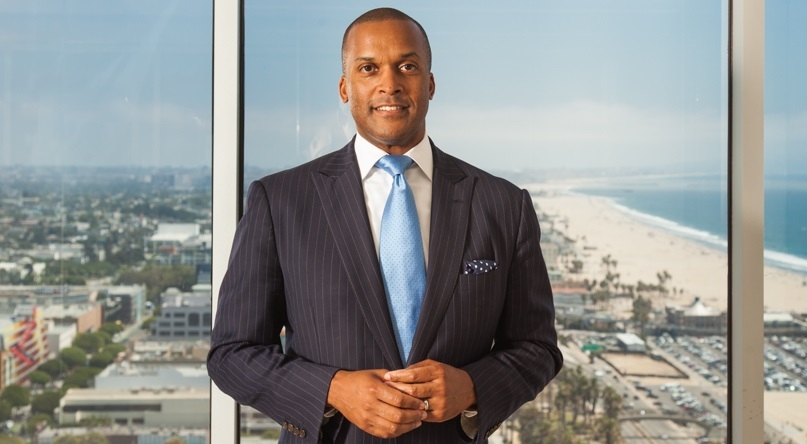 In those roles, Rush relates to being "comfortable with the uncomfortable"—a phrase he heard from a business executive but experienced first as a swimmer.
Swimmers plunge into uncomfortable circumstances. They hold their breath for long periods of time in cold water, pushing their bodies to the point of exhaustion as their muscles are deprived of oxygen while racing. Rush's boyhood swim career helped prepare him for the business he is in these days.
"There are times when you just have to be comfortable being uncomfortable because there are things that are outside of your control," said Rush, "but you still have to lead and advise and be objective about the situations you're in as the markets change or family issues come up that affect finances. You have to be comfortable in those types of environments."
It was a deep interest in academics and swimming that helped lead Rush to a school that is now Mary Institute and St. Louis Country Day School (MICDS), a place Rush describes as "a game changer" for him. At Country Day, he learned how to balance the demands of academics and high-performance swimming.
Four years as a student and two years as a teacher and coach so affected his life, that he remains involved to this day in supporting the school. He and his classmates from the Class of '92 recently helped the children of MICDS's faculty and staff attend the private school by endowing a tuition benefit fund to offset the $28,000 cost of tuition. Celebrating his 25th year reunion with classmates this year, he communicated with the school and classmates about some of the greatest needs and decided to help those who help the school.
His name is still on the wall of records at the recently constructed natatorium, and that makes him smile. "I didn't foresee that," he said.
When Rush was in school, he first thought about being an attorney or a stockbroker. While studying at Boston University, he added "foreign affairs" to that mix.
But in college, he had the chance to work as an intern at Merrill Lynch. He supported the investment research and marketing efforts of a trainee who went on to become a successful financial advisor in St. Louis. Rush became hooked on finance and investing.
In his competitive swim days, he studied experienced competitors. He did the same in business. He learned to be focused and reliable and developed a strong network on his way to building the business portfolio he has today.
"We have an amazing responsibility in helping our clients determine what impact their wealth will have on their families and society and helping them execute their vision. Making sure we continue to learn and optimize our practices is an opportunity that we should take seriously," he added. "I love it when our Financial Advisors and clients succeed at what they set out to accomplish."
Rush's approach is to do what's right for our clients by providing objective advice and "the best thought leadership" to clients and Morgan Stanley Financial Advisors to increase the likelihood of successful outcomes for clients, employees and the firm.
As he considers some of his key next steps, he is focused on hiring talented Financial Advisors in Santa Monica who know how to work across generations. "The needs of our industry's aging clients demand that we focus on helping our clients plan for the complex family wealth management issues that they may face, instead of just brokerage transactions," he said. "Ultimately, evolving into family wealth managers will allow us to add capacity to our clients' busy lives, so they can focus on higher-level pursuits."
Making all of this happen means putting in some long hours on many days, and Rush is grateful that his wife, Stephanie Elam, a CNN journalist, appreciates and supports his work. "My wife is extremely supportive," he said. "She understands how demanding our roles are."
Asked what those seeking Financial Advisors should consider, Rush said "find a professional who you trust, who also has the experience and skills you need to address the financial issues associated with where you are today and where you plan to be in the future.
"If interviewing a financial advisor, don't be afraid to ask for references," he added. "Research industry associations such as the Investment Management Consultants' Association (IMCA) or the Certified Financial Planner (CFP) Board to better understand the standard of care you should expect at your stage in life. Most importantly, know yourself and practice sound financial management."