Morgan Stanley Financial Advisor Jane Rojas and her team strive to help elderly clients transition as they grow into an age that requires new considerations.
Tucson, Arizona – Over the years, Financial Advisor Jane Rojas and her team at The Rojas Group have helped countless clients sort out their retirement needs. But in recent years, they have moved "beyond retirement" to the transitional needs of older clients who may need more care.
"We have 280 households and many of our clients are growing older – into their 80s and 90s," said Rojas. "We manage more than just clients' money, we help them manage their lives, which includes various stages of change: from working adults, to retired couples, to adults wanting to move to a retirement community, then needing to move to a retirement facility, and eventually to assisted living. We literally have appointments every week to talk about how we can help."
Jane Rojas, Morgan Stanley Wealth Management
This is not an isolated trend in Arizona. According to the U.S. Census Bureau, the fastest growing segment of the U.S. population is people over the age of 85.
Rojas and her team strive to help these seniors transition as they grow into an age that requires new considerations based on how they want to spend the remaining years of their lives. For example, do they want to remain in their home? Or does it make more sense to move to an independent or assisted living residence?
"These are the kinds of discussions we need to have with our clients sooner rather than later, and they need to have the discussion with their families, too," said Rojas. "Some people will wait too long because they don't want to rock the boat or touch on a subject that may be off limits. A lot of these clients are just terrified because they've accumulated so much stuff and the idea of going through all their things and downsizing is just too much physically and emotionally. It's often an overwhelming task to even consider a move."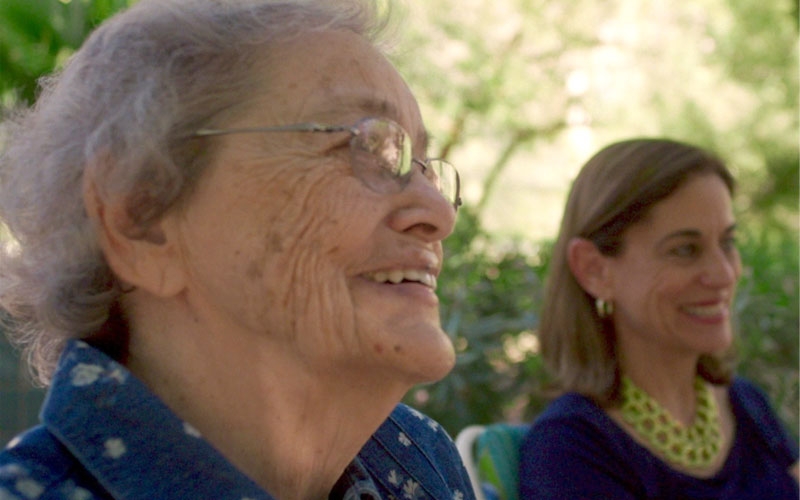 Jane, pictured here with her mother, stresses to not wait too long to have difficult conversations about transition planning.
The problem with putting these decisions off too long is that when someone does finally have to move into an assisted living or retirement facility, it may be too late for them to take advantage of everything those places have to offer. For example, many assisted living facilities offer lots of social activities, including: happy hours, dances, lawn picnics, travel trips to nearby locations, arts and crafts, bridge and other card games, all kinds of exercise programs, reading groups or trips to the theatre.
"However, if your decision to move into one of those facilities occurs too late, you may not be able to physically or mentally be able to participate, because your mental capacity inhibits it," said Rojas. "If you move earlier, such as my grandmother did, you can join in on everything, make lots of new friends and have tons of fun by being engaged and active."
"You want to make these decisions while you're capable of making the choice as opposed to having it made for you," explained Rojas. "You also want to do it at a time when you can adapt to your new surroundings, so the move is not overwhelming and you are unable to fully adapt to your new home." When a client is ready to make a move, Rojas and her team have people that will do the move, pack everything up and even hang the pictures so clients feels almost as if they went on a short vacation and moved into a home that's very similar to their old one.
The Tucson, Arizona based Financial Advisor knows firsthand what her elderly clients are going through because it just recently happened with her parents. Rojas has a team of four, which includes her daughter Selina, who helps immensely with all of their clients, but especially with Jane's parents. "I couldn't do it without her," said Rojas. "It takes the team."
"The reason they had to move to a retirement facility was because my mother got sick and messed up her pills," said Rojas. "She either skipped them or took them at the wrong times and that caused a lot of confusion and eventual hospitalization."
"We knew something major had to change. We had the discussion on many occasions earlier, but now the time had come where the choices were limited."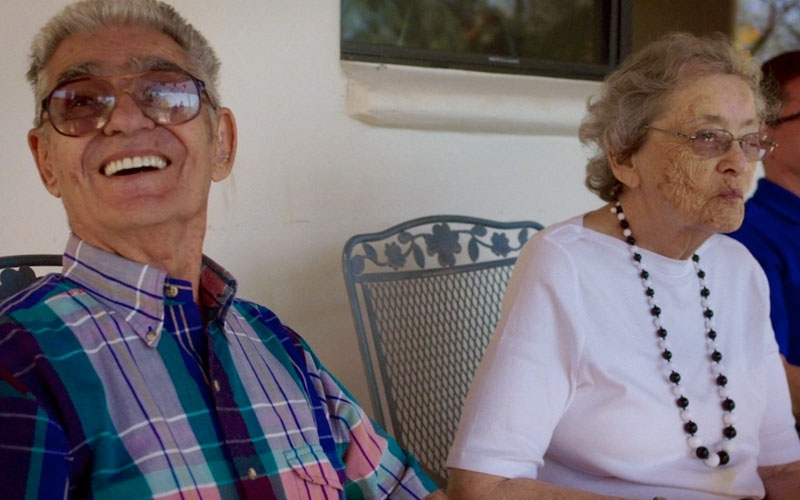 Jane's parents, pictured here, are just two of the many people who have benefited from Jane's passion for protecting the elderly during the transition to assisted living.
"We moved them into a retirement facility, but they were able to stay in an independent living apartment, as long as we were able to assist with things like their medication and doctors' visits," said Rojas.
"It is the little details that can make a huge difference. For instance, we got her a pill box with the days of the week written on it, with AM and a PM slots. We take them to their doctors, we order refills and pick up her pills at the pharmacy as needed and fill the pill box up every week.
"I set up alarms on my cell phone to remind me to call my mom twice a day, every day, to remind her and make her literally walk to the bathroom to take her pills while I'm on the phone. It works, it's simple, she doesn't mess them up and she stays out of the hospital. And they are happy because they are still independent. "
According to Rojas, the most important thing clients going through this transition have to consider is their proximity to their family, friends, doctors or churches or whatever it is that's important to them.
"My parents moved into a place where my grandmother had lived that happens to be less than five minutes away from my office," said Rojas. "That makes it easy because we can go up there for a visit and have lunch with them or take them to doctors' appointments or drop off groceries."
The next most important thing is to make sure the clients will have enough money to make the move and fund the living arrangements. Although Rojas says she and Selina will do a LifeView financial analysis to make sure the client has enough money to handle whatever they decide, most of the transition conversation has little to do with money.
One area of support Rojas and her team are particularly focused on with elderly clients is making sure they don't become victims of financial abuse. "People prey on the elderly," said Rojas. "Years ago my grandmother would buy tons of magazine subscriptions and my parents recently booked a trip to China but couldn't remember anything about it. We had to call the travel agency to tell them to please stop soliciting them for these trips."
Her advice for other Financial Advisors who may be facing similar conversations with their aging clients, is to have the transition discussions as early as possible, with the clients and with their families. The discussion may have to be repeated several times to get through to everyone.
"It's important to become connected with the husband and the wife early on, to get to know their hopes and dreams; their fears and concerns," said Rojas. "That way when the client gets older, and maybe becomes a little confused or grows too old to drive, you can make suggestions. You can discuss the need to move into an assisted living situation. You have had the discussion with the family, they know you and respect your expertise, and they know what to look out for and what to be careful about. This makes this difficult transition a little easier for everyone."
To see how Jane Rojas helped her own parents' transition, watch this video.