Hope, optimism and philanthropy: Morgan Stanley hosts investing event with religious and financial leaders on a quest to reflect Jewish values.
Nearly 100 religious and financial leaders gathered with Financial Advisors and clients at Morgan Stanley headquarters in New York to explore how investors can reflect contemporary Jewish values by aligning their capital in innovative ways through Investing with Impact and Philanthropy Management.
"We're asking whether Jewish values, like 'do not destroy needlessly' and 'repairing the world' can be expressed through impact investing portfolios to complement traditional grant making," said Melanie Schnoll Begun, Morgan Stanley's Head of Family Office Resources' Philanthropy Management.
Morgan Stanley Managing Director Melanie Schnoll Begun
Lily Trager, Director of Investing with Impact for Morgan Stanley Wealth Management, told those gathered that, "Our clients are redefining value beyond solely financial terms. There is a deeper desire to align investor capital with values and generate positive impact."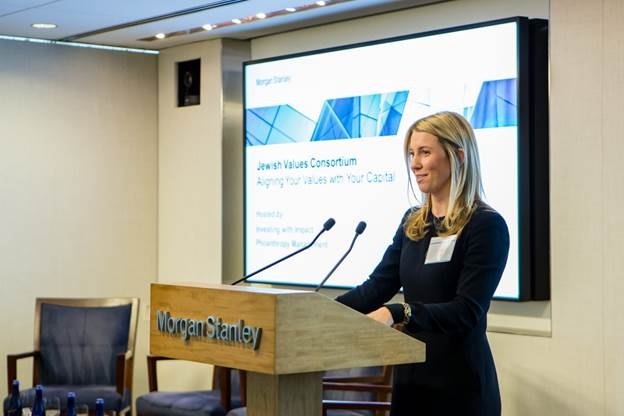 Morgan Stanley Executive Director Lily Trager
The goal of the Consortium is to help define Jewish values – some of which may vary across Reform, Conservative, and Orthodox followers. Catholics and Muslims may have formal over-arching tenets that could serve as broad investing guidelines, but the Jewish faith generally does not, speakers noted. Still, some traditions and beliefs are acknowledged as important, said Darren Levine, founding rabbi of the Tamid Synagogue in downtown New York City
"Hope and optimism is part of the Jewish story," he told the attendees. "That is who we are."
"If we take the lead, we could have a transformational effect on the world," he continued. "This could be a wonderful opportunity, a platform to bring positivity to the world."
In a search for investing insight, the Consortium turned to panelists with experience in investing capital based on the values of the investors along different approaches, such as Environmental, Social Governance (ESG) integration, restriction screening and thematically-focused approaches.
The event was held on Tuesday, April 24, at Morgan Stanley offices in New York City.
"Jewish values may be in the eye of the beholder and it's not something we try to define ourselves," said one panelist. "It's vital that you get an 'anchor document' from the investor stating their values so you have a decision hub."

She used as an example her firm's work on behalf of a Jewish reform group's pension fund. Support of Israel in some manner stood as a common positive value for the reform pension fund managers – even if they were not politically aligned with the current government. In that case, she was able to "positively" select for companies headquartered in Israel and "negatively" select for companies that were publicly opposed or boycotting Israel. Beyond Israel, however, Jewish ESG investing can vary. The reform group pension directors skewed toward progressive values such as LGBT rights, reproductive rights and living wages. An Orthodox or Conservative fund might skew differently.

Morgan Stanley's investing with Impact and Family Office Resources' Philanthropy Management partnered on the Consortium and hopes to continue the discussion with Financial Advisors, clients and prospects.

"This discussion is not something Morgan Stanley 'owns,'" said Melanie Schnoll Begun. "We are interested in being recognized as leaders and facilitators in this ongoing conversation and intend to be a major part of helping create opportunities for our clients to leverage their financial capital in addition to their philanthropic assets."

She and Lily Trager said they will continue to explore how individuals and institutions can utilize both Philanthropy and Investing with Impact to align capital with their own unique values and create positive impact. "We want to collaborate in an open conversation about what today's Jewish values reflect," Lily Trager said. "We want to continue to listen and learn how to structure and implement portfolios so they represent the social and environmental objectives reflected by each individual and institutions definition of Jewish values."

"Our clients are already using their philanthropic grants to clean up plastics in the oceans, which is by its nature a core Jewish value," remarked Schnoll Begun.