An intense workout and a chance to give back: Morgan Stanley colleagues race dragon boats and raise $20,000+ for charities.
Four years ago, Thien Le (Wealth Management Field) founded a dragon boat team with financial support from many individual Managing Directors across the Firm in New York. The team is still going strong today, with a mix of new and experienced members having met for the first practice of the season in April with Thien leading the way along with her co-captain, Paul Caviano (Legal and Compliance), and other executive committee members.
The team – with 65 current members, the largest since its inaugural season in 2015 – began practices in New York's Flushing Bay. The group expects to participate in five races in 2019, starting in June on Baltimore's Inner Harbor, then attending their first international race in Montreal, and finally wrapping up in early October on the Schuylkill River in Philadelphia.
Competing in races across the country is thrilling, but the team also uses dragon boat racing as an avenue to give back to the community. Last year, they helped clean the very waters they raced in and are doing so again this year, through the non-profit Riverkeeper. The team raised over $20,000 for charities over the years. Jim Kong (Corporate Services, 3rd Year Paddler) says that the community service aspect "motivates us to do even more and even better."

In dragon boat racing, a person steers the boat from the rear, while twenty paddlers coordinate their strokes to gain movement and speed, and a drummer keeps the paddlers in sync. It requires incredible teamwork. Everyone has a role, and the team's performance depends on each member working in harmony, working as one. "Once the team was in sync, the feeling of the teamwork was the best part," says Alice Fangxin Liu (Institutional Securities Tech, 1st Year Paddler).

Dragon boat racing brings employees of different levels and departments together as both friends and coworkers. Outside of dragon boat practice, the team spends time after every practice in search of the different ethnic foods to try in Queens. The diversity and unity of the team is part of what makes the sport so special to its members.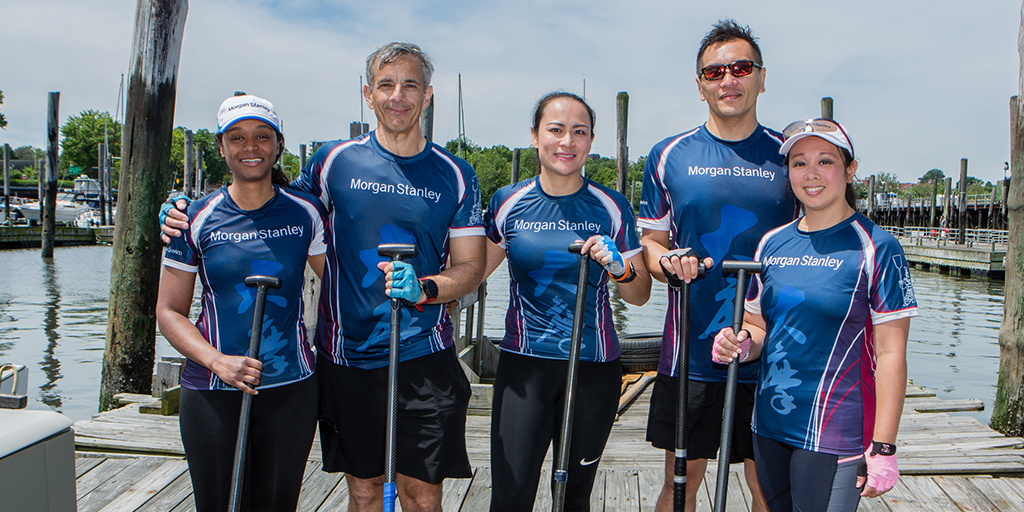 The team welcomes colleagues who are interested, regardless of their position at work or experience with dragon boat racing. For those who join, it's an opportunity to be challenged physically as a way to improve one's health, connect with colleagues and expand one's network, and give back to their community.
Special thanks to the New York dragon boat team sponsors: Mohit Assomull; Dorothy Lee; Jim McCarthy; Kevin Lynyak; Ashwin Krishnan; Michael Hennessy; Bradley Barber; Multicultural Employee Networking Group; Women's Employee Networking Group; Asian Employee Networking Group; Finance Division
New York Team Executive Committee: Thien Le, Captain and Founder, Wealth Management Field; Paul Caviano, Co-Captain, Legal and Compliance; Jennifer Limson, Team Manager, Corporate & Funding Technology; Christina Gee, Philanthropy Coordinator, Finance; Albert Tsang, Treasurer, Finance; Delores Hutchinson, Race Coordinator, Finance.