Thought leaders and change makers come together to strengthen diversity & inclusion outcomes within the Wealth Management Industry
Influential speakers. Incomparable insights. Unforgettable learnings. Morgan Stanley Wealth Management hosted the 2019 Diversity & Inclusion Roundtable for asset managers with a spotlight on how they can play a key role in shaping the world and encouraging inclusivity. That's what the spirit of the Roundtable is all about.
As a firm, Morgan Stanley is committed to making our industry more diverse and inclusive.
This forum was designed to provide actionable practices that help move firms toward those goals. Focused on collaboration, learning and best practices, this two-day event assembled over 30 thought leaders from across the industry who can impact change within their organizations.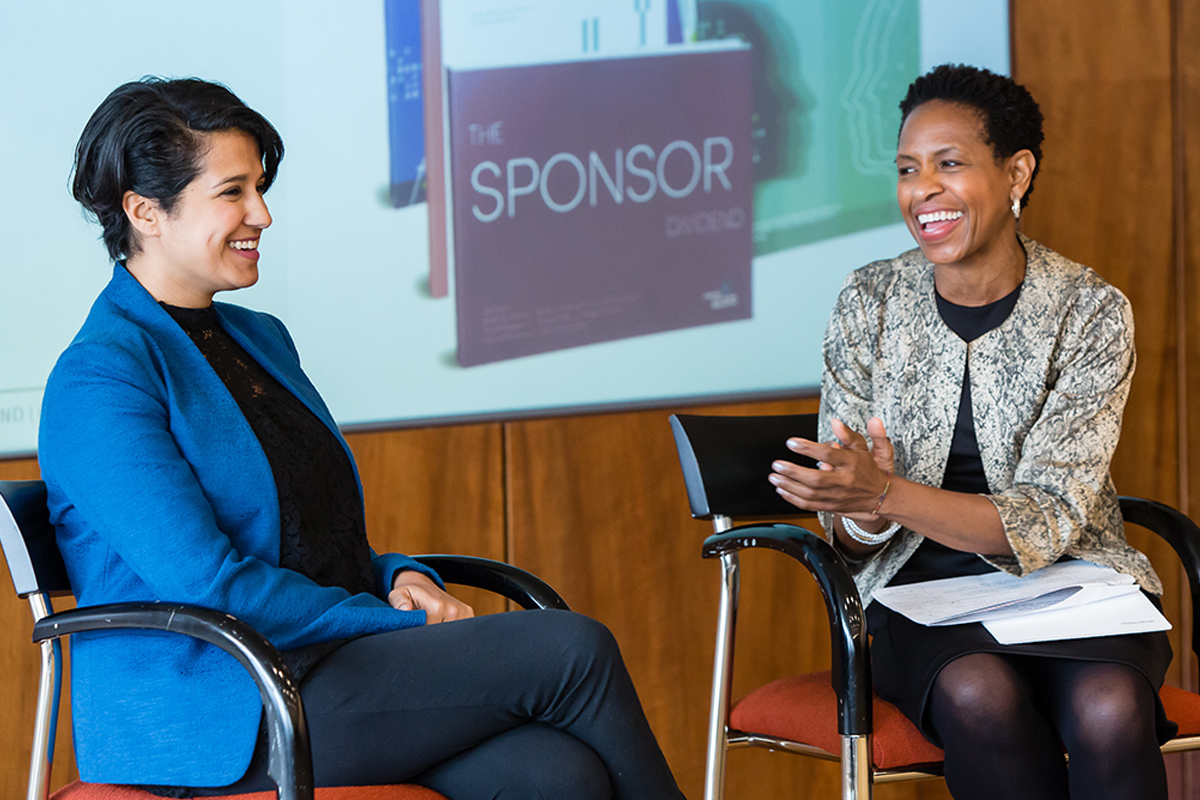 Kara Underwood, Morgan Stanley Wealth Management Head of Diversity and Inclusion, led day one with gusto, explaining that while it's hard work and there are no easy answers, there is the chance to try things out and find the best opportunities to help others. At Morgan Stanley, she says "we've been given a lot of latitude to drive some pretty innovative things." This includes increasing the presence of women, African Americans, LGBT+ and Latinos, not just as a sense of fairness but to better meet the needs of our clients.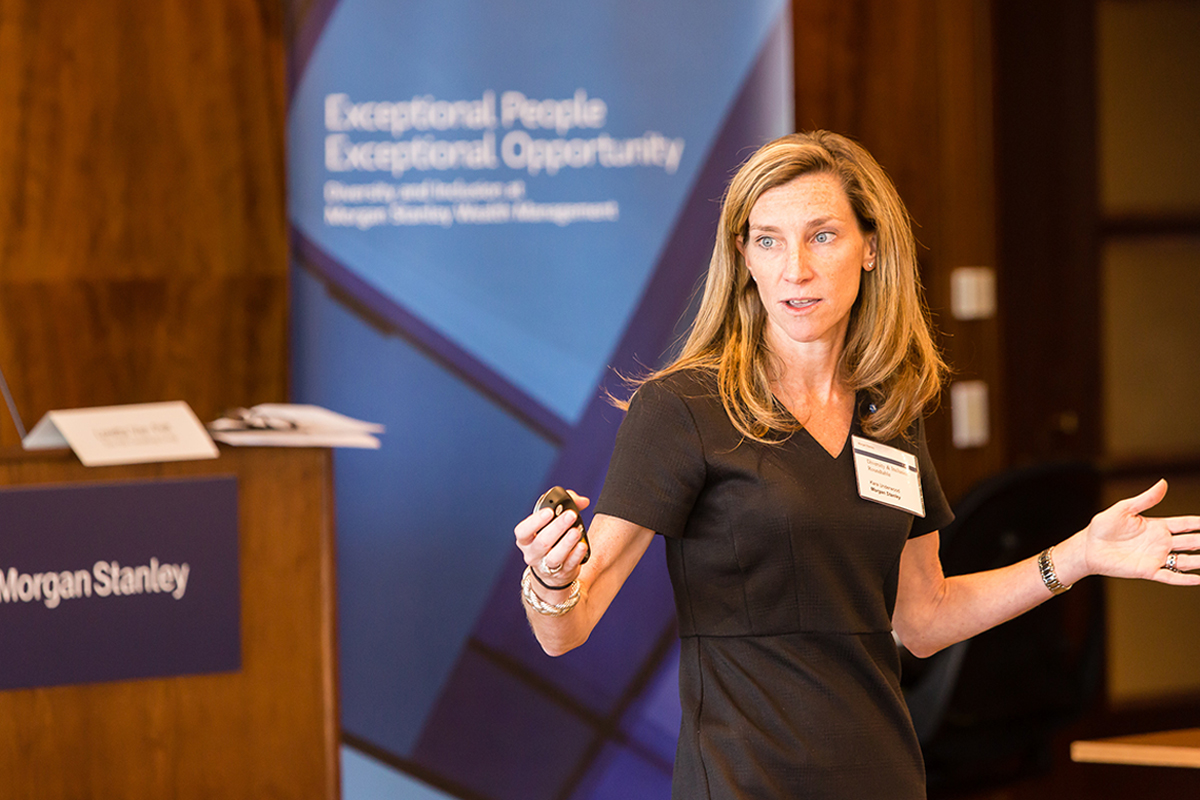 Loretta Van Pelt, a Diversity and Inclusion Strategist, shared a truly remarkable presentation on "Building Cultural Competence to Lead into the Future." Loretta emphasized "conscious inclusion" and the world view (or bias) that everyone has, which is based on our background and experiences. Your background and this world view influence you every day – your job, your relationships, your perception of your environment. To prepare our workforce to meet the changing needs of the marketplace, each of us must assess our blind spots and create more inclusive systems throughout the workplace.
So how can we address our biases? Loretta believes we should all "open ourselves up and expand our view" by looking inward, questioning what influences you, getting feedback, and stepping outside your box.
"As a leader, you have the ability to infect the entire lifecycle of anybody who works for you," explained Loretta. That is why firms must encourage leaders to be actively involved in diversity and inclusion efforts. When this is a priority, everyone can bring their uniqueness to work and there is a sense of belonging for everyone as diverse people work together.
Head of the Global Sports & Entertainment and Segment Sales at Morgan Stanley, Sandra Richards also shared her insights into creating a better environment for all people. A highly regarded champion of building inclusivity and helping diverse groups with wealth planning, Sandra explored how it's especially important for client-focused roles to prioritize diversity and inclusion.
Guests participated in several roundtable discussions focusing on critical topics to advance firms and the industry as a whole. The most significant areas leaders focused on included sourcing and recruiting diverse talent, advancing diverse talent, building inclusive leaders and diverse market/client engagement. Participants led discussions with honest struggles, followed by messages of hope and action. There was a strong sense of comradery with the desire to work together to better the industry. These discussions offered a unique opportunity for attendees to address concerns and solutions with other leaders in the field, allowing for real advancement and change.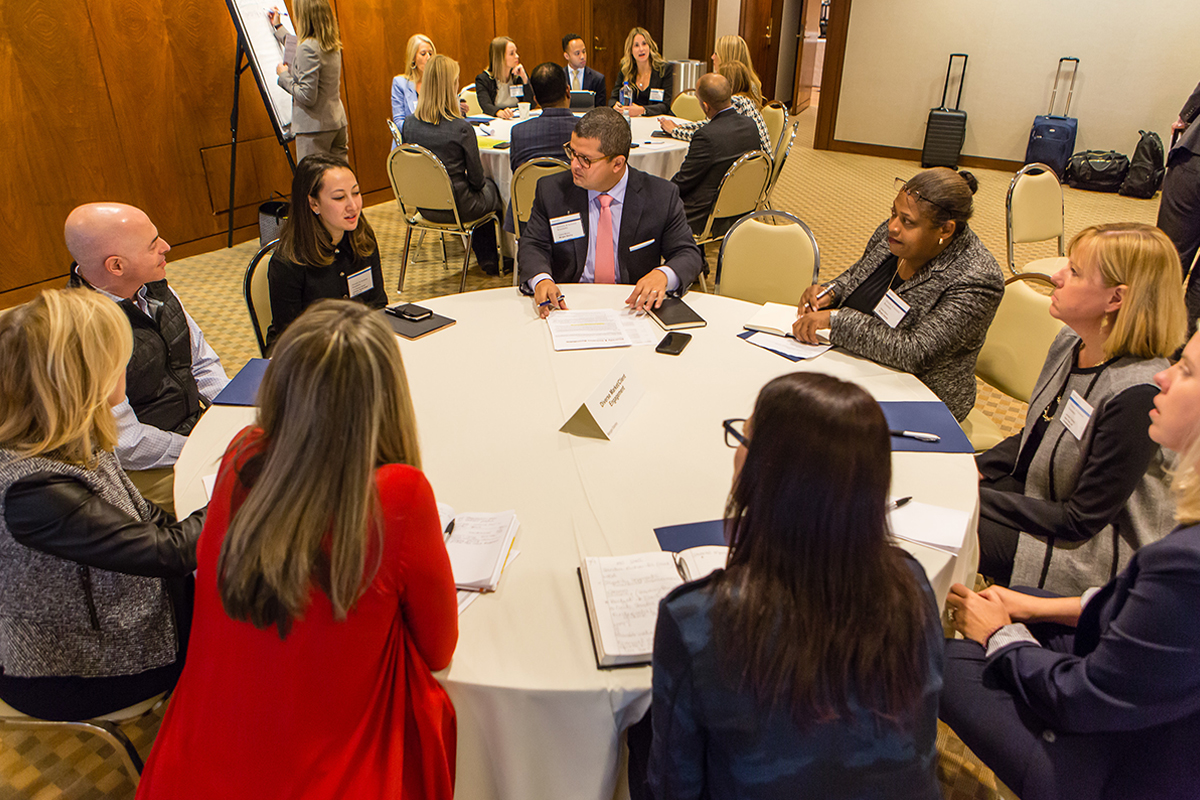 Day two brought the enthusiasm back as guests reflected on the lessons and learnings from the previous day. Susan Reid, Managing Director and Global Head of Diversity and Inclusion at Morgan Stanley, kicked things off without preamble. "This is the hardest job I've ever had, but it's also the job I've loved the most. Because it's so purposeful."
Susan's key message was all about the importance of diversity and inclusion and the impact each person can have, especially leaders. You don't have to be a chief diversity officer to make a difference, Susan explained. In addition to your everyday role, this additional work to make your firm and the industry a more inclusive space can make all the difference. When each person makes the effort, big changes can happen.
Even "small wins" are big wins according to Susan. It's not just a problem within organizations, it's a societal problem that we're trying to solve. Within that scale, each step can become a leap forward. Ultimately, the most important thing is to keep making these positive changes and pushing ahead.
Additional speakers included Pooja Jain-Link, Executive Vice President at the Center for Talent Innovation and Seema Hingorani, Managing Director of Morgan Stanley Investment Management and founder of Girls Who Invest (GWI). Pooja leads groundbreaking research at the Center for Talent Innovation and advocates for equity with projects focusing on women in STEM, disability inclusion, easing racial tensions at work and more. Seema is a leader in driving diversity efforts and as founder of GWI, she is dedicated to increasing the number of women in portfolio management and executive leadership in the asset management industry. GWI creates a pipeline of women with educational programs, internships and a strong community of support. A lack of diversity on investment teams is hurtful to the talented prospects, firms, clients and the industry; Pooja is committed to changing this imbalance.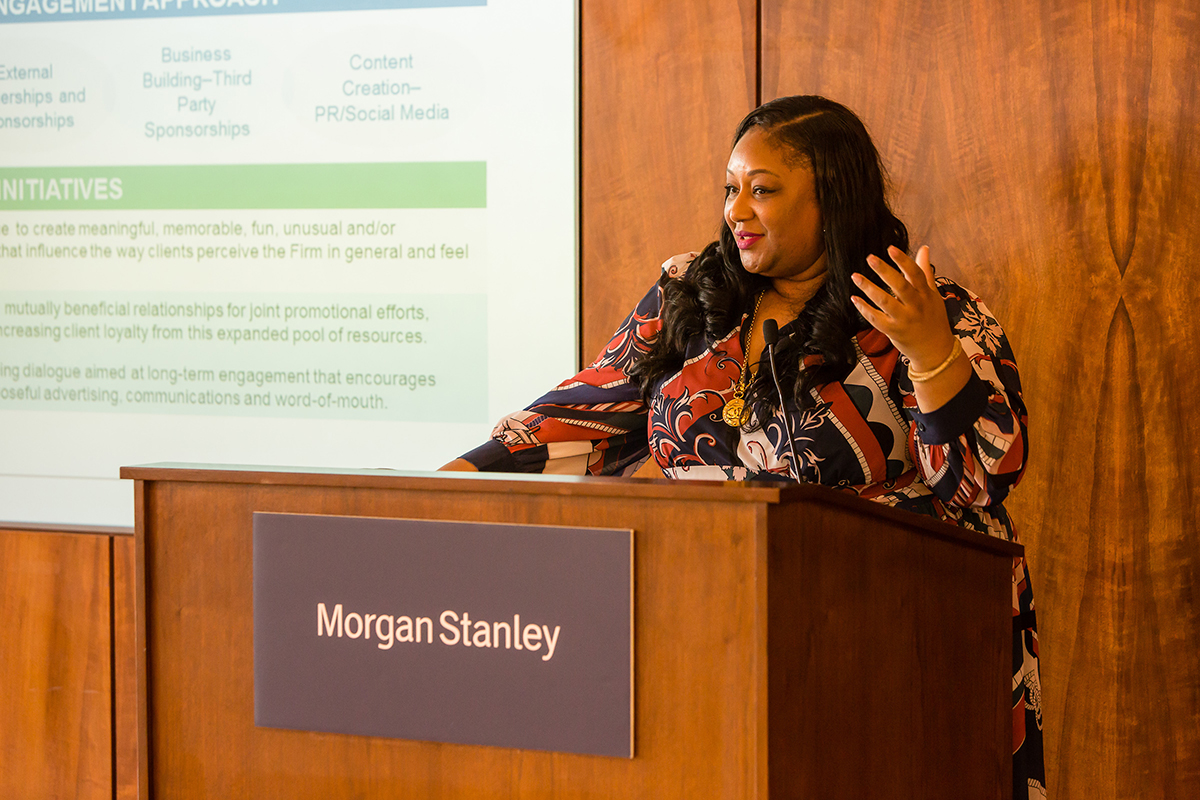 We couldn't let guests go without hearing from Raymone Jackson, Morgan Stanley National Diversity Officer. In addition to his tireless efforts facilitating the event, Raymone also hosted a discussion on "A Common Call to Action," which allowed leaders to share an in-depth look into their progressive programs and systems they've put in place across individual firms. Raymone also discussed how creating safe conversation spaces is both "art and science" as inclusive leadership becomes a necessity. Each panelist in Raymone's session shared unique stories about what drives their efforts towards creating a diverse workforce, highlighting how each person can make a significant difference.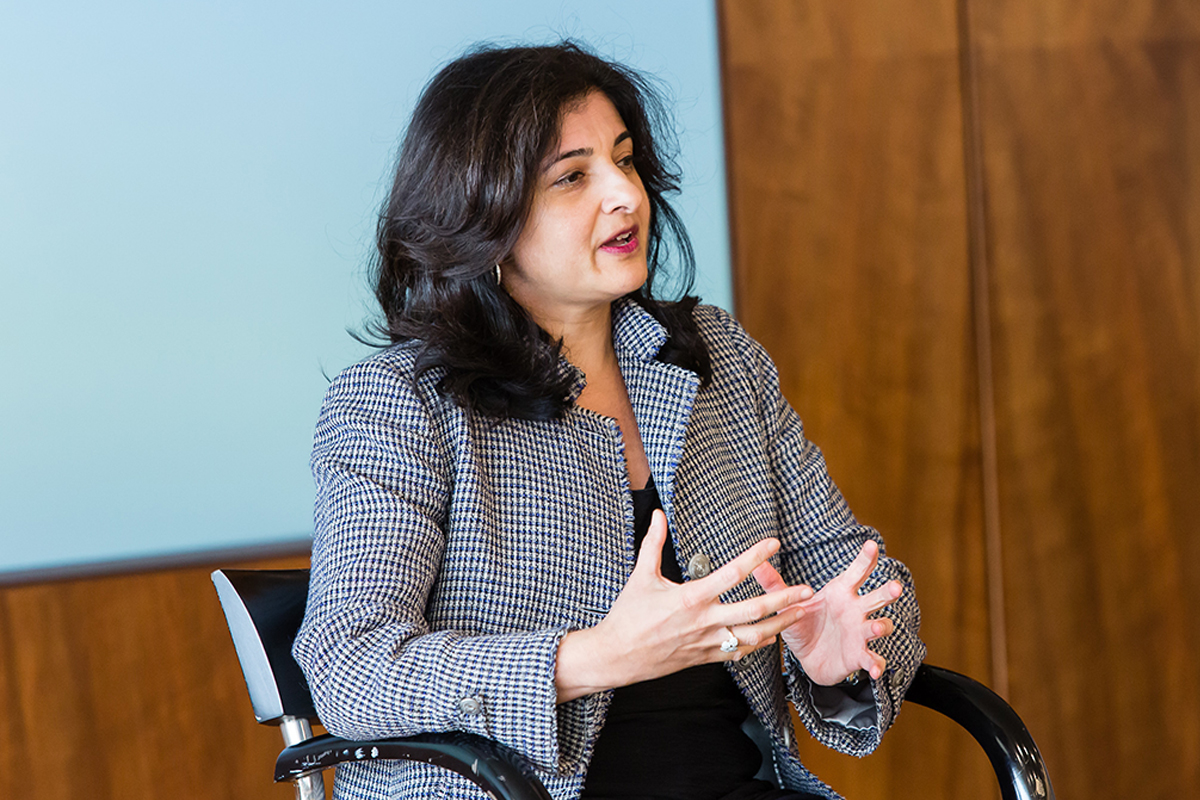 We look forward to continuing our efforts to not just talk about, but also put forth actionable practices that focus on diversity and inclusion. As a firm, we recognize that these efforts are critical to attracting and advancing a diverse workforce to drive a culture of inclusion. It's not just the right things to do; it's good business and helps us deliver real value to our clients.
Attendee Rachel Jacobs of Delaware Funds by Macquarie says it best. "This event is one of the most fun and energizing meetings all year. It shows that Morgan Stanley is really looking to help solve the issue by being inclusive and by bringing all these firms together. One firm isn't going to do it, we have to work together, we have to partner in order to move forward."