Morgan Stanley's Pride and Ally Employee Networking Group hosts 3rd annual "Out on Broadway" luncheon for Pride month.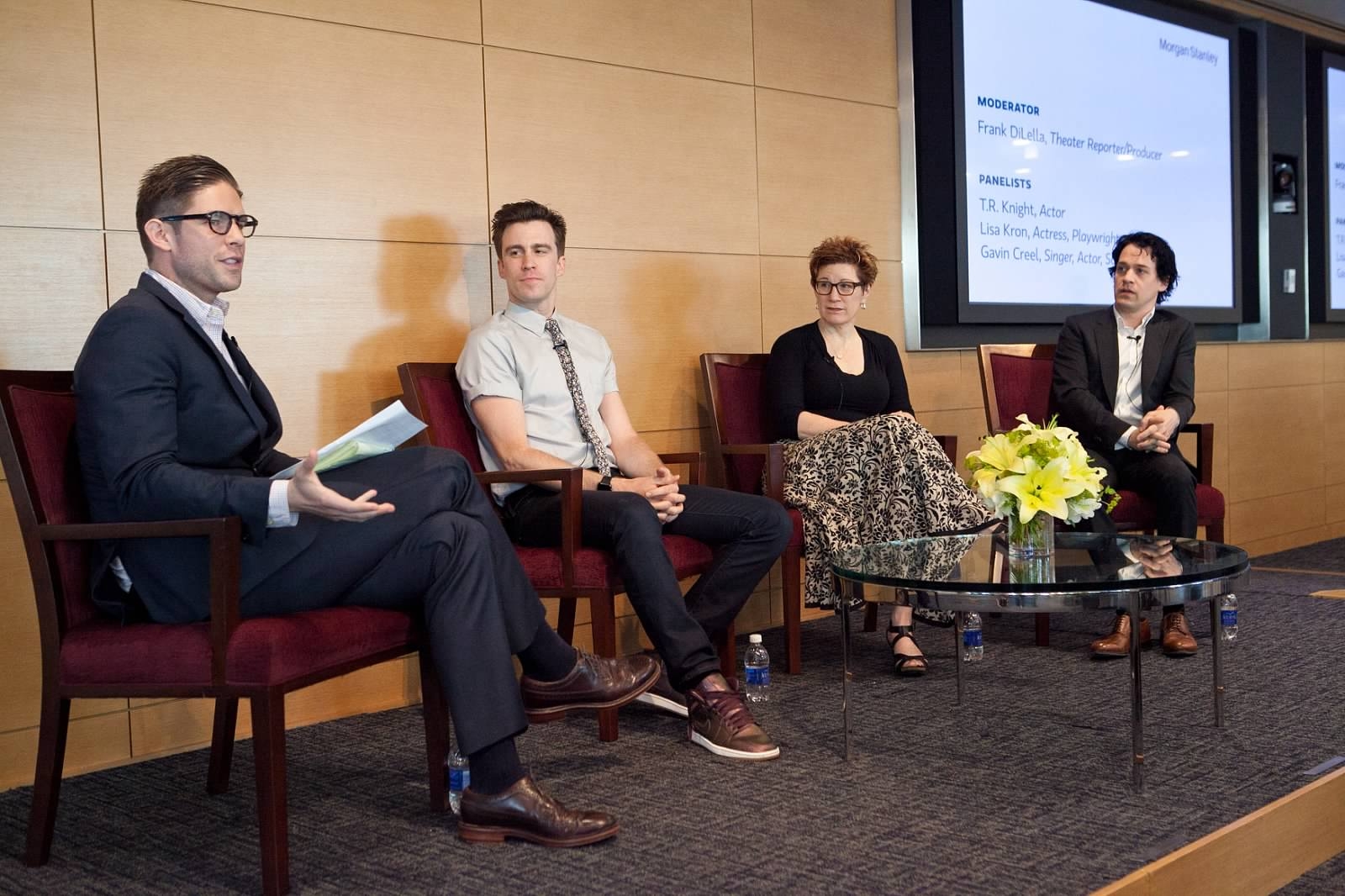 As part of Morgan Stanley's celebration of Pride Month, the Pride and Ally Employee Networking Group partnered with Wealth Management and the Drama League to sponsor the third annual Out on Broadway Luncheon at Morgan Stanley Headquarters in Manhattan.
This year's panel featured Tony winning playwright Lisa Kron, Emmy nominated actor T.R. Knight and Olivier Award-winning actor/singer Gavin Creel. The moderator was once again NY1 producer and reporter Frank DiLella who has moderated the event since its inception two years ago.
DiLella opened the discussion by asking Lisa how her life has changed since winning two Tony awards including Best Musical for "Fun Home," a coming of age story of a young Lesbian and her relationship with her closeted gay father based on a graphic novel by Alison Bechdel.
"I feel a little stoned, frankly," said Kron. "It was very surreal. My partner Madeline and I watched it all over again the following night online." As for how her life has changed: "My email box is full and I could use some sleep," she added. "I started out as performer and then began to write, but for many years I was never getting thought of as a writer. Now people think of me as a writer."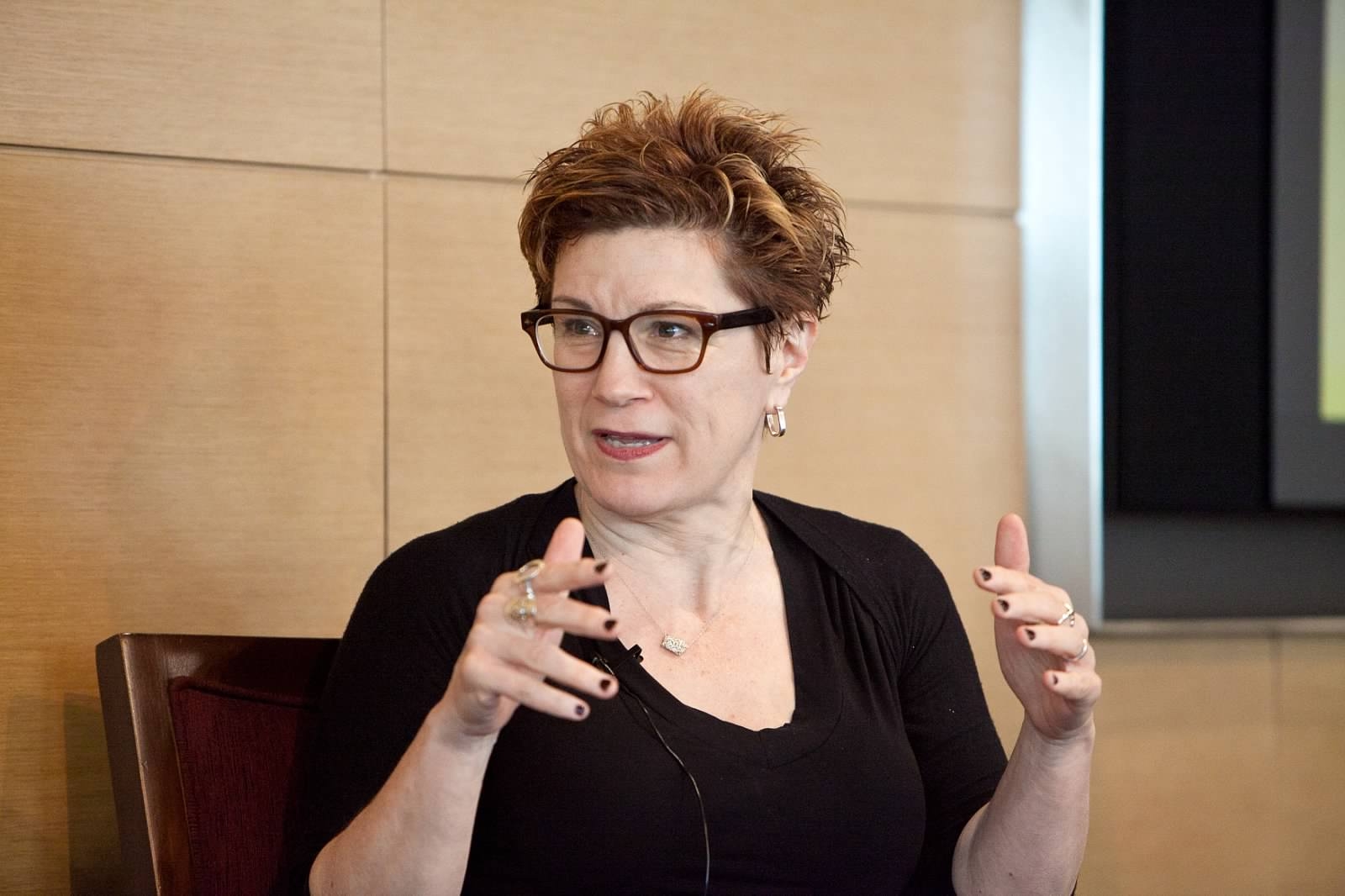 "Now people think of me as a writer," said Lisa Kron, this year's Tony winner for Best Musical
The moderator then asked the panel members to share their experiences with coming out.
"It was a very private thing," said T.R. Knight facetiously, since his 2007 outing had been well publicized while he was appearing on Gray's Anatomy. "Mine happened publicly but the journey you take privately," he added. "I grew up in the Midwest and when I came to New York at 25 I didn't even know who I was at that point. I was a puddle with shoes.
"I don't have good memories of before because there's this fear," he added. "It felt like you're only using a tiny bit of your lungs. Then one day our wardrobe supervisor asked me, 'Who do you like? Is it boys or girls?' I was 28 and still skirting around it. I don't know if it's the way she said it, or the moment, or our relationship, but to me there was some sort of permission given that it was not such a guarded thing. I have more memories after that moment."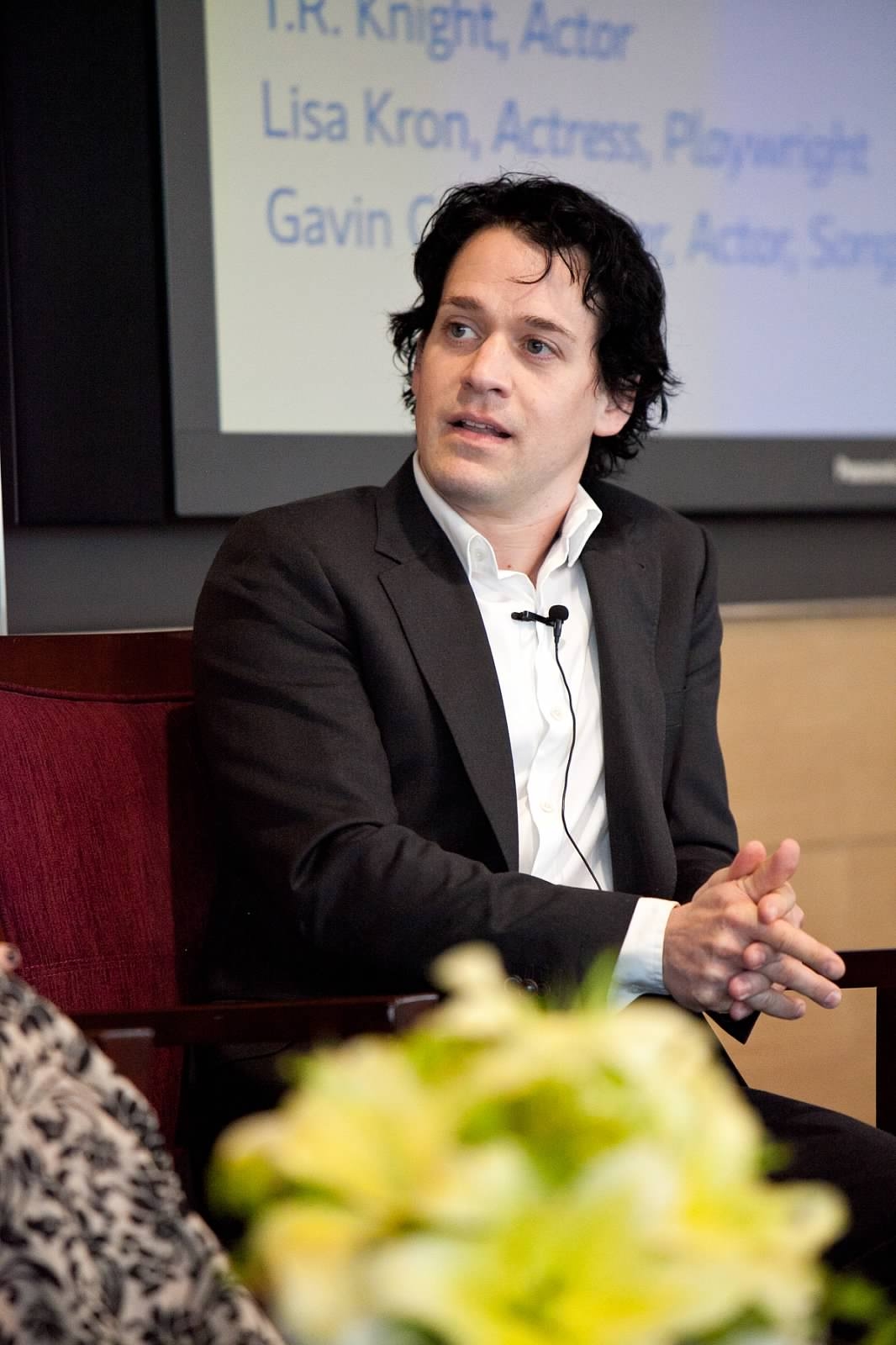 T.R. Knight says when he came to New York he was a "puddle with shoes."
Lisa Kron said she doesn't know of a definitive "coming out" moment. "It doesn't happen in one moment," she explained. "Even now when a cab driver says, 'so are you married, you have kids?' And you think what kind of a conversation do I want to have right now? I never felt comfortable with the word wife. I would give a Tony award to someone who could come up with a better word than wife."
Gavin Creel shared a poignant story about coming out to his parents.
"I had to come out to myself first and then to those who were close to me," he said. "When I came out to my mom and dad, I just sat them both down and said I'm gay. My father said, 'Gavin I'm going to tell you something. I was in church with your mother and I was looking around the congregation. I thought about how many of them only want to talk to me because they want to know how you are and how dull my life would be if you weren't in it.' I asked my mom how she was doing and she said it was hard and asked me not to go marching in any parades. Seven years later my parents and I marched in Washington for marriage equality. You can never under estimate the progress people can make."
The discussion then turned to how being gay has affected their individual careers.
"It's really hard for a gay man to be cast as a straight person," said Creel, who added if he never played a straight person again he could care less. I think as an actor to be effective people shouldn't know too much about your personal life, especially when it comes to sexuality."
T.R. Knight was asked if being a gay actor out in Hollywood had changed.
"It was during employment that my story took place," Knight recalled in reference to his Emmy nominated role of George O'Malley on Gray's Anatomy. "Afterward one of the good things about not being on the casting director's side is that I never heard that I didn't get a role because I'm gay. I think if you're more of a character actor I don't think it matters much. I think what excites me are people who are on covers of magazines, like the typical man or leading woman. In that case it might be harder. There needs to be more honest roles written for gay characters."
According to Kron, she has always worked in a gay theatrical environment, starting out in the East Village and the Wow Café, a performance space for gay and transgender women. "The work was sexy funny and epic," says Kron. "It was an electric, creative and fun period of time all my life as an artist and it's the luckiest thing that happened to me. You get to be making art and to be a lesbian and create these cultural definitions in concert with other people who are doing it. I feel incredibly fortunate. For me to be in that golden moment where that consciousness was demanded of me because additional paths weren't open and yet those doors were opening that has felt like the luckiest possible moment that I could be alive."
Nadia Jones, Senior Diversity Officer for Morgan Stanley Wealth management welcomed the audience of Financial Advisors and their guests. "We hope this event gives you a lens into our firm and our financial advisors and hopefully shows you more ways in which you can partner with us.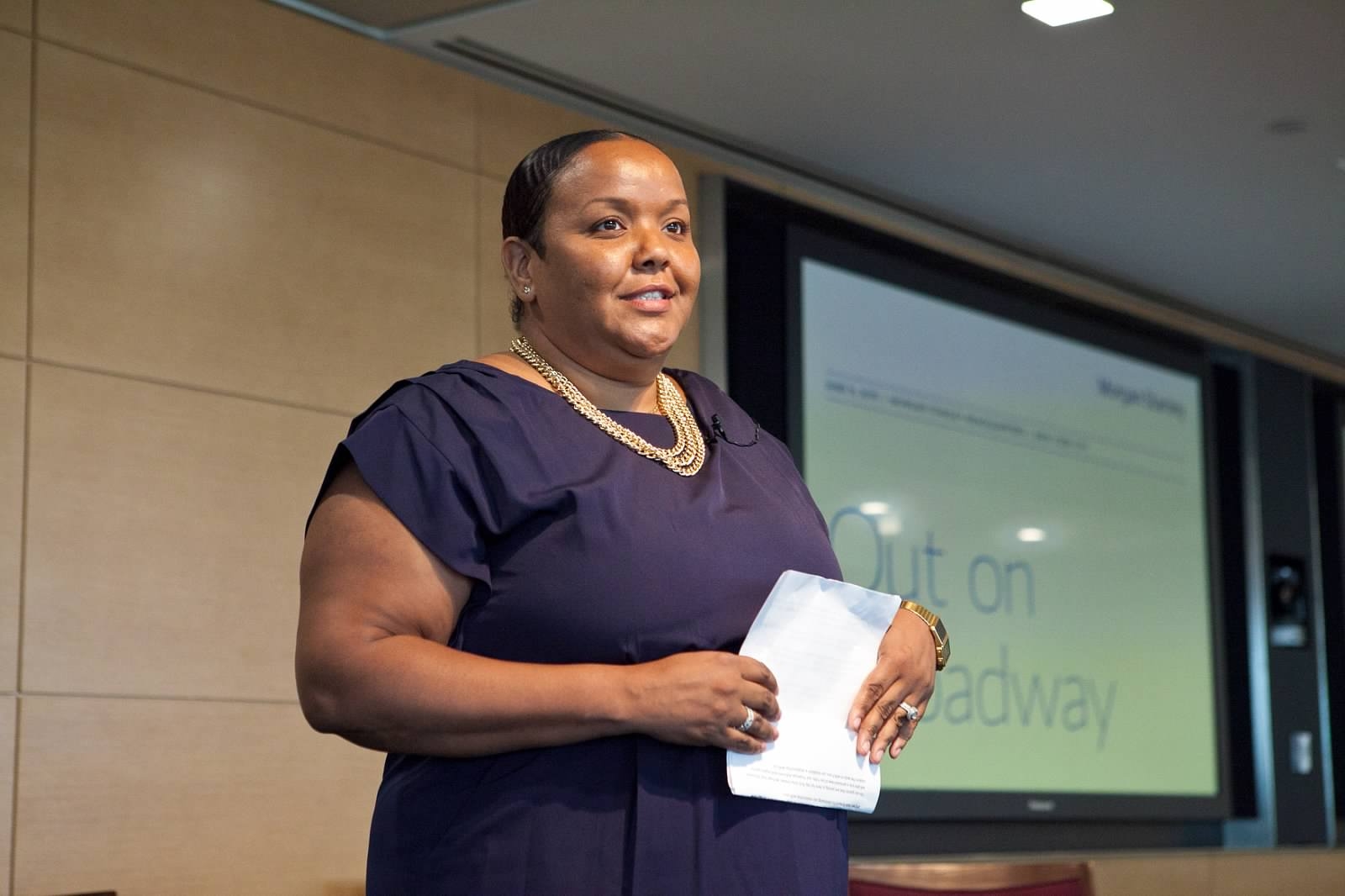 Nadia Jones, Senior Diversity Officer for Morgan Stanley Wealth Management, welcomes the audience.
She then introduced Nadine Wong, a Private Wealth Advisor who currently serves on the board of directors of the Drama League.
"The drama league is a non-profit that helps up and coming young artists by providing support and mentoring," said Wong. "Our flagship focus is our director's project for which we provide rehearsal space and internships with real on stage productions."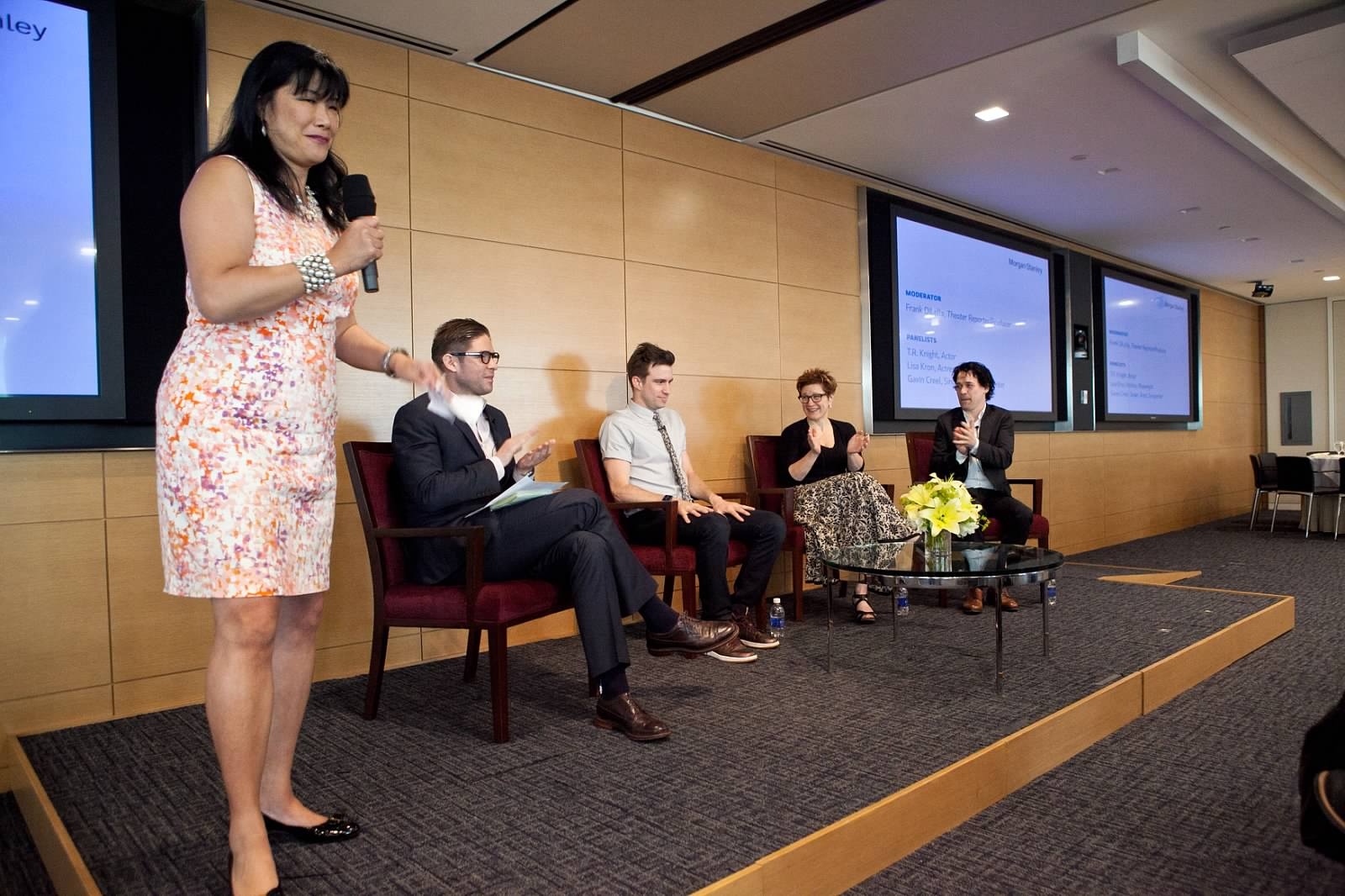 Private Wealth Advisor Nadine Wong, introduces this year's Out on Broadway panel.
To sum up the session, perhaps T. R. Knight said it best. "The coming out saga is hard and rightfully so but it's getting easier."