Taking the Pulse of Your Financial Wellness Program
Even though workplace financial wellness benefits have been around for a decade, they're now more popular than ever. Today, more than eight in 10 public companies offer financial solutions to help employees reduce stress and improve their overall well-being. And of those that don't, half are either considering a program or are in the early stages of implementation. So, it's no longer a question of whether employers should promote financial wellness at work, but how to determine the right services and ensure the best possible engagement.
Morgan Stanley at Work and the National Association of Stock Plan Professionals (NASPP) conducted a survey¹ to find out what financial wellness programs are doing right—and what they can do better. Here are five vital signs of success for employers to aim for as they build out, enhance and evaluate their offerings.
---
1. Think about challenges beyond retirement
When we asked employers what benefits they considered part of their financial wellness suite, most named 401(k)s or other defined contribution retirement plans. While retirement needs may remain top of mind for benefits providers and participants, financial wellness should include a broad, curated array of services. For example, 70% cited equity compensation as an element of their program. An Employee Assistance Program (EAP) was also mentioned by a sizeable number of employers, a sign of just how intertwined employees' emotional well-being is with their financial well-being.
What do employers consider "financial wellness" benefits?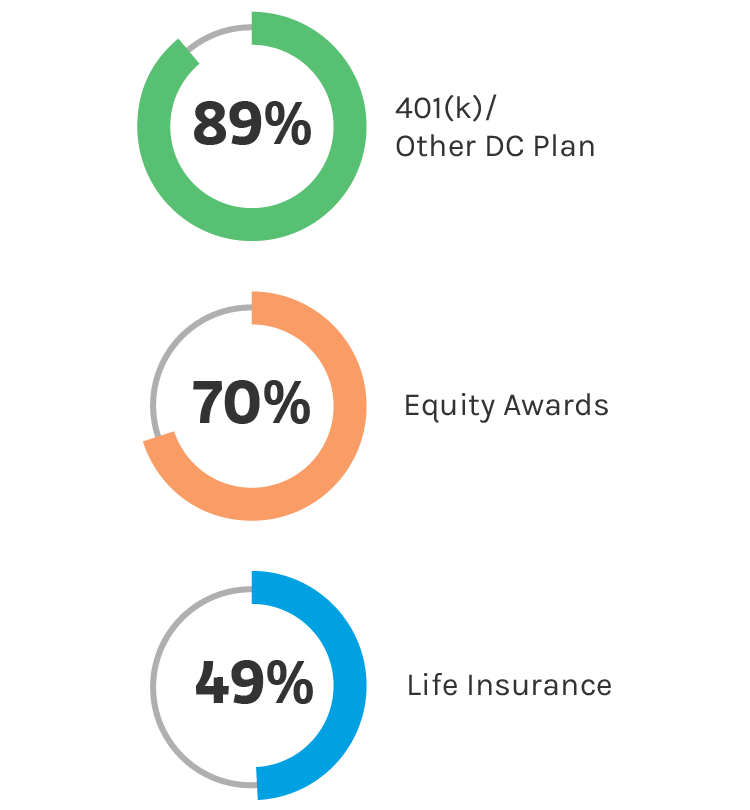 2. Help employees understand equity awards
It may be tempting to think of financial wellness as a menu of products and solutions. But that would neglect the education component of financial wellness—a critical element of a successful program, especially when it comes to benefits where employees have less knowledge and experience. Half of employers surveyed said that employees have asked for help in understanding equity compensation plans. Although six in 10 employers now offer equity education as part of their financial wellness benefit, there's still an opportunity to do more, through digital tools, seminars and coaching.
The Growing Need for Equity Education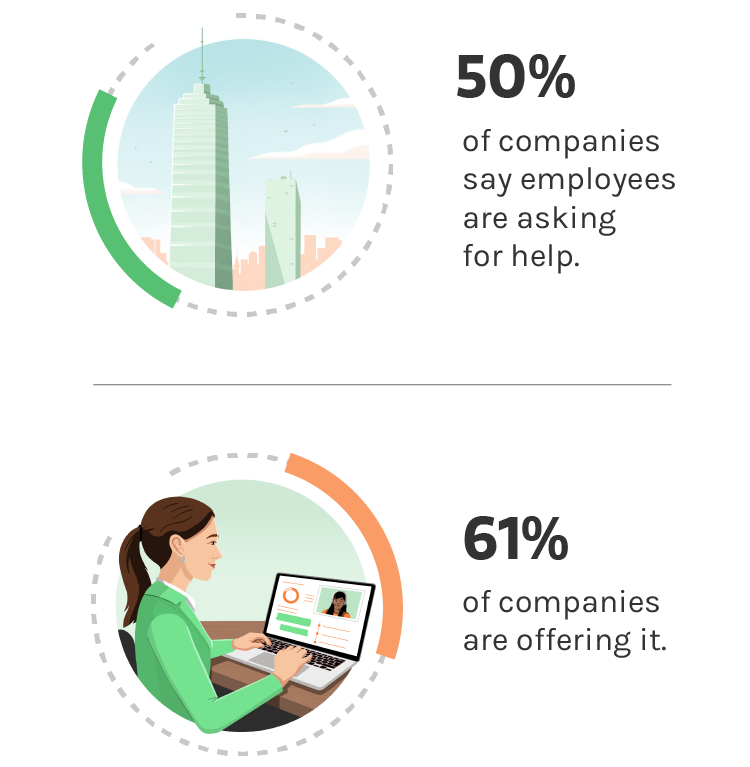 3. Communicate year-round with more personal messaging
Despite the interest among employees in workplace financial wellness, actual usage tells a different story. 65% of employers reported that fewer than half of eligible employees participate in their financial wellness benefits. The top reasons? Lack of awareness, the feeling that benefits have been slow to gain traction and a perception that not all employees need these services. This points to a need for ongoing communication that's more compelling and that addresses the unique needs of different employee segments, like women and people of color. Only 45% of employers say they tailor benefits communications based on demographics. What's more, employers are simply stretched too thin when it comes to time, energy and resources, which may further lower the frequency and effectiveness of communications.
Communication Breakdown

4. Find new and better ways to measure success
It's no surprise that in our data-driven world, keeping a financial wellness program healthy means setting goals and measuring and tracking progress regularly. Key data includes rates of benefit participation, turnover, absenteeism and employee satisfaction, plus health claims and productivity. Yet 17% of employers say they have no measurements in place at all. The good news is, employers know what's missing and are ready to act. More than 50% of those surveyed said tracking success is the best way to improve their program's effectiveness.
What's Missing From Financial Wellness Programs?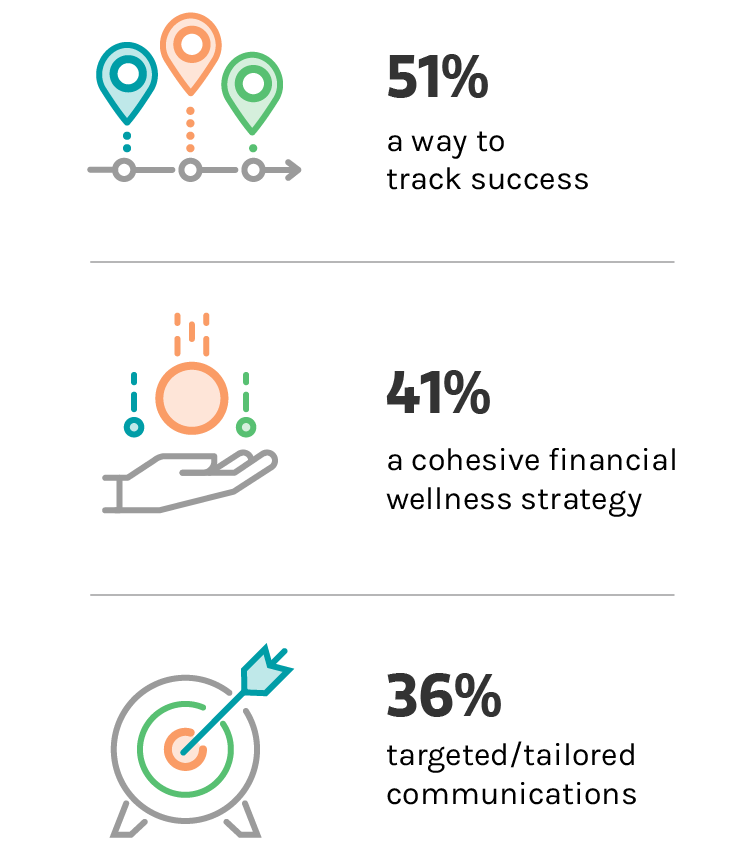 5. Meet shorter-term needs and tackle everyday struggles
An important, but sometimes overlooked, benefit of financial wellness is relieving the everyday financial stresses that can weigh on employees. When people have the help they need to thrive in life—day-to-day, week-to-week, month-to-month—they're more focused and productive at work. It's why, according to our research, more and more financial wellness programs are helping employees meet challenges at every stage of life. That means advice and tools for building emergency savings, budgeting, consolidating debt, and buying a home; assistance with saving for college or paying off student loans; and help confronting the challenges of childcare or eldercare.
What Financial Wellness Programs Offer Beyond Retirement Benefits and Financial Education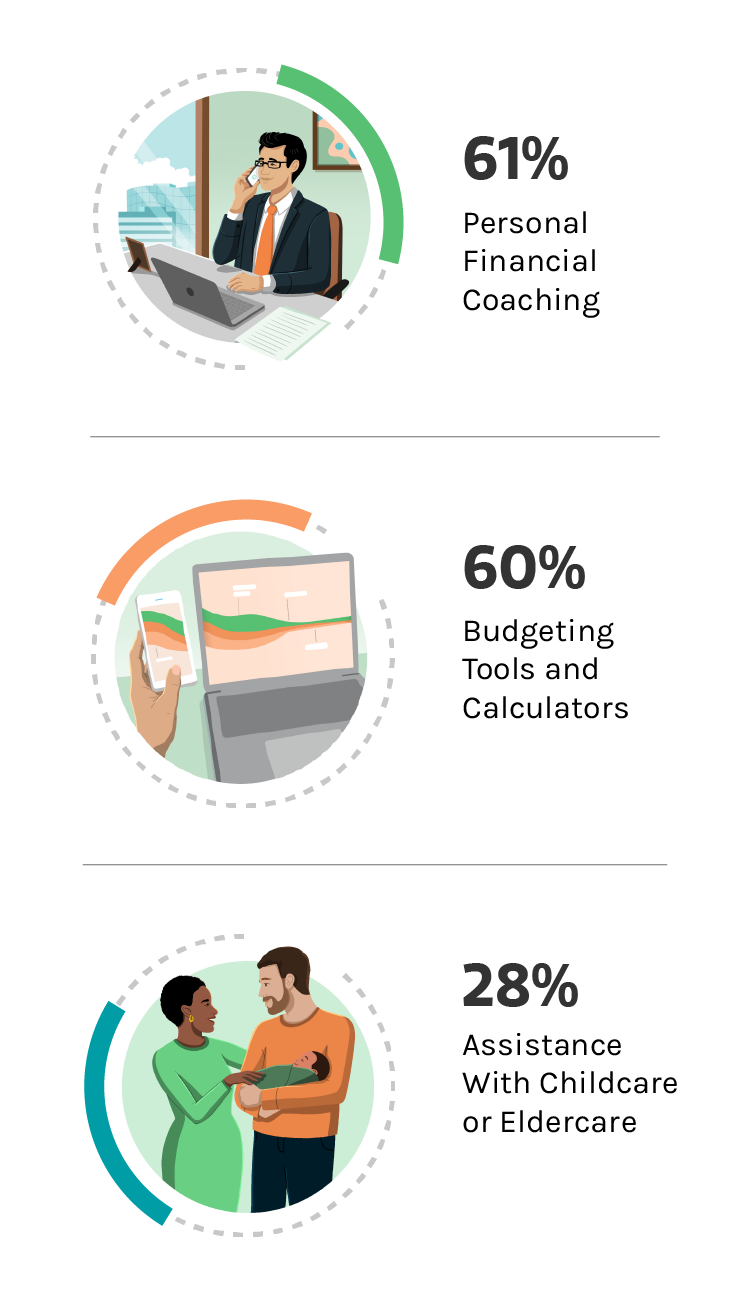 ---
What's Next?
It's clear that financial wellness through the workplace is here to stay. But there's more work to be done to help programs work harder and smarter—including expanding the range of offerings, educating employees about complex benefits like equity plans, meeting the day-to-day struggles employees face, deploying better measurement tools, and driving participation with targeted, high-touch, and ongoing communications. Morgan Stanley at Work is ready to help you meet the challenges with a suite of financial workplace solutions spanning Financial Wellness, Retirement Solutions and Equity Compensation.
Empower Your Workforce
We'd love to talk. Fill out the form and a team member will reach out shortly.
Footnotes
¹ This infographic highlights the key results of research conducted by Morgan Stanley in partnership with the National Association of Stock Plan Professionals (NASPP). The purpose of the study was to gain a deeper understanding of financial wellness offerings at companies that offer stock compensation. Information was gathered through online interviews fielded by NASPP. A total of 212 employers participated, of whom 114 qualified to be included in the financial wellness portion of the analysis. In order to complete the survey, participants were required to work for a publicly traded company that offers stock compensation, have at least moderate influence on decision-making regarding the company's benefits programs and work for a company that offers financial wellness programs.

Disclosures
When Morgan Stanley Smith Barney LLC, its affiliates and Morgan Stanley Financial Advisors and Private Wealth Advisors (collectively, "Morgan Stanley") provide "investment advice" regarding a retirement or welfare benefit plan account, an individual retirement account or a Coverdell education savings account ("Retirement Account"), Morgan Stanley is a "fiduciary" as those terms are defined under the Employee Retirement Income Security Act of 1974, as amended ("ERISA"), and/or the Internal Revenue Code of 1986 (the "Code"), as applicable. When Morgan Stanley provides investment education, takes orders on an unsolicited basis or otherwise does not provide "investment advice", Morgan Stanley will not be considered a "fiduciary" under ERISA and/or the Code. For more information regarding Morgan Stanley's role with respect to a Retirement Account, please visit www.morganstanley.com/disclosures/dol. Tax laws are complex and subject to change. Morgan Stanley does not provide tax or legal advice. Individuals are encouraged to consult their tax and legal advisors (a) before establishing a Retirement Account, and (b) regarding any potential tax, ERISA and related consequences of any investments or other transactions made with respect to a Retirement Account.
Morgan Stanley at Work services are provided by Morgan Stanley Smith Barney LLC, member SIPC, and/or its affiliates, all wholly owned subsidiaries of Morgan Stanley.
© 2022 Morgan Stanley Smith Barney LLC. Member SIPC.
CRC# 4876802 (08/2022)